Dunn, NC Exit 73: General William C. Lee Airborne Museum – This house was the home of the "Father of the Army Airborne", so the museum charts his personal life as well as the growth of Army 101st and 82nd Airborne divisions. Exhibits include photographs, videotape, World War II memorabilia, historical documents and paratrooper equipment and uniforms.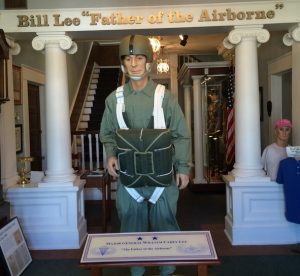 General Lee was a relentless lobbyist to make the airborne a formidable part of our military might.
At tank school in Versailles, France in the '30's he observed German military airborne experiments. He saw the promise of this, and started with test platoons doing parachute jumps (practiced from parachute towers in Hightstown, NJ).
By August 1942, in 26 months, he shepherded the airborne from a test platoon of 50 men to 2 divisions of 8,300 men, and was in charge of the sky: parachutes, air landing battalions and eventually the glider units.
He suffered a major heart attack on the eve of D-Day, and missed his chance to lead it. You have probably heard of his famous saying "the 101st has no history, but it has a rendezvous with destiny".
Location: General William C. Lee Airborne Museum, 209 West Divine St., Dunn 28334
Hours: Mon-Fri 8:30-4:30, Sat 11-4 (Closed Sundays and Holidays)
Tel: 910-892-1947
generalleeairbornemuseum.org
For Regional Accommodations, Restaurants & Attractions: dunntourism.org