Richmond, VA Exit 83: A premier art exhibit of origami bronze, steel and aluminum sculptures is making its mid-Atlantic debut at Lewis Ginter Botanical Garden this spring and summer.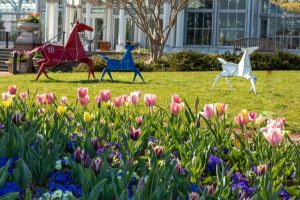 Origami in the Garden is an exhibition of larger-than-life outdoor metal sculptures  inspired by the Japanese art of paper folding.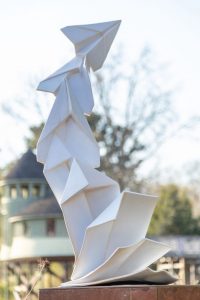 Take a stroll and enjoy more than 21 sculptures arranged throughout the garden in 16 vignettes created by Santa Fe based artists Kevin and Jennifer Box.   Some sculptures are over  7 feet tall; others are small as a mouse.
Sculptures are based on prototypes created with origami: one folded sheet of paper, no cuts.  Artist Kevin Box uses a unique process he developed, the lost wax casting technique and fabrication, in order to capture the delicate details of paper and blows it up , colossal style, using museum-quality metals.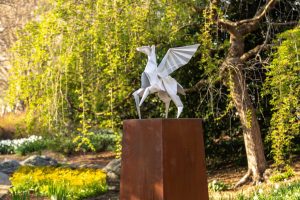 Installed throughout the Garden with many associated activities and programs this exhibit celebrates nature, the "master origami artist," seen in everything from leaves unfurling to butterflies emerging from a chrysalis.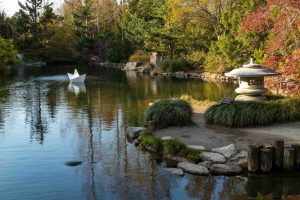 Exhibit and related activities included with Garden admission. Buy Tickets Now
Photo Credit: Tom Hennessy
Location: Lewis Ginter Botanical Garden, 1800 Lakeside Ave., Henrico, VA 23228
Dates: until Sept 30, 2018
Times: 9am – 5pm
Tel: 804-262-9887
lewisginter.org
For Regional Accommodations, Restaurants & Attractions: visitrichmondva.com