Daytona Beach, FL Exit SR 92 International Speedway: Celebrating its 56th anniversary, the Halifax Art Festival is the 2nd oldest continual art festival in the state of Florida, and benefits the Museum of Arts & Sciences.
The Halifax Art Festival happens along the riverfront and palm-lined Beach Street and this year, approximately 45,000 visitors are expected to attend.  Art enthusiasts, students and families seeking a fun event flock to the fest to view the works of 250 + fine artists and craft artisans from all over the country.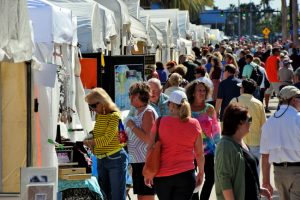 The Festival features a unique blend of fine arts, crafts, music, food, and fun. Admission is free to the public with plenty of free parking. Offering live entertainment, a student art competition, children's activities and fine dining in many local restaurants and cafes.
The Festival features two subdivisions:  the Competitive Fine Arts and Crafts category, which is juried and judged and eligible for prize money,  and the Non-Competitive Arts category, also juried but not eligible for awards. Artworks in both sections are all original. You can browse a wide variety of oil and watercolor artwork on the riverfront, as well as ceramics, basket weaving, jewelry, home goods, clothing and so much more.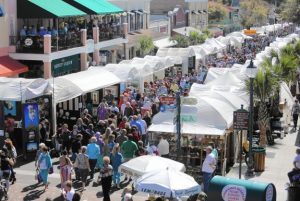 Plus, there will be a Student Art Exhibit and Competition featuring some of the area's most promising young artists from K-12th grade. As part of the award given to the students, the winning art will be displayed at Daytona Beach's prestigious Museum of Arts & Sciences for one week. There's an  children's interactive art experience where children can create their own masterpieces under the "Little Van Gogh" tent while friends and family watch. All art supplies are FREE to each child.
Live music will be featured both Saturday and Sunday. Plenty of seating will be available in Riverfront Park to enjoy the music or a snack. International street cuisine and good old-fashioned festival food are available or have a bite at one of the many fine bistros and restaurants along Beach Street featuring Festival specials.
Location: Historic Downtown Riverfront Park on Beach Street, between Bay Street and Orange Ave, Daytona Beach, FL 32114
Date: Nov 3rd – 4th, 2018
Times: Sat 9am – 5pm, Sun 10am – 4pm
Tel: 386-255-0285
halifaxartfestival.com
For Regional Accommodations, Restaurants & Attractions: daytonabeach.com