Orono, ME Exit 191 N or 193 S: Pat's Pizza has deep roots in it's community. Located in close proximity to the University of Maine in Orono this place has been around for 80+ years. Pat's Pizza has become a favorite of University of Maine students offering delicious and affordable pizzas that won't disappoint.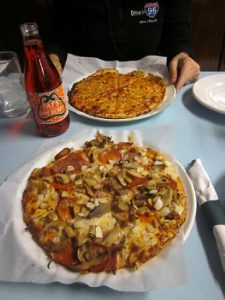 Opened in 1931, and still churning out 700 pizzas a night, this 2nd generation family business (now with 19 locations) is famous in Maine, and this is their original location with its retro vibe; original Formica counters and slate foot rests.
The thin, soft, light crust melts in your mouth, and the toppings are put on evenly so that there's a taste in every bite. With 35 toppings like: specially made pepperoni, pine nuts, hotdog, kielbasa, zesty olives or eggplant, there is a pizza just for you! They even make gluten-free pizzas or double -dough pizzas.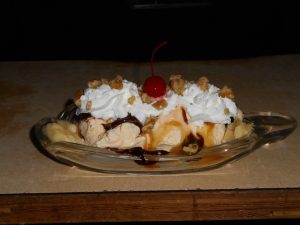 The menu has plenty to offer with everything from appetizers, salads, spaghetti and meatballs, lasagna, mouth-watering calzones, sub sandwiches, wraps, desserts and of course Pat's legendary pizza.   The Pat's Combo is the most popular pizza with pepperoni, mushrooms, and Cotto salami on it. Wash it down with Pat's own brand of sodas: strawberry, root beer, orange, grape, cream or Stan and Sandra's favorite – raspberry Lime Rickey, or try the local Moxie brand, made in Maine.
Take advantage of Tuesday's  free bread sticks,  which are filled with cheese and free with purchase of a pizza. At the Orono location enjoy the Tap Room with large screen televisions, a stone fireplace and their very own Pat's Lager Beer.
The staff works hard to make this landmark for pizza in Maine a fun, family-friendly experience and good food at a reasonable price which is why Pat's has been around for so long.
Location: 11 Mill Street, Orono, ME 04473
Hours: Sun thru Sat 10:30am – 12:00am
Tel: 207-866-2111
patspizzaorono.com
For Regional Accommodations, Restaurants & Attractions: visitbangormaine.com