Folkston, GA Exit 3, Hwy 40 West: Nature enthusiasts will relish the natural unspoiled and virtually unmarked by man Okefenokee National Wildlife Refuge that was established in 1937 to preserve the Okefenokee Swamp. The refuge encompasses over 400,000 acres of canals, moss draped cypress trees and lily pads which provide sanctuaries for hundreds of species of birds and wildlife.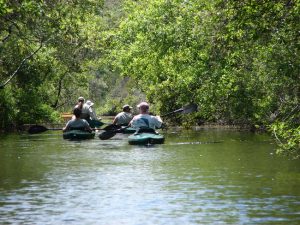 Okefenokee has the great distinction of not only being a part of the National Wildlife Refuge System, but also the National Wilderness Preservation System. Swamp habitats comprise open wet "prairies," cypress forests, scrub-shrub vegetation, upland islands, and open lakes. Wildlife species include wading birds, ducks, alligators and other reptiles, a variety of amphibians, bobcats, raptors, white-tailed deer, black bears, and songbirds.
To assist you on your exploration, Okefenokee Adventures offers a full range of tour options and is located inside the refuge on the historic Suwannee Canal.  Canoe, kayak, or boat the mirrored black waters of the Okefenokee Swamp: You can join a regularly scheduled 90 minute guided boat tours, or reserve a 2 hour sunset tour or arrange a half or full day private excursion with an expert, professional guide. Their staff includes well-known authorities on alligator biology, wetland ecology, and Okefenokee cultural history.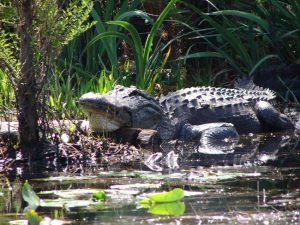 Experience canoe camping in the back-country wilderness of the Swamp interior, or head out on your own in a canoe or kayak. You can bike or drive the Swamp Island Drive, visit an authentic Swamp homestead or walk the nature trails and boardwalk and  get bird's eye views of the swamp from atop the observation tower.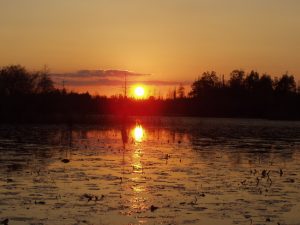 Location: Okefenokee National Wildlife Refuge, 2700 Suwanee Canal Rd, Folkston, GA 31537 , Tel: 912-496-7836 or 877-860-6787
Location: Okefenokee Adventures, 4159 Suwannee Canal Rd., Folkston, GA 31537
Hours: Open: ½-hour before sunrise every day,
Closed: 7:30pm – March 1 through Oct 31, Closed: 5:30pm – Nov 1 through end of Feb
Tel: 912-496-7156, 866-843-7926
okefenokeeadventures.com
For Regional Accommodations, Restaurants & Attractions: visitkingsland.com