Monday, March 6th, 2017
What better place to learn a piece of Manassas history than with a Cemetery Tour. Learn about "Important Citizens who Influenced Prince William County History". The Manassas City Cemetery tour is a biographical tour of our predecessors which allows you to discover their contributions to society.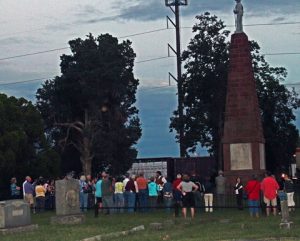 The Ladies Memorial Association of Manassas (later to become the United Daughters of the Confederacy) created the Confederate Cemetery in 1867 on one acre of donated land. The land was given to hold the remains of Confederate soldiers "scattered over the Plains."
Although the Bull Run Ladies Association reburied the remains of soldiers found on the battlefield in the Groveton Cemetery, there were many other remains recovered throughout Manassas. In 1911, the Association placed a bronze statue of a Confederate Soldier "At Rest" on the brownstone monument that had been dedicated in 1889. Legend has it that the soldier faces east to guard against attack from Washington.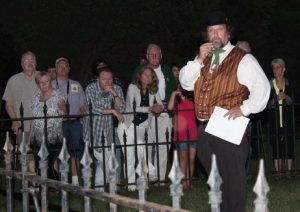 Each year for the cemetery tour a different theme is used. Tragic deaths (murders or accidents), women, cemetery architecture are just a few from the past. This year focuses on County and Community leaders: Sheriffs, politicians, school administrators,… This tour is done with the greatest respect to the cemetery and its "inhabitants".
To purchase tickets visit: manassasechoes.com, or call 703-368-1873
Location: Manassas Confederate Cemetery, 9317 Center St., Manassas, VA 20110
Date: Fri, March 17, 2017
Time: 8pm – 9:30 PM
Tel: 703-257-8265
manassasmuseum.org
For Regional Accommodations, Restaurants & Attractions: manassascity.org
Tags: acciident, acre, administrator, architecture, area, association, attack, battlefield, biographical, bronze, brownstone, building, cemetery, census, citizen, commonwealth, community, Confederacy, Confederate, contribution, county, daughter, death, dedicated, donated, Drivei-95, focus, guard, History, inhabitant, ladies, land, landmark, leader, legend, Manassas, Manassas City Cemetery, memorial, monument, murder, past, people, plains, politician, population, predecessor, Prince William County, remains, school, sheriff, soldier, statue, street, surrounding, theme, tour, tragic, united, Virginia, Washington, year