Wednesday, August 31st, 2016
Delaware's 30th Annual Amish Country Bike Tour is held in the state's capital, Dover. It is the largest cycling event and one of the East Coast's favorite bike tours. Last year, 2,200+ cyclists from 25 states and England participated in the event.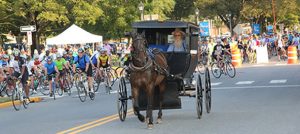 The Bike Tour starts and stops at Dover's historic open air park, Legislative Mall. The tour has five loops: 15, 25, 50, 62 and 100-mile loops through FLAT back roads, farmlands and Delaware's Amish community. Along the route, there are four food-rest stops with food and beverages, slices of locally baked pie and a fully-catered BBQ meal at the end of the tour.
The Amish Country Bike Tour is an experience that is suitable for all ages and abilities, from beginners and families to serious cyclists. The event goes on rain or shine
Location: Historic Dover, 411 Legislative Ave, Dover, DE 19901
Date: Sat, Sept 10, 2016
Time: Optional start times: 7 – 10am
Tel: 800-233-5368
amishcountrybiketour.com
For Regional Accommodations, Restaurants & Attractions: visitdover.com
drivei95.com
Tags: ability, age, Air, amish, baked, BBQ, beginner, beverage, bike, capital, catered, community, Cycling, cyclist, Delaware, Dover, drivei95, East Coast, England, event, family, farmland, favorite, food, historic, interstate95, legislative, locally, loop, mall, meal, Nature, park, participate, pie, rest-stop, road, roadtrip, route, state, suitable, tour, travel