Wednesday, July 12th, 2017
Young girls love the Soffe line of casual athletic wear, but there's apparel for everyone else here too. Soffe is an all-American lifestyle activewear brand that makes sizes for the entire family including; toddlers, girls, juveniles, youth, juniors, women, and men including big and tall. 
In solid colors, there's varsity pants, jackets, hoodies, t-shirts, sweatshirts, running shorts, windbreakers, cheerleading clothing, ranger shorts and more.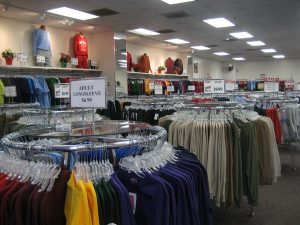 It's an  outlet store, so pricing can go from $1 pieces of clothing piled in giant cardboard boxes to $29.99 on the racks. If you're  lucky you might arrive when they've opened the back warehouse room to the public. Then men, women and children might score their well-made clothing for the amazing price of $1-$3. Sandra loaded up the last time that she was there.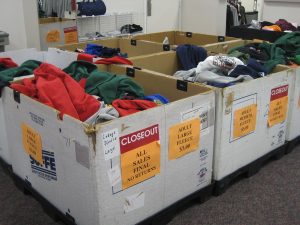 The Soffe juniors' line has been strong in the brand's cheer-leading apparel but has expanded to include  yoga, dance and running. Be sure to check out their performance wear, which features technical fabrics.
Their outstanding quality stems from their roots as a distributor to the military. This line is tough, durable and dependable, and it is designed to channel America's original athlete: the soldier.
There's another location in Smithfield at Exit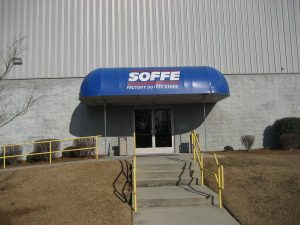 95 next door to JR,
49F Dr M.L.K. Jr. Way, Selma, NC 27576
919- 965-0062
Location: Soffe Outlet Store, 1005 Dunn Rd, Fayetteville 28312
Hours: Fayetteville: Mon – Sat 9:30 – 5:30, Sun – closed
Smithfield: Mon – Sat 10 – 6, Sun 12 – 6
Tel: 910-483-1776
soffe.com
For Regional Accommodations, Restaurants & Attractions: visitfayettevillenc.com
Tags: activewear, all-American, America, apparel, athlete, athletic, big, box, brand, cardboard, casual, channel, cheer, cheer-leading, children, clothes, colour, dance, dependable, designed, distributor, Drivei-95, durable, fabric, family, Fayetteville, girl, girls, hoodie, inspiration, jacket, juvenile, lifestyle, men, military, North Carolina, original, outlet, pant, performance, price, rack, ranger, room, running, score, short, size, Soffe, soldier, store, sweatshirt, t-shirt, tall, technical, toddler, tough, varsity, warehouse, wear, windbreaker, women, yoga —, youth