Wednesday, July 30th, 2014
The Niagara Parks Commission is celebrating the 125th Anniversary of the Journey Behind the Falls attraction with a month-long celebration highlighting the popular tourism site
In 1889, the NPC constructed the first tunnels behind the Falls; It was named "Sheet of Falling Water" and lantern-carrying guides brought visitors up-clo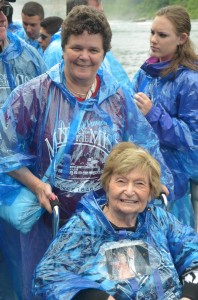 se and personal with the rushing water. Over time as the brink of the Falls receded, tunnel extensions were required. In 1944 a new tunnel was constructed 18 metres behind the original passageway. These new concrete-lined, lit tunnels are still in use today. In 1951, an observation plaza was added and in 1990, the heavy rubber raincoats and boots were discontinued. These were replaced by light, biodegradable yellow rain ponchos which can now be kept as a souvenir.
During the month of August, Niagara Parks will be sharing 31 stories – one each day – about the attraction at www.niagaraparks.com/125, and through its Facebook page and Twitter account (@NiagaraParks). Visitors are being encouraged to share their stories, thoughts and images about this popular tourism attraction.
On Friday, August 22, a free "birthday cake" event will be held at Table Rock for visitors and invited guests. This will be followed that evening by a special illumination of the Falls in yellow, coinciding with Falls Fireworks taking place at 10 pm, to recognize this significant moment in NPC's history.
Here's one touching tale:
"The year was 1941 and WWII was raging. Flo and Irv were getting married, and as was popular in those days, they wanted to go to Niagara Falls for their honeymoon. However their budget wasn't large enough for the trip and they couldn't make it. That didn't dim their love or romance, which lasted 62 years.
Fast forward to 2013. Irv has passed away and it is Flo's 90th birthday. When asked where in the world she wanted to go for her special day, she answered easily "Niaga
ra Falls". They never made it there to join those lantern-carrying guides behind the falls, but the allure was still there, and she really wanted to experience those world-famous Falls. She insisted, though, that she wanted Irv along on the journey.
Take a look at these images of her and notice a photo of him pinned to her blouse in a plastic bag (so he doesn't get wet!). So finally, 72 years after their plans went astray, Flo and Irv Phillips made the Journey to the Falls together."