Monday, October 31st, 2016
November is peak season for cotton farmers and downtown Dunn was once known as the largest wagon cotton yard in the country. During the festival, the local cotton gin, that until recent years was located in downtown, offers free tours through the gin so that everyone can see cotton production unfolding before them. Shuttles are offered from the festival site to the gin and back every half hour.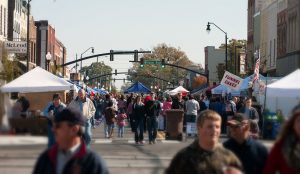 The Festival has two stages for entertainment: featured bands take the Main Stage throughout the day and festival goers also enjoy dancing and karaoke on the second stage. Highlights also include food and craft vendors, Kiddie Land, Petting Zoo and Antique Tractor Show . The event also coincides each year with the Dunn Shriner's Car Show, where over 100 antique and custom cars compete for best in show.
Location: Downtown Dunn , NC 28334
Date: Sat Nov 5, 2016
Time: 10 – 4 pm
Tel: 910-892-3282
nccottonfestival.com
For Regional Accommodations, Restaurants & Attractions:
dunntourism.org
Tags: agricultural, annual, antique, band, car, cotton, country, craft, custom, dancing, downtown, Dunn, entertainment, event, farmer, festival, food, gin, historic, karaoke, kiddie, land, local, motorcycle, North Carolina, petting, prime, product, production, season, show, shriner, shuttle, site, stage, tour, vendor, wagon, yard, zoo