Wednesday, November 30th, 2016
Christmas is that special time of year when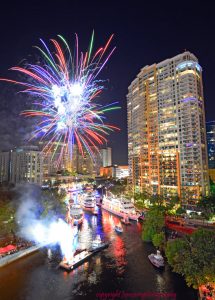 lights illuminate the night sky. In South Florida, they have an annual tradition of the Seminole Hard Rock Hotel Winterfest Boat Parade where privately owned boats and yachts take over the intracoastal waterway and display all of their Christmas glory.
The Boat Parade sets sail for 12 miles starting in downtown Fort Lauderdale heading North to Lake Santa Barbara in Pompano Beach. Approximately one million spectators view the parade, along with millions more via television and the internet, bringing national and international recognition to South Florida. The event is the Top 20th Parade in the World and considered the Greatest Show on H2O.
Private boats to the giant showboats and corporate mega yachts will be adorned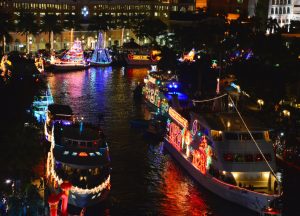 with hundreds of thousands of lights, music, entertainment, decorations, celebrities, musical groups, beauty queens and many other exciting entries. Parade highlights: Grand Marshal Showboat, Galleria Mall Reindeer Barge and the Santa Showboat.
Fun, Family entertainment. Free admission along the R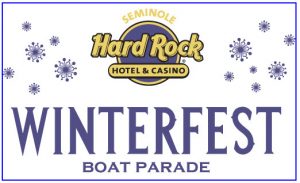 iverwalk.
Parade Route: Downtown Fort Lauderdale on the New River, heading East to the Intracoastal then North to Pompano Beach
Date: Saturday, December 10, 2016
Time: 6:30PM to 11:00PM
Tel: 954-7670-0686
WinterfestParade.com
For Regional Accommodations, Restaurants & Attractions: sunny.org
Tags: activity, annual, barge, beach, beauty, boat, celebration, celebrity, children, Christmas, competition, corporate, decoration, display, downtown, entertainment, entry, event, family, Florida, fort lauderdale, free, fun, Galleria, glory, Grand, group, H2O, illuminate, Internet, intracoastal, lake, light, mall, marshal, mega, music, musical, national. international, night, North, parade, Pompano, private, queen, recognition, reindeer, sail, santa, Santa Barbara, Seminole, show, showboat, sky, south, specator, television, top, tradition, view, water, waterway, winterfest, world, yacht