By stan. Filed in
Florence
,
Food
,
Restaurant
,
South Carolina
|
At Fatz Cafe, the motto on the menu,"Where everybody is a regular", is true and that's because they
get addicted to the warm buttery poppy seed rolls (hint of donut taste to us). Locals come for the fried Calabash
chicken, which is marinated in buttermilk and served with honey mustard, and to enjoy the oldies music and photos of
the Florence/PeeDee area in the 60's and 70's.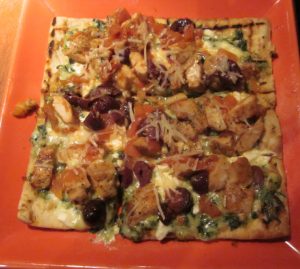 A popular starter is the fried green tomatoes on cheese grits with remoulade sauce or the shareable hot Cajun firecracker sticks stuffed with spicy shrimp, andouille sausage, onions, peppers, melted cheese in a tomato/basil tortilla. A hit of the meal was the Edisto shrimps and grits made with crumbled bacon in a mushroom burgundy gravy with Parmesan cheese. You could come in for the mahi mahi, spinach salad, ribs, pork chops, burgers or a sirloin steak marinated in hard cider, but you must leave room for the Carolina peach cobbler, which tastes like your gramma made it (vanilla ice cream and walnuts on top).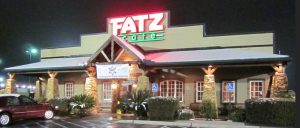 Location: 2007 W. Lucas, Florence, SC
Tel: 843-413-9186
www.fatzcafe.com
For Regional Accommodations and Attractions: www.visitflo.com
www.drivei95.com
Tags: addicted, andouille, area, bacon, basil, burger, burgundy, buttermilk, buttery, cajun, calabash, Carolina, cheese, chicken, cider, cobbler, comfort, cooking, donut, Edisto, family, Fatz Cafe, firecracker, Florence, food, fried, gravy, green, grit, grits, honey, hot, ice cream, local, mahi mahi, marinate, marinated, meal, melted, menu, motto, mushroom, music, mustard, oldies, onion, Parmesan, peach, Pee Dee, pepper, phoyo, poppy, pork chop, regular, remoulade, Restaurant, rib, roll, salad, sauce, sausage, seed, shrimp, sirloin, South Carolina, southern, spicy, spinach, starter, steak, stick, stuffed, taste, tomato, tortilla, vanilla, walnut, warm