By stan. Filed in
Art
,
Culture
,
Drive I-95
,
Family Fun
,
Festival
,
Providence
,
Rhode Island
,
Special Event
,
Theatre
,
United States
|
Providence, RI Exit 21: Three days of amazing national & local improv talent at The 13th Annual Providence Improv Festival taking place in the heart of downtown Providence on September 22-24, 2016.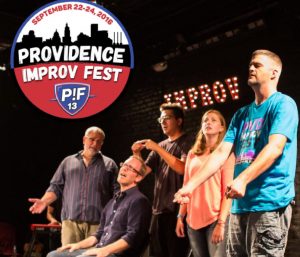 This year's Fest will feature top improv comedy troupes from throughout the country including Susan Messing and Rachael Mason as "The Boys". The FEST remains dedicated to showcasing a broad spectrum of theater artists who excel at creating scenes, characters, and situations in the moment offering shows by top performers in the local, regional, and national improv comedy scenes.
Be a part of the festival, rub elbows with some incredible performers, partake in the workshops, after-parties and other fun events at their downtown theatre spaces. Experience some of the world-class food, art, and entertainment that Providence can offer within an intimate and picturesque cityscape.
Location: AS220
95 Empire Street, Providence, RI
115 Empire Street, Providence, RI
Providence, RI 02903Dates: September 22 – 24, 2016
Times: Various check schedule
Tel: 401-241-9556
providenceimprovfest.com
For Regional Accommodations, Restaurants & Attractions: goprovidence.com
Photo credit – David Rickerby
Tags: after-party, art, artist, character, cityscape, comedy, country, create, downtown, drive i-95, entertainment, event, excel, fest, festival, food, fun, heart, improv, local, moment, national, party, performer, picturesque, Providence, Rachael Mason, regional, Rhode Island, scene, show, showcase, situation, spectrum, Susan Messing, talent, theater, Theatre, troupe, USA, workshop, world, world-class, year