By stan. Filed in
Civil War
,
Delaware
,
Drive I-95
,
History
,
National and State Parks
,
Special Event
,
United States
,
USA
|
Join the Diamond State Ghost Investigators and park staff for a three-hour adventure in paranormal investigation.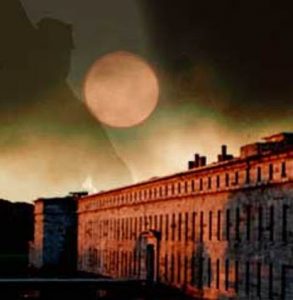 Fort Delaware, the Union fortress dating back to 1859, once housed Confederate prisoners of war. Throughout history, quite a number of people have encountered paranormal  experiences at the prison. It is believed that the spirits that haunt Fort Delaware are a direct result of the  suffering and violence that was sustained there.
Participants witness and take part in actual investigations of the haunted prison located on Pea Patch Island using electronic magnetic field detectors, data recorders, and temperature sensors visiting areas where paranormal activity has been reported.
October 29 from 9:30pm-2:30am – For hard-core ghost hunters only, participate on Halloween to take part in a five-hour investigation of Fort Delaware, in which you are a key part of the investigative team. What better way to scare the bajeebers out of you.
Participants must be 13 years old or older and should arrive 30 minutes prior to boat departure to check in at the Fort Delaware dock, 45 Clinton Street, Delaware City DE 19706. Tickets sell fast due to high demand, so book early!
Location: Fort Delaware, Pea Patch Island, Delaware City, DE 19706
( Fort Delaware State Park is accessible only by ferry, leaving from 45 Clinton Street, Delaware City DE 19706 )
Dates: Fridays, Saturdays in October – October 7, 8, 14, 15, 21, 22, 28, 29, 2016
Hours: 6:30 p.m. and 9:30 p.m. tours (exception- Oct 29 – 9:30 tour only)
Tel: 302- 834-7941
destateparks.com/ghost
For Regional Accommodations, Restaurants and Attractions: visitwilmingtonde.com
Tags: activity, advenyure, Confederate, data, Delaware, detector, diamond, drivei95, electronic, encounter, experience, field, fort, Fort Delaware, fortress, ghost, ghost hunter, Halloween, hard-core, haunt, haunted, historic, History, hunter, i95, iamtb, imvestigation, interstate95, investigator, Island, locate, magnetic, national, paranormal, park, Participant, participate, Pea Patch Island, prison, prisoner, recorder, reported, roadtrip, scare, sensor, site, spirit, staff, state, suffering, team, temperature, tour, travel, travelblogger, union, USA, violence, war, witness