By stan. Filed in
Children
,
Culture
,
Drive I-95
,
Entertainment
,
Family Fun
,
North Carolina
,
Special Event
,
Theatre
,
United States
,
USA
|
If you are an animal lover, this show is for you. Popovich Comedy Pet Theater is a family-oriented blend of the unique comedy and juggling skills of Gregory Popovich, and the talents of his furry costars.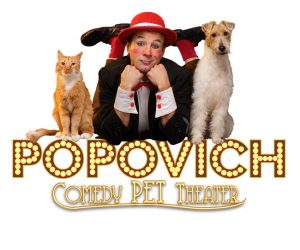 Featuring European-style circus extravaganza including physical comedy, juggling, acrobats from the Moscow Circus, along with mimes, contortionists and jaw dropping juggling by internationally acclaimed award winner Gregory Popovich. There are more than 30 pets in the show, including highly intelligent dogs, house cats, a variety of birds and a miniature horse, each one has been rescued from animal shelter. The animals show off their dexterity in a variety of unbelievable stunts and skits, including "The Dog Classroom," "The Amazing House-Cats," and "The Animal Train Station."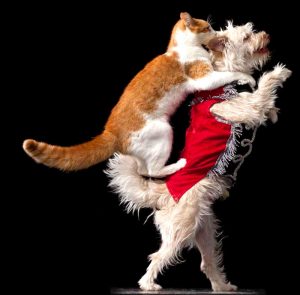 Popovich, a fifth generation circus performer who learned early on how to develop strong bonds with animals, has rescued a majority of his performers from shelters all over the country, and has transformed them into Las Vegas stars. He is a gold medal winner in Paris, France and a special award winner in Monte Carlo. Gregory and his pets were finalists on "America's Got Talent", were guests on TV shows with Jay Leno, David Letterman, Craig Ferguson and was a feature on Animal Planet. Do not miss this opportunity to see this unique family-friendly show featuring this legendary circus entertainer and his furry friends.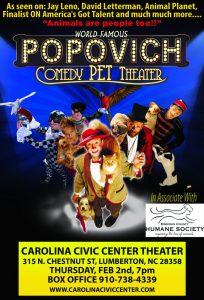 Location: Carolina Civic Center Historic Theater, 315 North Chestnut St., Lumberton, NC 28358
Date: Thurs., Feb 2. 2017
Time: 7 pm – 9 pm
Tel: 910-738-4339
carolinaciviccenter.com/event/popovich-comedy-pet-theater/#.WEg1Rn2rHfc
For Regional Accommodations, Restaurants & Attractions: lumberton-nc.com
Tags: acrobat, America's Got Talent, animal, Animal Planet, award, bird, bond, cat, circus, classroom, comedy, contortionist, costar, country, Craig Ferguson, David Letterman, develop, dexterity, dog, Drivei-95, entertainer, european, extravaganza, family, family-friendly, family-oriented, feature, finalist, France, friend, generation, gold, guest, horse, intelligent, Jay Leno, juggling, Las Vegas, learn, legendary, lover, Lumberton, majority, medal, mime, miniature, Monte Carlo, Moscow, Moscow Circus, North Carolina, Paris, performer, pet, physical, planet, Popovich, Popovich Comedy Pet Theater, rescue, rescued, shelter, show, skill, skit, star, station, stuny, style, talent, theater, train, transform, TV, winner