By stan. Filed in
Children
,
Drink
,
Drive I-95
,
Entertainment
,
Family Fun
,
Festival
,
Food
,
Nature
,
South Carolina
,
Special Event
,
United States
,
USA
|
The third annual Smoke in the 'Boro promises to be a mouth watering event, loaded with fun, live music, kids' activities, an Anything Butt BBQ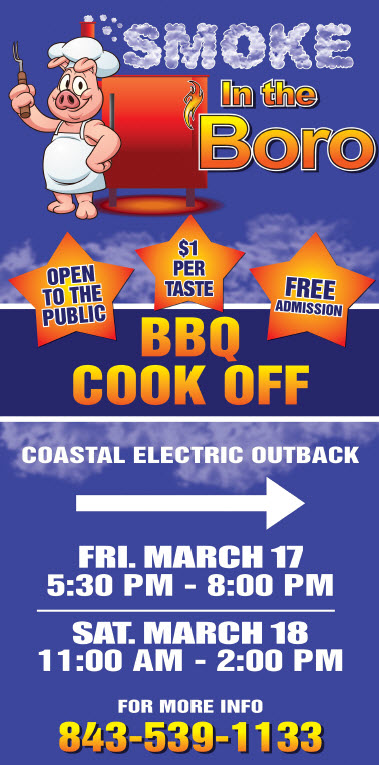 competition and a Butts Only contest.
The weekend will consist of two separate events. "Anything Butt" will be held on Friday night from 5:30-8 pm.  Cooking teams will prepare anything of their choice, from chicken wings to seafood — anything but barbecue. Local judges from Colleton County will evaluate the entries, and the winner will be revealed and prizes awarded.

The teams will then cook their Boston butts and ribs during the night for "Butts Only" , which means Pork only, as required by the SC Barbeque Association and judged by certified, sanctioned judges from around the Southeast.
The teams  present their entries to the judges on Saturday morning. At 11am the gates will be open to the public for tastings and to  partake until 2 pm.
On both Friday and Saturday, tasting tickets for $1.00 each will be available so that you can sample some heavenly food.  There will be great music both days from The Back Road and Going to the Dogs Bands. Free Admission.
Location: Coastal Electric Outback Building, 2269 N Jefferies HWY, Walterboro, SC 29488
Date: Fri March 17 – Sat March 18, 2017
Time: Fri 5:30 – 8pm, Sat 11 – 2pm
Tel: 843-539-1133
thecolletoncenter.org/events/
For Regional Accommodations, Restaurants & Attractions: walterborosc.org/visitingus
Tags: activity, association, band, barbecue, BBQ, Boston, butt, certified, chicken, colleton, competition, contest, cook-off, cooking, county, entry, evaluate, event, food, fun, judge, kids, music, novice. level, Participant, participating, prize, public, sample, sanctioned, SCBA-certified, seafood, Smoke in the 'Boro, South Carolina, statewide, tasting, team, Walterboro, wings, winner