By stan. Filed in
Art
,
celebration
,
Children
,
Culture
,
Drive I-95
,
Entertainment
,
Exhibition
,
Family Fun
,
Festival
,
Maryland
,
Nature
,
Special Event
,
United States
,
USA
|
Light City is a FREE festival that transforms Baltimore with large-scale light installations, performances, music and innovation. Central to Light City is the BGE Light Art Walk along Baltimore's Inner Harbor, featuring more than 50 attractions including visual arts such as illuminated sculptures, projections, interactive technologies, performances, concerts, food vendors and a children's area.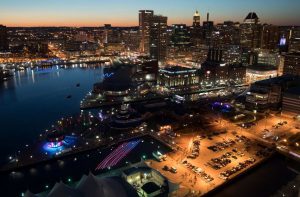 Performance artists bring Light City to life with entertaining acts including fire (a showcase of fire and LED performances utilizing dance, flow arts, circus arts, and music), illuminated puppets, projections, stilt walkers, dance, musical entertainment at the Inner Harbor Amphitheater and along the BGE Light Art Walk.
Inner Harbor Skyline Photo Courtesy of Baltimore Office of Promotion and Arts
Music is a major attraction at Light City. The festival features a full schedule of FREE concerts including local, regional and renowned DJs, bands and musicians across every genre.
Families can visit Mini Light City in Pierce's Park for hands-on, illuminated craft activities in a youth makers' tent, children's entertainers and whimsical snacks such as lighted cotton candy. The park is home to a sound garden by artist David Hess.
Congregation_KMA_Photo by: Tom Wexler
From the south shore of the Inner Harbor to Harbor East, festival -goers can explore 1.5 miles of world-class installations – all free, accessible and open to the public.
Attendees of the Light City Baltimore festival are encouraged to download the free app prior to their visit to see all that the festival has to offer including the festival map, schedule and general festival information. lightcity.org/light-city-baltimore-app
The Pool  Photo by Jen Lewin.
Location: Baltimore's Inner Harbor – lightcity.org/map
Date: Fri, Mar 31 – Sat, Apr 8, 2017
Hours: lightcity.org/schedule
Tel: 410-752-8632
lightcity.org
For Regional Accommodations, Restaurants & Attractions: visitbaltimore.org
Tags: accessible, act, activity, amphitheater, art, Art Walk, artist, attraction, Baltimore, Baltimore Inner Harbor, band, BGE, children, circus, city, concert, cotton candy, craft, dance, DJ, Drivei-95, entertainer, entertainment, family, festival, fire, food, free, garden, genre, harbor, illuminated, innovation, installation, interactive, LED, light, Light City, local, maker, Maryland, mini, music, musical, musican, park, performance, projection, puppet, regional, scale, schedule, sculpture, showcase, snack, sound, stilt walker, technology, tent, vendor, visual arts, walk, whimsical, world-class, youth