By glenda. Filed in
Drink
,
Drive I-95
,
Exhibition
,
Family Fun
,
Food
,
Leisure
,
Maryland
,
Nature
,
Special Event
,
Sports
,
United States
,
USA
|
Head to Annapolis City Dock at the end of April and catch the Annapolis Spring Sailboat Show.  Set in the historic seaport of Annapolis,  the sixth annual in-water sailboat show kicks off the boating season with displays: catamarans, mono hulls, racing boats, family cruisers, day sailors, and inflatables—a total of over 100 new and brokerage boats.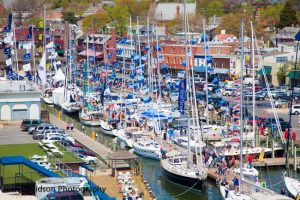 The sailboat show is for experienced and novice sailors alike, showcasing every new model present in the market, on display in the water and on land, allowing you opportunity to talk to the industry experts about buying and owing a boat. Shop for the latest in marine equipment, electronics, clothing and boating accessories at more than one hundred on-land nautical exhibits.

Cruisers University features hands-on workshops providing lessons from professionals and firsthand experience. The event will also include in-water demos, and the 3rd Annual Annapolis Junior Keelboat Regatta, where on April 29th at noon regional high school sailing teams will compete for the traveling cup.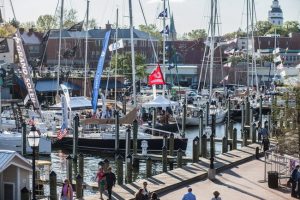 Take a break from touring boats to enjoy live music, continuous entertainment, free food and beer and wine tastings, prizes, plus magnificent water views.
This venue is a one of a kind opportunity for sailors to be with sailors. There are very few places where you will find so many sailors congregated; the Annapolis Spring Sailboat Show is one of them.
Location: City Dock, Annapolis, MD (GPS address: 1 Dock Street, Annapolis, MD 21401)
Date: April 28 – 30, 2017
Hours: Fri, Sat  10 – 6 pm, Sun 10 -5 pm
Tel: 410-268-8828
annapolisboatshows.com/annapolis-spring-sailboat-show
For Regional Accommodations, Restaurants & Attractions: visitannapolis.org
Tags: accessories, Annapolis, april, beer, boat, boating, brokerage, buying, catamaran, city, clothing, compete, cruiser, Cup, day sailor, demo, display, dock, drive i-95, electronics, entertainment, equipment, event, exhibit, expect, experience, experienced, family, firsthand, food, frr, hands-on, historic, hull, in-water, industry, inflatable, junior, keelboat, land, lesson, live, marine, market, Maryland, model, mono, music, nautical, novice, owing, prize, professional, racing, regatta, regional, sailboat, sailing, sailor, school, Seaport, season, shop, show, spring, tasting, team, touring, traveling, university, view, water, wine, workshop