By glenda. Filed in
Art
,
Culture
,
Drive I-95
,
Exhibition
,
History
,
Museum
,
Nature
,
Special Event
,
United States
,
USA
,
Virginia
|
Gari Melchers Home and Studio – Belmont, typical of the Federal style, is over 200 years old. In 1916, renowned artist Gari Melchers and his wife Corinne bought the residence, and no expense was spared in the improvements to their country home.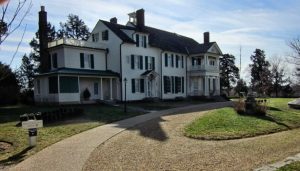 The Melchers accumulated a varied collection of antique furniture and carpets, fine china, paintings and prints by old masters on their extensive travels abroad. The grounds cover 27 acres of gardens, and you get to visit Gari's huge studio too. Upon Corinne's death in 1955, the estate was left to Virginia, and all of their personal possessions, including his beautiful paintings, remain as if they just left.
The Stafford County Visitor Center is in the interestingly stocked gift shop. The property, which is operated by the University of Mary Washington, is both a Virginia Historic Landmark and a National Historic Landmark.
The Belmont Photo Exhibit "Through a Lens" – Belmont Portrayed: Through a Lens, an exhibition of photographs depicting the buildings, grounds and gardens of Gari Melchers Home and Studio at Belmont,  is open to the public on and will be on view  until May 21.
The selection of 21 photos by 12 artists was chosen by Belmont Director David Berreth to represent a variety of photographic approaches to visually interpreting the 19th-century estate and its surroundings.
Location: Gari Melchers Home & Studio Belmont, 224 Washington St, Falmouth, VA 22405
Hours: Apr 1 – Oct 31, daily 10 – 5pm,  From Nov 1- Mar 31, daily 10 – 4 pm
Tel: 540-654-1015
GariMelchers.org
For Regional Accommodations, Restaurants & Attractions: co.stafford.va.us
fredericksburgva.com/VisitFredericksburg
Tags: 19th, abroad, acre, antique, artist, Belmont, building, carpet, center, century, collection, country, county, director, drive i-95, estate, exhibit, exhibition, expense, Falmouth, Federal, fine china, furniture, garden, gardens, Gari Melchers, Gari Melchers Home and Studio, gift, grounds, historic, home, improvement, interpretation, landmark, lens, Mary Washington, masters, national, painting, personal, photo, photograph, photographic, portrayed, possession, print, property, public, residence, selection, shop, stafford, stocked, studio, style, surrounding, travel, university, view, Virginia, visitor, visually, "Through a Lens"