By stan. Filed in
Art
,
Culture
,
Drive I-95
,
Entertainment
,
Nature
,
South Carolina
,
Special Event
,
United States
,
USA
|
Nestled among fields of corn and soybeans, this dynamic 65-acre garden is set in the rural Pee Dee region near Lake City, South Carolina. Moore Farms Botanical Garden is the perfect learning environment. They also host classes and professional workshops.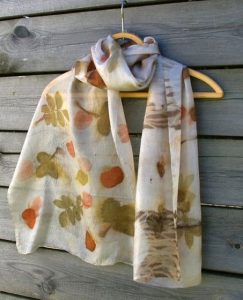 Join Caroline Harper at Moore Farms Botanical Garden on Thursday, September 28, 2017 for an artful day in the garden at a workshop creating Eco Print Scarves.
Eco printing is basically a direct contact printing method, drawing out pigments from plants to make interesting and often surprising marks on protein (silk) fibre. In this class accomplished artist Caroline Harper will show you how to create 2 silk scarves with foraged leaves, flowers, vegetable skins and other objects found from the garden.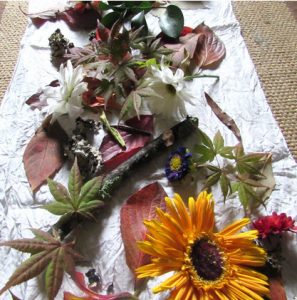 The unique colors and shapes that occur from these materials will make your scarf a one-of-a-kind masterpiece. Silk and organic material will be provided but please bring anything you would like to add to embellish your dazzling scarves. Registration is limited to 20 participants. $60 per person
Location: Moore Farms Botanical Garden, 100 New Zion Road, Lake City, SC 29560
Date: Thurs, Sept 28, 2017
Time: 1:30 pm to 4:30 pm
Tel: 843-210-7582
moorefarmsbg.org
For Regional Accommodations, Restaurants & Attractions: lakecitysc.com/visiting visitflo.com
Tags: art, artful, artist, botanical, class, color, contact, corn, create, drawing, Drivei-95, eco, embellish, environment, fabric, fibre, field, Florence, flower, foraged, garden, Lake City, leaf, learning, leaves, mark, masterpiece, material, method, Moore Farms Botanical Garden, object, one-of-a-kind, organic, Pee Dee, pigment, plant, print, printing, professional, protein, region, rural, scarf, scarves, shape, silk, skin, South Carolina, soybean, unique, vegetable, workshop