By stan. Filed in
Drink
,
Drive I-95
,
Family Fun
,
Food
,
Maine
,
Restaurant
,
United States
,
USA
|
College students know pizza; a staple for them while living on or off campus. Over the years, this landmark for pizza in Maine, Pat's Pizza,  has become a favorite of University of Maine students offering delicious and affordable pizzas that won't disappoint. In fact, with deep roots in the community, it has been said that an education at the University is not complete without a Pat's Pizza.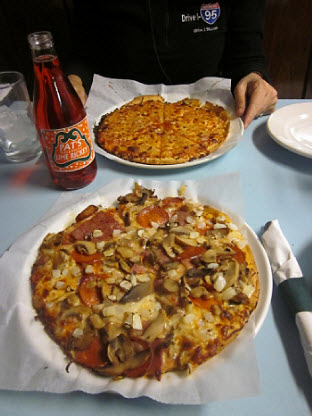 Opened in 1931, and still churning out 700 pizzas a night, this 2nd generation family business (now with 19 locations) is famous in Maine. Step into over 50 years of history with this old time pizzeria, at their original location, with its original Formica counters and slate foot rests.
The thin, soft, light crust melts in your mouth, and the toppings are put on evenly so that there's a taste in every bite. Made with freshest ingredients, 35 toppings like: specially made pepperoni, pine nuts, hot dog, kielbasa, zesty olives or eggplant, there is a pizza just for you! They even make gluten-free pizzas or double -dough pizzas.
The Pat's Combo is the most popular pizza with pepperoni, mushrooms, and Cotto salami on it. Not to mention the mouth-watering calzones, spaghetti and meatballs, sub sandwiches, wraps, salads and a Maine favorite red skin hot dogs too. Wash it down with Pat's own brand of sodas: strawberry, root beer, orange, grape, cream or Stan and Sandra's favorite – raspberry Lime Rickey, or try the local Moxie brand, made in Maine.
Buon appetito!
Location: 11 Mill Street, Orono, ME 04473
Hours: Mon-Fri 7am – 12am, Sat-Sun 7am – 1am
Tel: 207-866-2111
patspizzaorono.com/
For Regional Accommodations, Restaurants & Attractions: visitbangormaine.com
Tags: affordable, Bangor, bite, brand, business, calzone, campus, churning, college, community, counter, cream, crust, double, dough, drive i-95, eggplant, family, famous, food, foot, formica, generation, gluten-free, grape, History, hot dog, ingredient, kielbasa, landmark, Lime Rickey, living, local, location, Maine, meatball, mouth, moxie, mushroom, night, nut, olive, orange, original, Orono, Pat's Pizza, pepperoni, pine, pizza, pizzeria, price, raspberry, Red, rest, Restaurant, root beer, roots, salad, salami, sandwich, skin, slate, soda, spaghetti, staple, strawberry, student, sub, taste, topping, university, University of Maine, wrap., year