By stan. Filed in
Drive I-95
,
Entertainment
,
Family Fun
,
Food
,
Maryland
,
military
,
Nature
,
Special Event
,
Sports
,
United States
,
USA
|
on't miss the 10th Anniversary Military Bowl presented by Northrop Grumman Corporation, benefiting the USO of Metropolitan Washington-Baltimore (USO-Metro), a military support organization. Kick off is on Thursday, Dec. 28 at 1:30 pm at Navy-Marine Corps Memorial Stadium in Annapolis matching a team from the Atlantic Coast Conference (ACC) against an opponent from the American Athletic Conference (AAC) and will be televised nationally on ESPN.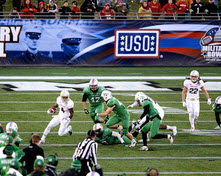 The game day festivities kicks off  at 9:30 am with one of Annapolis' newest traditions: the Military Bowl Parade, featuring The world-famous Budweiser Clydesdales.  They will lead the parade procession – along with Medal of Honor recipients, mascots, and team bands – from City Dock in downtown Annapolis to the Navy-Marine Corps Memorial Stadium as part of the many special events throughout the day.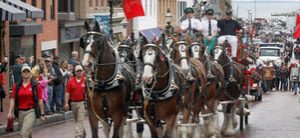 The Official Military Bowl Tailgate kicks off in the Blue Lot on the west side of Navy-Marine Corps Memorial Stadium. Admission to the tailgate is free and will feature music, games, food & beverages from fantastic Annapolis restaurants, and exciting giveaways for the first arrivals. In addition, there's also the 3rd Annual Bud & Burger Battle (held from 10:30 am-12:30 pm) where you can sample some of Annapolis' favorite burgers before voting for your favorite.
Fan Bowl Week in Annapolis:
Wednesday, December 27
Thursday, December 28
For more than 70 years, the USO (United Service Organizations) has been the way for the American people to say thank you to our nation's service men and women and their families.
To purchase tickets: militarybowl.org/tickets/#!
Location: U.S. Navy-Marine Corps Memorial Stadium, 550 Taylor Avenue, Annapolis
Date: Thurs, December 28, 2017
Time: Kick off 1:30 (doors open at 12:00)
Tel: 202-776-2919
militarybowl.org
For Regional Accommodations, Restaurants & Attractions: visitannapolis.org
Tags: American, Annapolis, anniversary, arrival, athletic, Atlantic, Baltimore, band, bar, battle, benefit, beverage, bud, Budweiser, burger, city, Clydesdales., Coast, conference, corps, crawl, day, dock, downtown, drive i-95, ESPN, event, family, food, game, giveaways, honor, kick off, lead, marine, Maryland, mascot, medal, Medal of Honor, memorial, men, metropolitan, military, Military Bowl, music, nation, nationally, navy, Navy-Marine Corps Memorial Stadium, official, opponent, organization, parade, procession, recipient, Restaurant, sample, service, special, stadium, support, tailgate, team, televised, tradition, united, USO, voting, walk, Washington, wine, women, world-famous