By stan. Filed in
Drive I-95
,
Entertainment
,
Family Fun
,
Georgia
,
Nature
,
Special Event
,
Sports
,
United States
,
USA
|
Running into the chilly Atlantic might not be the typical way to celebrate New Year's Day, but for the last 18 years, the Tybee Polar Plunge has done just that.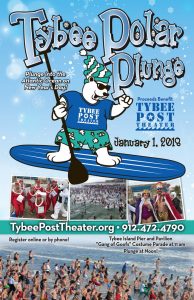 The annual Tybee Polar Plunge, is a tradition held every New Year's Day at the Tybee Island Pier and Pavilion. Join thousands of hearty and brave souls as they take a group  plunge into the into the icy Atlantic Ocean at noon or just come out and see who's crazy enough to take the plunge and cheer them on.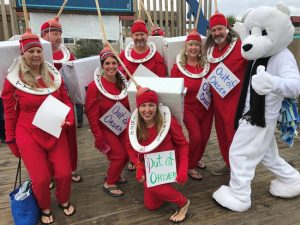 The fun kicks off with the legendary Gang of Goofs costume contest and parade on the Tybee Island Pier and Pavilion at 11 am before the plunge. So gather up your gang of goofy friends and family, dream up your wackiest costumes and compete for great cash prizes before a panel of celebrity judges.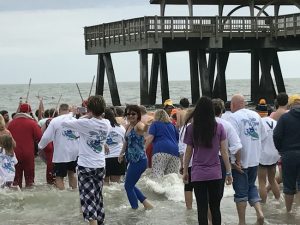 So don't hesitate, take the leap…Funds raised support the renovation of the historic Tybee Post Theater.
AVOID LONG LINES AND REGISTER IN ADVANCE!  Click Here
Location: Tybee Island Pier and Pavilion – Tybee Island, GA 31328
Date: Sunday,  January 1, 2018
Time: 10am
Tel: 912-472-4790, 912-786-5444
tybeepolarplunge.com
For Regional Accommodations, Restaurants & Attractions: visittybee.com, visitsavannah.com
Tags: Atlantic, brave, cash, celebrity, contest, costume, drive i-95, family, friend, fun, funds, gang, Georgia, goof, historic, judge, legendary, New Year, New Year's Day, ocean, parade, pavilion, pier, plunge, polar, prize, renovation, soul, support, theater, tradition, Tybee, Tybee Island, Tybee Polar Plunge, wacky