By stan. Filed in
Entertainment
,
Family Fun
,
Florida
,
Nature
,
Special Event
,
Sports
,
United States
,
USA
|
Venice Of America Lesson and Tour is a fun and easy way to learn how to stand up paddle board and experience a relaxing journey from Fort Lauderdale's Barrier Island to the Riverfront in Las Olas with professional and friendly guide.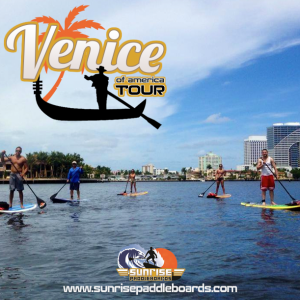 Look out for manatees as you paddle through  navigable inland waterways that make up New River, winding past the palatial estates, multi-million dollar luxury yachts, and natural areas of Fort Lauderdale's intracoastal and river system.
The canals house mega yachts of the rich and famous which are docked at luxurious homes that can only be seen by river as many are inside gated communities.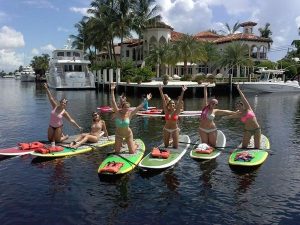 These inland waterways with their waterfront homes earned Fort Lauderdale its reputation as the "Venice of America."Glide your board from small wakes as yachts and boats pass, all while enjoying the beautiful Intracoastal Waterway system that stretches from Maine to Miami.
The Fort Lauderdale port hosts as many as 18 cruise ships a day, sailing from Port Everglades in Fort Lauderdale to marquee destinations throughout the Caribbean.
Paddling tours navigate different routes daily based upon current, wind conditions, and other variables to make the tour safe, fun, and inviting  for all ages. Along the tour their knowledgeable tour guide will answer questions while making your experience as easy and fun as possible.
Images Courtesy of Sunrise Paddleboards
Location: 2520 N. Federal Hwy., Ft Lauderdale, FL 33305
Dates & Time: Every Saturday at 10 AM
Tel: 954-440-4562
sunrisepaddleboards.com
For Regional accommodations, Restaurants & Attractions: sunny.org
Tags: America, barrier, Barrier Island, board, boat, canal, caribbean, community, cruise, destination, dock, dollar, Drivei-95, estate, famous, fort lauderdale, friendly, fun, guide, home, house, industry, inland, intracoastal, Island, journey, Las Olas, learn, lesson, luxurious, luxury, Maine, make up, manatee, Miami, mile, million, natural, navigable, New River, paddle, paddle board, palatial, port, Port Everglades, portion, professional, rich, river, riverfront, stand-up, system, technique, tour, tour. technique, Venice, Venice Of America, Waterfront, waterway, yacht