By stan. Filed in
Drink
,
Drive I-95
,
Entertainment
,
Exhibition
,
Family Fun
,
Florida
,
Food
,
History
,
Nature
,
Special Event
,
Sports
,
United States
,
USA
|
Since 1962, racing legends from around the world have come to Daytona to compete in a grueling 24-hour marathon.  The Rolex 24 Hours of Daytona is infamously relentless on both driver and machine as sleep-deprived crews perform mechanical phenomenons. From sunrise to sunset to sunrise again, witness as both man and machine are pushed to the limit in this twice-around-the-clock marathon.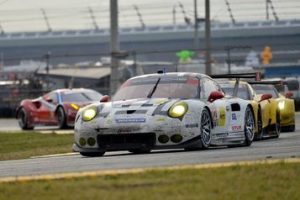 The Rolex 24 at DAYTONA, a 24-hour sports car endurance race executed on the track's 3.56-mile road course, is a perfect battle between machine, driver and time.
The four-day event begins with qualifying races on January 25, a BMW Endurance race January 26 and the Rolex 24 January 27-28. Two-time Formula 1 World Champion Fernando Alonso brings the driver star power to this most challenging race.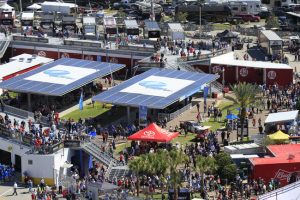 Schedule of Events:
Thursday, January 25th
9:00 AM
Stadium & UNOH Fanzone opens
9:20 AM – 10:20 AM
IMSA WeatherTech SportsCar Championship practice session #1
10:40 AM – 11:25 AM
Ferrari Challenge practice session #3
11:40 AM – 11:55 AM
IMSA Continental Tire Sports Car Challenge practice session #3
12:05 PM – 12:20 PM
IMSA Continental Tire SportsCar Challenge ST qualifying
12:25 PM – 12:40 PM
IMSA Continental Tire SportsCar Challenge GS / TCR qualifying
1:40 PM – 2:40 PM
IMSA WeatherTech SportsCar Championship practice session #2
3:00 PM – 3:15 PM
Ferrari Challenge qualifying #1 group 1
3:20 PM – 3:35 PM
Ferrari Challenge qualifying #1 group 2
3:55 PM – 4:10 PM
IMSA WeatherTech SportsCar Championship GTD qualifying
4:20 PM – 4:35 PM
IMSA WeatherTech SportsCar Championship GTLM qualifying
4:45 PM – 5:00 PM
IMSA WeatherTech SportsCar Championship P qualifying
5:00 PM – 5:20 PM
IMSA Continental Tire SportsCar Challenge practice session #4
6:30 PM – 8:00 PM
IMSA WeatherTech SportsCar Championship practice session #3
 Friday, January 26th
8:30 AM
Stadium & UNOH Fanzone opens
8:45 AM – 9:00 AM
Ferrari Challenge qualifying #2 group 1
9:05 AM – 9:20 AM
Ferrari Challenge qualifying #2 group 2
9:40 AM – 10:40 AM
IMSA WeatherTech SportsCar Championship practice session #4
11:00 AM – 11:45 AM
Ferrari Challenge race #1
11:00 AM – 4:30 PM
Carnival Rides at the Boardwalk Experience
12:00 PM – 12:45 PM
Grid opens for fan access to pre-race ceremonies on Pit Road
1:00 PM – 5:00 PM
BMW Endurance Challenge At DAYTONA
Saturday, January 27th
6:30 AM
Stadium & UNOH Fanzone opens
7:00 AM
DAYTONA 5K Run & Fun Walk
8:00 AM
Rolex 24 Heritage Exhibition Display at the FPL Solar Patio inside UNOH Fanzone
9:00 AM
Stadium open
9:00 AM – 4:00 PM
UNOH Fanzone Kids Zone open
9:00 AM – 4:00 PM
Motorsports Hall of Fame open in Daytona Ticket and Tours building
9:00 AM – 7:00 PM
Daytona Rewards stations open in stadium & UNOH Fanzone
9:00 AM – 12:00 AM
Grassroots Motorsports Experience located at the Grassroots Motorsports tent along Lake Lloyd
9:30 AM – 10:45 AM
Ferrari Challenge race #2
10:00 AM – 12:00 AM
Carnival Rides at the Boardwalk Experience
10:30 AM
Rolex 24 Heritage Exhibition laps
11:00 AM – 6:00 PM
Photos with the 56th Rolex 24 At Daytona trophy inside Gatorade Victory Lane
12:00 PM – 12:45 PM
IMSA WeatherTech SportsCar Championship driver autograph session inside UNOH Fanzone
1:05 PM – 2:20 PM
Grid opens for fan access to pre-race ceremonies on Pit Road
1:05 PM – 2:20 PM
Crossover gates open
2:40 PM
START – 56th Rolex 24 At Daytona
6:00 PM – 8:00 PM
Wine & Cheese Party – Café 24 Activity Zone
6:00 PM – 10:00 PM
Taste of the 24 in Stadium Midway Suites
8:00 PM – 10:00 PM
Live band on the Main Stage inside UNOH Fanzone
10:30 PM – 12:00 AM
Karaoke on the Main Stage inside UNOH Fanzone
 Sunday, January 28th
8:00 AM – 10:00 AM
Café 24 Breakfast Garage inside the Café 24 Activity Zone
9:00 AM – 12:00 PM
Photos with the 56th Rolex 24 At Daytona trophy inside Gatorade Victory Lane
9:00 AM – 2:00 PM
UNOH Fanzone Kids Zone open
9:00 AM – 4:00 PM
Fanatics merchandise store open in Stadium
9:00 AM – 3:00 PM
Grassroots Motorsports Experience located at the Grassroots Motorsports tent along Lake Lloyd
9:00 AM – 4:00 PM
Motorsports Hall of Fame open in Daytona Ticket and Tours building
10:00 AM – 3:30 PM
Carnival Rides at the Boardwalk Experience
2:00 PM
Rolex 24 Heritage Exhibition parade begins in UNOH Fanzone
2:40 PM
FINISH – 56th Rolex 24 At Daytona
Photo Credit: Daytona International Speedway
Location: Daytona International Speedway, 1801 W. International Speedway Blvd. Daytona Beach, FL 32118
Date: Jan 25 – 28, 2018
Time: Various – See Schedule Above
Tel: 386-253-7223
daytonainternationalspeedway.com/Events/2018/Rolex-24-At-DAYTONA/Rolex-24-At-Daytona.aspx
For Regional Accommodations, Restaurants & Attractions: daytonabeach.com
Tags: 5k, activity, around-the-clock, autograph, band, battle, beach, BMW, boardwalk, breakfast, cafe, car, carnival, ceremony, challenge, champion, championship, continental, course, crew, Daytona, Daytona Beach, Daytona International Speedway, display, drassroots, Drivei-95, driver, endurance, event, exhibition, fan, Fernando Alonso, Ferrari, Florida, formula, garage, grid, hall-of-fame, heritage, internationa;, karaoke, lap, legend, limit, live, machine, main, Man, marathon, mechanical, merchandise, midway, motorsport, parade, party, patio, perform, photo, pit, power, practice, pre-race, qualifying, race, racing, reward, ride, road, Rolex 24, run, session, sleep-deprived, solar, speedway, sport, stadium, stage, star, station, suite, sunrise, sunset, taste, tent, ticket, time, tire, tour, track, trophy, walk, weathertech, Wine & Cheese, world, zone