By stan. Filed in
Architecture
,
Art
,
Drive I-95
,
Exhibition
,
Family Fun
,
Festival
,
Food
,
Georgia
,
History
,
Nature
,
Special Event
,
United States
,
USA
|
Brunswick Rockin' Stewbilee takes place annually at Mary Ross Waterfront Park, recognizing Brunswick, Georgia as the birthplace of the original Brunswick Stew. As the oft-told tale goes, a slave cook named Jimmy Matthews created the concoction in 1828. Nearly two centuries later, the original meat – squirrel – is out and, today, chicken, is in.

Each year, cooking teams from near and far compete to see who has the best stew, in a cook-off where the culinary skills and secret recipes are challenged by amateur and professional chefs, vying for the coveted Peoples' Choice and Judges' Award.
In addition to stew tasting there will be loads of other fun family activities. The day long event begins with the 5k Road Race followed by the Pet Supplies Plus Pooch Parade, Live Entertainment, The Kid's Junior Stewbilee Central Fun Zone, Classic and Antique Car Show, Arts & Crafts displays and of course, sampling of the Best Brunswick Stew in the nation.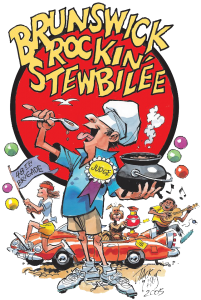 Schedule:
9am – Motor Cycle Ride
10am – Live Music – Pier Pressure
10:15am – Pooch Parade
12:15pm – Live Music – 3 Day Weekend
11am – 2pm – Brunswick Rockin' Stew Tasting
Location: Mary Ross Waterfront Park, Bay & Gloucester Street, Brunswick, GA 31520
Date: Sat, Jan 27th, 2018
Time: 9am – 2pm
Tel:  912-996-4593
stewbilee.com
For Regional Accommodations, Restaurants & Attractions: goldenisles.com
Tags: 5k, activity, amateur, antique, arts & crafts, award, birthplace, Brunswick, Brunswick Rockin' Stewbilee, Brunswick stew, car, central, century, challenge, chef, chicken, choice, classic, compete, concoction, cook, cook-off, cooking, culinary, display, Drivei-95, entertainment, event, family, far, fun, Georgia, judge, junior, kid, live, Mary Ross, meat, nation, near, original, parade, park, people, People's Choice, pet, pooch, professional, race, recipe, road, sampling, secret, show, skill, slave, squirrel, stew, stewbilee, supply, tale, tasting, team, Waterfront, zone