By stan. Filed in
Drive I-95
,
Entertainment
,
Family Fun
,
Florida
,
Nature
,
Special Event
,
Sports
,
United States
,
USA
|
Take a Sunset Kayak Tour at Sebastian Inlet State Park for a memorable exploration the Indian River Lagoon, home to brown and white pelicans, herons, egrets, osprey, bottle-nosed dolphin and manatee.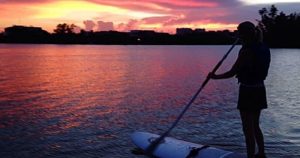 Or maybe you'd prefer the Full Moon Kayak Tours,  available on June 29, June 30,July 27, 28 and Aug 25. Under the light of the full moon, join an adventure, glow sticks in hand, through the grass flats and explore the Indian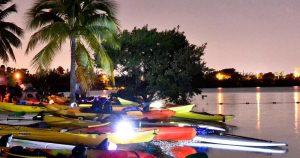 River Lagoon. After the tour, relax and enjoy Smore's and refreshments at the Marina.
Included in these tours: a kayak or paddle-board, safety vests and safety instructions.
What to bring: bathing suit, sunscreen, towels, sun protective clothing (ie. hats and sun shirts), water shoes or waterproof sandals and bug spray.
Location: BG's Bayside and Marina, 9502 S. Hwy A1A
Melbourne Beach Florida, 32951 – Located inside Sebastian Inlet State Park
Date: Sunset Tours: weekly – Sun, Wed, Thur, Fri, and Sat, Full Moon – usually only once a month,  Please check schedule
Time: Sunset Tours – 7pm, Full Moon – 7:30pm
Tel: 321-724-5424
bgsurfsidegrillandadventures.com/sunset-tours
Regional Accommodations, Restaurants & Attractions: visitspacecoast.com
Tags: Adventure, bathing suit, beach, bottle-nosed dolphin, daily, dolphin, drive i-95, egret, flats, Florida, full moon, glow stick, grass, heron, Induian, inlet, instruction, kayak, lagoon, manatee, Marina, Melbourne Beach, moon, osprey, paddle board, park, pelican, refreshment, river, routine, safety, safety vest, sebastian, state, sun protective clothing, sunscreen, sunset, s'more, tour, towel