By glenda. Filed in
Art
,
Culture
,
Drive I-95
,
Exhibition
,
Family Fun
,
Florida
,
Museum
,
United States
,
USA
|
There's only a few more weeks for the whole family to appreciate the delightful and amusing summer long exhibition at the Ormond Memorial Art Museum & Garden. The Four Footed & Fanciful Art Exhibit showcases the work of three artists who create whimsical animal creatures.
Take a walk though the imagination of artists Adonna Khare, Cindy Burkett and Don Nedobeck and enjoy the fanciful creatures they capture.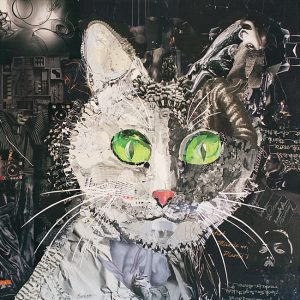 The exhibit features the artistic talents of California artist Adonna Khare, who creates large scale pieces using a carbon pencil. She was the winner of a $200,000 People's Choice prize at Art Prize.  Cindy Burkett, from New Smyrna Beach, creates intricate collages from recycled magazines and other materials for her collages that draw viewers in to find their surprising secrets and Don Nedobeck, a DeLand artist who creates fun animals, especially big fluffy cats, that he calls "caricatures in watercolor" and he has produced three children's books.                                  "Cats Eyes" collage by Cindy Burkett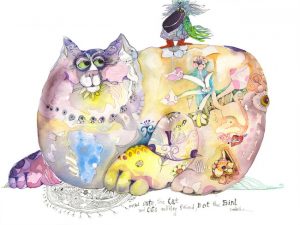 Hurry in because the exhibit only runs through Sept. 9.  Admission is free with a $2 per person suggested donation.
"Ornate Cat and Bert" Watercolor and ink by Don Nedobeck
Location: Ormond Memorial Art Museum & Garden, 78 East Granada Blvd, Ormond Beach, FL 32176
Date – until Sept 9, 2018
Time: Mon – Fri 10am – 4pm, Sat & Sun noon- 4pm
Tel: 386-676-3347
ormondartmuseum.org
For Regional Accommodations, Restaurants & Attractions: daytonabeach.com
Tags: Adonna Khare, animal, art, Art Prize, artist, artistic, book, California, carbon, caricature, cat, children, Cindy Burkett, collage, create, creature, Daytona Beach, DeLand, Don Nedobeck, draw, drive i-95, exhibit, exhibition, family, Florida, Four Footed & Fanciful, imagination, magazine, material, Museum, New Smyrna Beach, Ormond Beach, Ormond Memorial Art Museum & Garden, ormond museum, pencil, People's Choice, piece, prize, recycled, scale, secret, showcase, summer, surprising, talent, watercolor, whimsical, winner