By glenda. Filed in
Art
,
celebration
,
Children
,
Culture
,
Drive I-95
,
Family Fun
,
Florida
,
Museum
,
Special Event
,
United States
,
USA
|
Whom better to honor than your grandparents? There is a special bond that is shared between grandchildren and their grandparents. National Grandparents Day was declared in 1978 to be celebrated in the US on the first Sunday of September after Labor Day; It was signed into law by President Jimmy Carter.
National Grandparents Day gives grandchildren the opportunity to show love and appreciation to their grandparents. Why not treat them to a special Grandparents Day celebration on the grounds of the glorious Flagler Museum?
The Gilded Age estate was a 75-room winter retreat built in 1902 as a wedding present for Henry Flagler's wife Mary Lily Kenan Flagler  and is open to the public as the Flagler Museum, featuring guided tours, changing exhibits, and special programs.
Family played an important role in the history of the Flagler Museum. The Museum's founder, Jean Flagler Matthews, a granddaughter of Henry Flagler  preserved Whitehall and its collections to honor her grandfather.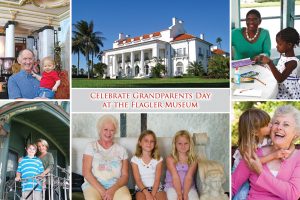 Visit the Flagler Kenan Pavilion to enjoy the family-friendly activities including: Working together to create your family tree, Being interviewed by your grandchildren, helping your grandchildren write a postcard to their family, commemorating the day by making a scrapbook page together having a family photo taken in front of Henry Flagler's Railcar No. 91. all while bonding, sharing, and making timeless memories.
No matter what, the best Grandparents Day activity involves you and your grandparents together, celebrating your family and each other. They play a vital role in families, and this is a day that we can appreciate all the joy and wisdom that grandparents bring to our lives.
Location: Location: The Flagler Museum, One Whitehall Way, Palm Beach, FL 33480
Date: Sun, Sept 9, 2018
Time: 3 – 5pm
Tel: 561-655-2833
flaglermuseum.us
For Regional Accommodations, Restaurants & Attractions: thepalmbeaches.com

Tags: age, appreciation, celebration, collection, commemorate, drive i-95, entertainment, estate, exhibit, family, family photo, family tree, family-friendly, flagler, flagler museum, Florida, fun, gilded, gilded age, grandchildren, grandfather, Grandparent, Grandparents Day, guided tour, Henry Flagler, History, honor, interview, kids, love, Museum, palm beach, pavillion, photo, postcard, present, program, Railcar, retreat, role, scrapbook, Special Event activity, tour, wedding, whitehall