By glenda. Filed in
Architecture
,
Civil War
,
Exhibition
,
France
,
History
,
military
,
Monument
,
Museum
,
Paris
,
Religion
,
Trafalgar Costsaver European Delight
,
Travel
,
worship
|
.
Les Invalides or Hôtel des Invalides is a vast complex of buildings in Paris including museums and monuments relating to the military history of France. As per its name it was originally built by Louis XIV as a hospital and a retirement home for war veterans. Pictured here is the Dôme des Invalides, a large church, the tallest in Paris which contains the tombs of some of France's war heroes, most notably Napoleon.
The complex had 15 courtyards for military parades. At the church, attendance was mandatory. Louis XIV also commissioned his architect Mansart to construct a separate royal chapel referred to as the Église du Dôme from its most striking feature (pictured). By combining a royal chapel with a veterans' chapel, the King and his soldiers could attend mass at the same time while entering the place of worship though different entrances, as prescribed by court etiquette at that time.
I'd like to think the gentleman sitting there (in the wheelchair and on the bench) are two of our veteran heros..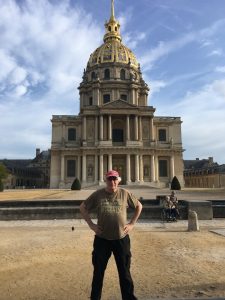 Tags: architect, attendance, building, chapel, church, commissioned, complex, construct, CostSaver, court, courtyard, Dôme des Invalides, Église du Dôme, enterance, etiquette, Europe, France, hero, History, hospital, Hotel des Invalides, King, landmark, Les Invalides, Louis XIV, Mansart, mass, military, monument, Museum, Napoleon, parade, Paris, retirement home, royal, sights, sightseeing, soldier, tomb, tour, tourist, Trafalgar, travel, travelblogger, veteran, war, war hero, war veteran, worship