Tag Archive
activity
art
artist
Austria
Canada
children
city
CostSaver
display
Drivei-95
drive i-95
entertainment
Europe
event
exhibit
family
festival
Florida
food
France
free
fun
historic
History
landmark
live
local
London
Museum
music
performance
Restaurant
roadtrip
shop
show
sights
sightseeing
tour
tourist
Trafalgar
travel
travelblogger
USA
view
world
College students know pizza; a staple for them while living on or off campus. Over the years, this landmark for pizza in Maine, Pat's Pizza,  has become a favorite of University of Maine students offering delicious and affordable pizzas that won't disappoint. In fact, with deep roots in the community, it has been said that an education at the University is not complete without a Pat's Pizza.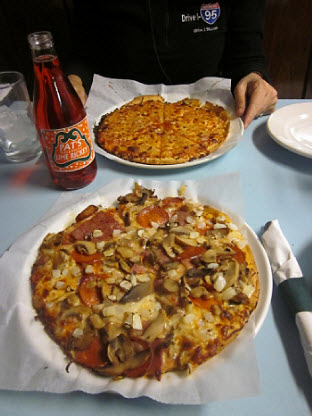 Opened in 1931, and still churning out 700 pizzas a night, this 2nd generation family business (now with 19 locations) is famous in Maine. Step into over 50 years of history with this old time pizzeria, at their original location, with its original Formica counters and slate foot rests.
The thin, soft, light crust melts in your mouth, and the toppings are put on evenly so that there's a taste in every bite. Made with freshest ingredients, 35 toppings like: specially made pepperoni, pine nuts, hot dog, kielbasa, zesty olives or eggplant, there is a pizza just for you! They even make gluten-free pizzas or double -dough pizzas.
The Pat's Combo is the most popular pizza with pepperoni, mushrooms, and Cotto salami on it. Not to mention the mouth-watering calzones, spaghetti and meatballs, sub sandwiches, wraps, salads and a Maine favorite red skin hot dogs too. Wash it down with Pat's own brand of sodas: strawberry, root beer, orange, grape, cream or Stan and Sandra's favorite – raspberry Lime Rickey, or try the local Moxie brand, made in Maine.
Buon appetito!
Location: 11 Mill Street, Orono, ME 04473
Hours: Mon-Fri 7am – 12am, Sat-Sun 7am – 1am
Tel: 207-866-2111
patspizzaorono.com/
For Regional Accommodations, Restaurants & Attractions: visitbangormaine.com
Providence's 4th annual Fringe Festival, FRINGEPVD 2017 – will be held July 24-29, 2017 and it has grown rapidly since it started.
The Providence Fringe Festival (FRINGEPVD) is open to anyone who wants to produce their own show. For some artists, it's a once-a-year opportunity to create a show and for others it can be an opportunity to try something new.
This year more than three hundred individual theatre, music, dance, multi-media, and performing artists  will be brought together for five nights in traditional and non-traditional performance venues throughout the Providence area.
Founded in 2014 by The Wilbury Theatre Group, the festival offers affordable tickets for outside-the-box performances that run from 40-60 minutes. Some are Free, while other tickets are $5 or $10 and can be purchased at the door. Audiences are encouraged to take full advantage of the variety of performing and visual artists participating in the fringe and attend performances that you wouldn't normally attend, see things you wouldn't otherwise see. Keep an open mind, have fun and check out multiple shows each night.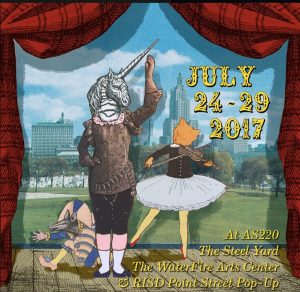 Downtown venues include AS220 Black Box Theater, Aurora, Big Nazo Satellite Space, The Dean Hotel, Mathewson Street Black Box Theater, and the RISD Museum and more. Eleven venues in total. fringepvd.org/venues.html
Location: The Wilbury Theatre Group, 393 Broad Street, Providence, RI 02907 and various other venues
Dates: July 24 – July 29, 2017
Times: 6pm – 11pm
Tel: 401-400-7100
fringepvd.org
For Regional Accommodations, Restaurants & Attractions: goprovidence.com