Tag Archive
activity
art
artist
Austria
Canada
children
city
CostSaver
display
drive i-95
Drivei-95
entertainment
Europe
event
exhibit
family
festival
Florida
food
France
free
fun
historic
History
landmark
live
local
London
Museum
music
performance
Restaurant
roadtrip
shop
show
sights
sightseeing
tour
tourist
Trafalgar
travel
travelblogger
USA
view
world
It is no coincidence that this unique event is being held in Fayetteville, close to Fort Bragg, one of the largest military bases in the free world.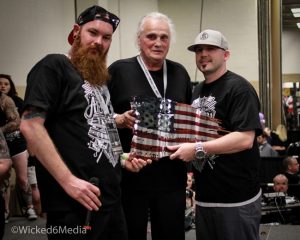 The goal of the All American Tattoo Convention is to give some of the best tattoo artists in the world the opportunity to showcase their talents to some of the bravest heroes in the world, all while raising money to assist soldiers with PTSD, and other combat related injuries, veterans and families of soldiers.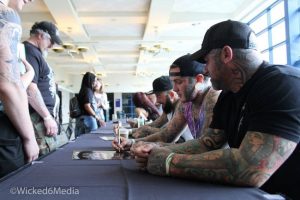 Tattoos and the US armed forces have a history dating back as far as the early 1900's. There are countless inked active duty and war veterans. Tattoos and body art can tell a story that words fail to provide, giving these veterans an outlet to express themselves and show the pride in being a part of something bigger than themselves.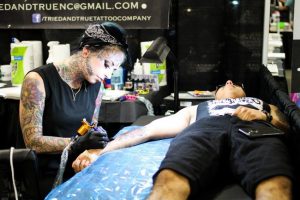 Just a few of the many special events being planned include: Tattoo Contest, All Veteran Parachute Team, Air Born Aerial Performers and Fitness, Emcee Johnny "Awesome" Ivey, Ms. All American Pin-Up Contest and Fayetteville Roller Derby Rogue Rollergirls.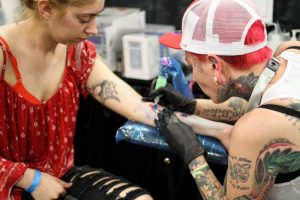 Refer to the website for all artist, vendor and event information.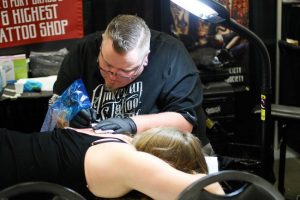 This is just not a Military event, everyone is invited so go out and support our troops while  experiencing all that this three-day convention has to offer. To buy- Tickets
Location: The Crown Complex Expo Center, 131 E. Mountain Dr., Fayetteville, NC 28306
Dates:  April 13-15th, 2018
Times: Fri, Apr 13th, 2pm – 11pm, Sat, Apr 14th, 12pm – 11pm, Sun, Apr 15th, 12pm -8pm
Tel: 910- 850-2566
allamericantattooconvention.com
For Regional Accommodations, Restaurants & Attractions: visitfayettevillenc.com
General William C. Lee Airborne Museum – This house was the home of the "Father of the Army Airborne", so the museum charts his personal life as well as the growth of Army 101st and 82nd Airborne divisions. Exhibits include photographs, videotape, World War II memorabilia, historical documents and paratrooper equipment and uniforms.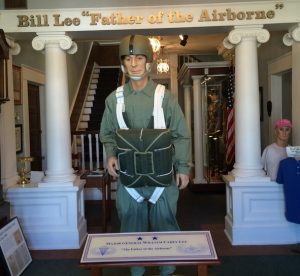 General Lee was a relentless lobbyist to make the airborne a formidable part of our military might.
At tank school in Versailles, France in the '30's he observed German military airborne experiments. He saw the promise of this, and started with test platoons doing parachute jumps (practiced from parachute towers in Hightstown, NJ).
By August 1942, in 26 months, he shepherded the airborne from a test platoon of 50 men to 2 divisions of 8,300 men, and was in charge of the sky: parachutes, air landing battalions and eventually the glider units.
He suffered a major heart attack on the eve of D-Day, and missed his chance to lead it. You have probably heard of his famous saying "the 101st has no history, but it has a rendezvous with destiny".
Location: General William C. Lee Airborne Museum, 209 West Divine St., Dunn 28334
Hours: Mon-Fri 8:30-4:30, Sat 11-4 (Closed Sundays and Holidays)
Tel: 910-892-1947
generalleeairbornemuseum.org
For Regional Accommodations, Restaurants & Attractions: dunntourism.org
It's a game that you rarely think of playing outside a five-by-two foot space. It incorporates skill, concentration and hand-eye coordination. It's foosball, the tabletop-size game that has a household presence but with an entirely new approach.
The human version of the tabletop classic is remarkably similar to its traditional counterpart, but on a much larger scale. Teams of 6 attach themselves to fixed poles across the field and can only move to the right or left as a team, to move the ball up the field. Teams consist of 2 Forwards, 3 Mid-fielders and 1 Goalie. Watch your favorite table-top game come to life when twenty-four teams  participate in this round robin tournament taking place on the grounds of the Airborne & Special Operations Museum.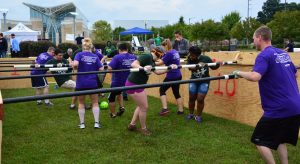 Cash prizes are awarded to the top three teams. Food and refreshments will be available for purchase. The tournament raises money for the museum's nonprofit foundation.
Location: Airborne & Special Operations Museum,100 Bragg Blvd., Fayetteville, NC 28301
Date: Sat, Oct 1,2016
Time: 9 – 5pm
Tel: 910-643-2778
asomf.org
For Regional Accommodations, Restaurants & Attractions: visitfayettevillenc.com