Tag Archive
activity
art
artist
Austria
Canada
children
city
CostSaver
display
drive i-95
Drivei-95
entertainment
Europe
event
exhibit
family
festival
Florida
food
France
free
fun
historic
History
landmark
live
local
London
Museum
music
performance
Restaurant
roadtrip
shop
show
sights
sightseeing
tour
tourist
Trafalgar
travel
travelblogger
USA
view
world
Many of us enjoy a light read to while away a lazy summer afternoon. At the Hudson Village Theatre, you don't even have to read to have fun – you can just listen and watch as four women meet, mingle and moan – and become a family of friends.
The director, Ellen David, takes this (Jessie) Jones (Nicholas) Hope (Jamie) Wooten delightful script and gently guides the dynamic quattro of actors as they learn "what is holding you back from one's past and self-imposed limitations towards a compelling future".  This could be any one of us.
The performers David chose are as well cast and strong as the four sides of a square. Randa Covington (Jane Wheeler) has defined herself by her work, and doesn't know how to re-define herself beyond that. She tries to hold on to her safe proper business countenance, but is weighed down by feeling second best in her family. Marlafaye (Lisa Bronwyn Moore) gets the classic "dumped for a younger woman" part, so feelings of anger and rejection are keeping her from moving forward. "I swear the older you get the harder it is to jump start a new life", she says.
Dot (Kathleen Fee), the oldest of the bunch, has just lost her husband, the only man she has known, and with whom she had planned to retire. She has no idea how to figure out what comes next. Her subtle acting is deliciously wonderful as she delivers many funny zinger lines. Paula Costain as Jinx moves and talks with the right zippy attitude to convince them, as their new "life coach", to go (as David says)" beyond their comfort zone to a brave new world where they eventually find themselves". Jinx reminds us that her older sister (now incapacitated with dementia) taught her that "it's the happy in life that counts".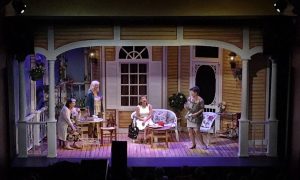 The set by Jean-Claude Olivier is a comfortable porch, so the women have an informal place to gently and liquidly reveal their sagas. As this is a "Sipping Society", drinking props (by Lea Robertson) were a fun challenge due to the many iterations of serving different kinds of alcohol. Marlafaye once toasted, "Girls, here's to living single and drinking doubles".
There were more costume changes than you would expect (by Elisabeth De Medeiros), creating a fashion show which helped define the scenes and the forward movement of their lives.
Jamie Wooten, one of the playwrights, was a writer for The Golden Girls, so the quality of their patter and the giggly one-liners is in the same genre of that hysterical show.  When Marlafaye sees Randa's house for the first time she opines, "Yeah, sure is a pretty place. Everything's so neat and clean. I'm not like that. Instead of cleaning my house, I just turn off the lights".  When Randa comments on drinking mead, "This really isn't so horrible", Marlafaye responds, "The very words I said on my wedding night".  Marlafaye also says,  "Sex is like a brownie – when it's good it's really good. And when it's bad….it's still pretty good!".
Andrea Romaldi, the artistic director writes, "friendships are our lifelines and support structures. Good friends cheer us, challenge us, bewilder us and irritate us, but ultimately they support and help us grow into our best selves". Head out to Hudson and lift a glass to friendship.
Location: 28 Rue Wharf, Hudson, QC J0P 1H0
Phone: 450- 458-5361
Dates: til July 22
https://villagetheatre.ca/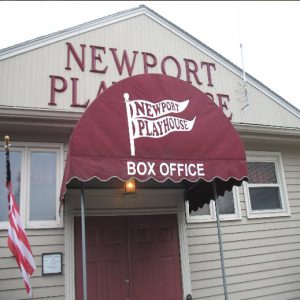 Looking for a great night out while you are on route…this dinner theatre will fit the bill. At Newport Playhouse and Cabaret Restaurant you can enjoy a great buffet, an entertaining play and a fun-filled cabaret all under the same roof. The air conditioned, handicap accessible theatre is conveniently located at the foot of the Newport Bridge and has plenty of parking.
Their expansive buffet does not skimp on quality or selection. Feast on a large variety of hot and cold foods, main entrees, side dishes, beverages and homemade desserts and everything is prepared on the premises.  Alcohol is available table-side or at the bar.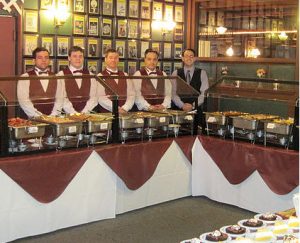 After dinner stroll into the theater, where you have reserved seating,  for a delightful comedy. After the play, return to the dining room for a cabaret filled with songs and laughter.
Now Playing: The Crazy Time – A laugh-filled look at the joys and perils of May/December romances. Miles has left his wife Kate for a younger woman whose youthful lifestyle is both exciting and exhausting. Kate has found a way to deal with her loss. Throw in a daughter with her own marital problems and Miles' scheming business partner Jerry, and you have all the makings of a full-fledged struggle between the sexes, as Kate and Miles deal with what they each have lost and gained.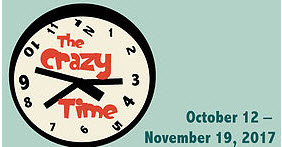 You have the choice to purchase Dinner Theatre or Theatre only tickets. The Newport Playhouse and Cabaret gives you a lot of bang for your buck, a full night (or afternoon) of entertainment.
Location: Newport Playhouse and Cabaret Restaurant, 102 Connell Highway,
Newport, RI 02840
Dates: Thurs, Oct 12 – Sun, Nov 19, 2017
Times: Matinee or Evening depending on the day
Tel: 401-848-7529
newportplayhouse.com
For Regional Accommodations, Restaurants & Attractions: goprovidence.com