Tag Archive
activity
architecture
art
artist
Austria
Canada
children
city
CostSaver
display
Drivei-95
drive i-95
entertainment
Europe
event
exhibit
family
festival
Florida
food
France
free
fun
historic
History
landmark
live
local
London
Museum
music
photo
roadtrip
shop
show
sights
sightseeing
tour
tourist
Trafalgar
travel
travelblogger
USA
view
world
The first annual Oinktoberfest will be held at the American Legion Grounds in Roanoke Rapids, NC. The gates will open at 2pm and live music starts at 3pm and the live music won't disappoint.
Included in the price of the ticket is the entertainment, which includes four bands playing live for you plus all you can eat of some of the finest BBQ and Sides  served by FoSho from Emporia, VA. Food will include BBQ Pork & Chicken along with the sides and sweet and unsweet tea.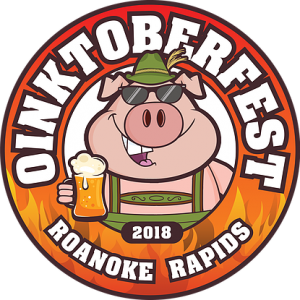 The reason for this event is to help their local Sheriff, Wes Tripp, and his program raise money to buy bicycles benefiting the Kids of Halifax County, NC. This event will also benefit the American Legion and the Veterans Museum of Roanoke Rapids, NC.
Live Music, BBQ, and Good Times – go out and join an afternoon of fun and help out a great cause. Please note: No Tickets Will Be Sold At The Gates and this event has limited tickets, Get Your Tickets Here ...Get Tickets
SCHEDULE OF EVENTS…
3 – 4pm: The 7100 Band (Rock and Country)
4:30 – 5:30pm: Tommy McCoy (Blues)
6 – 7:30pm: Sidewinder Reunion (Rock)
8 – 9:30pm: Colt Ford
Event Will Be Held Rain or Shine.
Location: 717 American Legion Rd , Roanoke Rapids, NC 27870
Date: Sat, Oct 6, 2018
Time: 3pm-9:30pm (Gates open at 2 pm)
Tel: 252-536-3115
oinktoberfestnc.com
For Regional Accommodations, Restaurants & Attractions: visithalifax.com

Some men are driven by a need for fame. Some men seek glory. Buz has always sought out the perfect barbecue. Not that par-boiled, mass-produced, liquid-smoke injected kind, either. Nothing but real barbecue will do.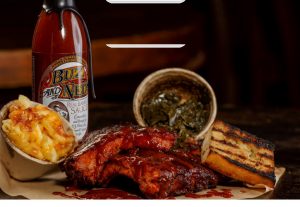 It took a NYC guy to literally work his way thru kitchens in BBQ havens in Texas, Kansas City, Memphis and Lexington KY, and then merge all that expertise with Ned's 150- year old family recipe to perfect the art of the pit and his own scrumptious BBQ.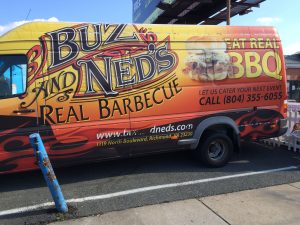 For the past 25 years, his ribs (baby back, spare or beef) have been a hit, there's hearty Brunswick stew (chock full of corn, string beans, carrots, and potatoes), killer chili, Sandra's favorite: beef brisket, and you-could-eat-alone sides of chunky smokey baked beans, cukes & onions, sweet potato fries and, of course, hush puppies. Wash 'em down with root beer and Cheerwine.
On the last Monday of every month Buz and Ned's is featuring Pig Pickin' Mondays  at their 8205 West Broad St. location only. The traditional, down-home, country PIG PICKIN' starts at 6 p.m. until 8 p.m. (or earlier , 'til they run out of pig). It's a first-come, first-serve, all-you-can-eat meal featuring an amazing 100% wood barbecued whole pig cooked slowly using only freshly-cut hickory log, served with Buz and Ned's barbecue sauce on the side. The buffet will also include: hush puppies, freshly shredded cole slaw, sandwich rolls, three bean baked beans, sour cream red skinned potato salad and freshly-brewed iced tea.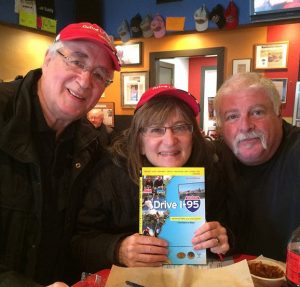 With a whole-hog knowledge of 'cue, meat-eaters will agree that Buz and Ned's Real Barbecue is a Southern authority on smoke. Go on in and eat like a local.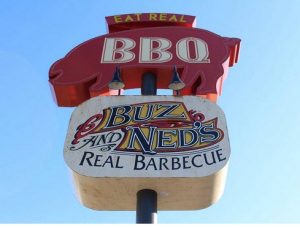 Boulevard Location: 1119 North Blvd., Richmond, VA 23230 (Directions)
Hours: Sun-Thurs: 11am-9pm · Fri-Sat: 11am-10pm
Tel: 804-355-6055
West Broad Street Location: 8205 W. Broad St., Richmond, VA 23294 (Directions)
Hours: Sun-Thurs: 11am-10pm · Fri-Sat: 11am-11pm
Tel: 804-346-4227
buzandneds.com
For Regional Accommodations, Restaurants & Attractions: visitrichmondva.com
The 10th Annual Eastern Carolina BBQ Throwdown is a professional cooking competition based on KCBS categories (chicken, pork ribs, pork & beef brisket). Awards include Grand Champion, Reserved Grand Champion, and People's Choice Award. Cash awards, trophies and plaques awarded up to 10th place in each category. There will be 58 opportunities to win.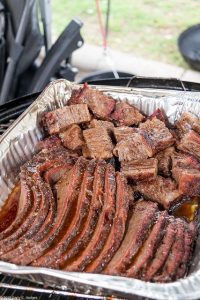 The Friday night Kick Off Party includes a Kick Off Concert featuring Who's Bad- The Ultimate Michael Jackson tribute band  held in downtown Rocky Mount. KCBS representatives will be present and competition judging starts at noon on Saturday, October 14, using the blind judging technique. This is a party you don't want to miss, with plenty of delicious food, beverages, and great entertainment. Bring your lawn chairs or blankets and come have some fun.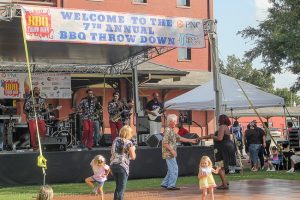 Schedule of Events:

Friday & Saturday, October 13-14, 2017
10th annual Eastern Carolina BBQ Throw Down (Competition)
Includes: People Choice
Friday, October 13th (12pm – 8:30 pm)
BBQ Kick Off Party (Train Station Lawn) 5:00 pm – 8:30 pm
Who's Bad Michael Jackson tribute band 6:30 pm (Train Station Lawn)
Saturday, October 14th (10:00 am – 6 pm)
Food Vendors, Commercial Vendors, Exhibitors, Live Music
Location: 101 Coastline St, Downtown Rocky Mount,NC  27804 – in front of the Helen P. Gay Historic Rocky Mount Train Station
Date & Time: Fri, Oct. 13 – Sat, Oct. 14, 2017
Time: Fri 12 pm – 8 pm, Sat 10 am – 6 pm
Tel: 252-972-1159
downtownrockymount.com/events/eastern-carolina-bbq-throwdown
For Regional Accommodations, Restaurants & Attractions: rockymounttravel.com
The 2nd annual Clean Water PaddleFEST in Annapolis is to celebrate and bring awareness to clean up efforts in Spa Creek while enjoying a day full of fun.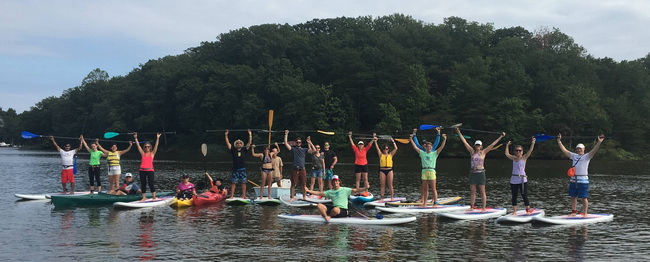 Paddle at your own pace or take a guided on-water tour of Spa Creek. Guided tours available at 2pm. See educational stops along Spa Creek detailing conservation efforts which aim to make it again fishable and swimmable. Afterwards attend the Eco-Fest with informative exhibits from area environment groups with plenty of activities for kids.
All human powered paddlers and vessels are welcome to attend. Bring your own craft or use a stand up paddle board or kayak from Capital SUP. There will be a mass paddle and foot show of support for clean water in Spa Creek at 12 noon, on and in the water around the Spa Creek bridge.
Fun activities and prizes for all ages. Kid and dog friendly. All proceeds benefit Spa Creek Conservancy.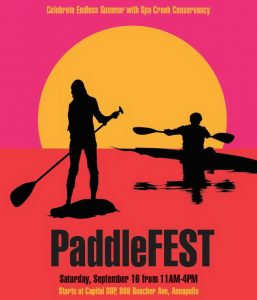 Your ticket includes:
On-water guided or self tour
Food BBQ beverages
Wine and beer
Event tee shirt
Admission to EcoFEST
Dry Bags to first 200 ticket holders
Live Music from 1-3pm
Location:Capital SUP on Spa Creek, 808 Boucher Avenue, Annapolis, MD 21403
Date: Sat, Sept 16, 2017
Time:  11  – 4pm
spacreek.net/index.php/events/special-events
For Regional Accommodations, Restaurants & Attractions: visitannapolis.org

What started out as a family get together has turned into a great community event. The  12th annual Uncle Gary's Rock & Rib Fest is a labor of love. Uncle Gary's lost his 3-year-old daughter 14 years ago to cancer and Started this BBQ event in her honor and to benefit the Kids Cancer Foundation.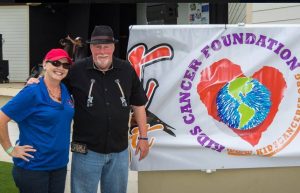 This feel good festival has fun for the whole family including: great live music featuring three live bands throughout the day, dancing, bounce houses, kid's Fun-zone, face painting, balloon artist, playgrounds, grab bags, games and prizes for the kids and adults, raffles, auction, Pet Rescue Puppies petting zone, princesses and super heroes.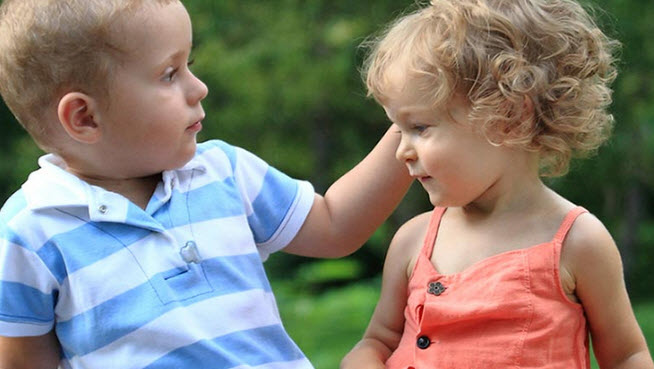 Don't forget the delectable BBQ foods: yummy baby back ribs, smoked pork tenderloins, burgers, chicken, hot dogs, side dishes and cold beverages.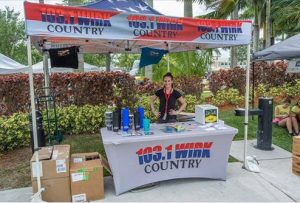 Bring your lawn chairs, blankets, sunblock and kids to this  admission free event that is so much more than just a chance to have fun with the family, eat ribs and barbecue and listen to local bands. All proceeds will be donated to the Royal Palm Beach-based Kids Cancer Foundation.
Location: Wellington Amphitheater. 12100 Forest Hill Blvd., Wellington, FL 33414
Date: Sat, April 1, 2017
Hours: 2 – 9pm
unclegarysrockandribfest.com
For Regional Accommodations, Restaurants & Attractions: palmbeachfl.com
The third annual Smoke in the 'Boro promises to be a mouth watering event, loaded with fun, live music, kids' activities, an Anything Butt BBQ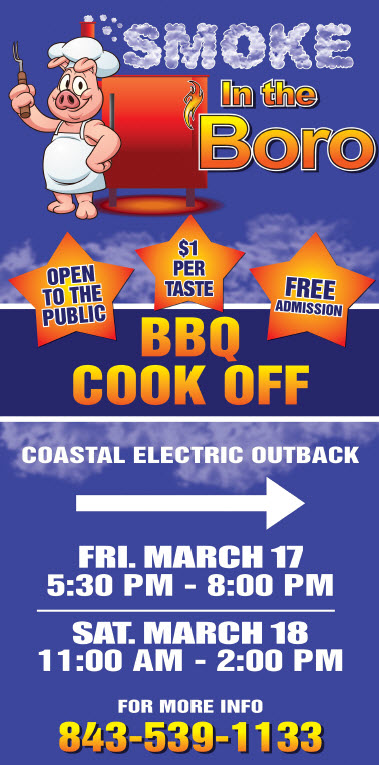 competition and a Butts Only contest.
The weekend will consist of two separate events. "Anything Butt" will be held on Friday night from 5:30-8 pm.  Cooking teams will prepare anything of their choice, from chicken wings to seafood — anything but barbecue. Local judges from Colleton County will evaluate the entries, and the winner will be revealed and prizes awarded.

The teams will then cook their Boston butts and ribs during the night for "Butts Only" , which means Pork only, as required by the SC Barbeque Association and judged by certified, sanctioned judges from around the Southeast.
The teams  present their entries to the judges on Saturday morning. At 11am the gates will be open to the public for tastings and to  partake until 2 pm.
On both Friday and Saturday, tasting tickets for $1.00 each will be available so that you can sample some heavenly food.  There will be great music both days from The Back Road and Going to the Dogs Bands. Free Admission.
Location: Coastal Electric Outback Building, 2269 N Jefferies HWY, Walterboro, SC 29488
Date: Fri March 17 – Sat March 18, 2017
Time: Fri 5:30 – 8pm, Sat 11 – 2pm
Tel: 843-539-1133
thecolletoncenter.org/events/
For Regional Accommodations, Restaurants & Attractions: walterborosc.org/visitingus
Learn a lost art from people who have been holding on to hollerin' for over 47 years keeping the North Carolina staple "Hollerin'" alive at the Worldwide Hollerin' contest on October 8th.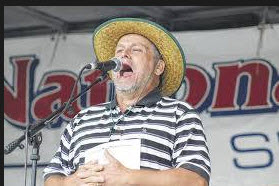 "Hollerin'," a traditional form of communication used in rural areas to convey long-distance messages, is considered by some to be the earliest form of communication between humans. "Hollers" exist for virtually any communicative purpose imaginable. The hollers featured at the World Wide Hollerin' festival fall into one of these four categories: distress, functional, communicative or pleasure.
Enjoy a wide variety of fun activities and entertainment, including: the Hollerin' Contest, Paradise Acres BBQ & Chicken, assorted food vendors, live music, crafts and Children's activities. Visitors are invited to bring their chairs, blankets and coolers and enjoy the contest on the 12-acre Paradise Acres facility.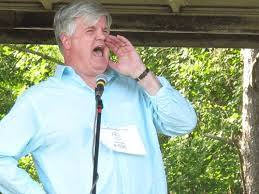 Eighty percent of the proceeds from the event are donated to Wags4Tags.org , an organization that matches trained shelter dogs with veterans suffering from psychological and emotional injuries.
Location: Paradise Acres, 1965 John McMillan Rd, Hope Mills, NC 28348
(Exit 41 off the I-95)
Date: Nov. 5th, 2016
Time: 10 am to 6 pm
Tel: 910-633-4735
worldwidehollerinfestival.org
For Regional Accommodations, Restaurants and Attractions: visitfayettevillenc.com
Delaware's 30th Annual Amish Country Bike Tour is held in the state's capital, Dover. It is the largest cycling event and one of the East Coast's favorite bike tours. Last year, 2,200+ cyclists from 25 states and England participated in the event.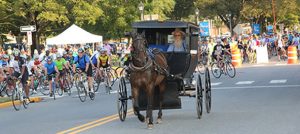 The Bike Tour starts and stops at Dover's historic open air park, Legislative Mall. The tour has five loops: 15, 25, 50, 62 and 100-mile loops through FLAT back roads, farmlands and Delaware's Amish community. Along the route, there are four food-rest stops with food and beverages, slices of locally baked pie and a fully-catered BBQ meal at the end of the tour.
The Amish Country Bike Tour is an experience that is suitable for all ages and abilities, from beginners and families to serious cyclists. The event goes on rain or shine
Location: Historic Dover, 411 Legislative Ave, Dover, DE 19901
Date: Sat, Sept 10, 2016
Time: Optional start times: 7 – 10am
Tel: 800-233-5368
amishcountrybiketour.com
For Regional Accommodations, Restaurants & Attractions: visitdover.com
drivei95.com
Kids playing in the sand in the center of downtown at Just For Laughs Festival in Montreal. A square block of sand Is dotted with picnic tables and surrounded by food stalls, from BBQ ribs to foie gras poutine.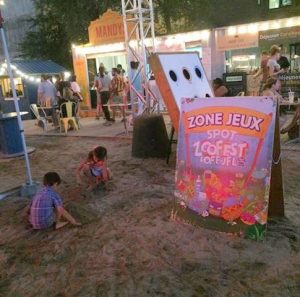 The California Lemonade chain has fabulously delicious, healthy, inexpensive,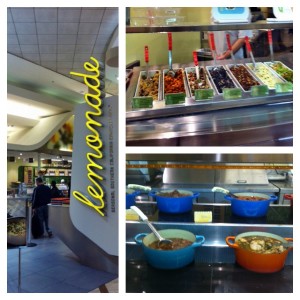 seasonal Southern California comfort food. You can choose a 3 or 2-plate meal for only $10. We love that pricing goes by portion size – you can get 1, 2, or 3 portions of each.
Start with the wildly creative salad bar (beets, tangerines, walnuts & onions or watermelon radish, ahi tuna & snap peas or Thai quinoa, cuke, red pepper, mango, peanuts & carrots). Sandwiches are called "right-sized" as they aren't the gi-normous ones often found in US restaurants.
The hot section features some land and sea food (buttermilk chicken, red curry salmon, pot roast, BBQ brisket). Yes there are desserts and of course, as it's name implies, 7 kinds of lemonade (ginger peach, blackberry thyme, cucumber mint) to wash it all down. Don't skip the mac 'n cheese (only $3.75) or the (yikes!) brussel sprouts.
This photo's at LAX airport in the Delta departure lounge but there's about a dozen of them all over LA.  California. They also have a yummy cookbook.