Tag Archive
activity
art
artist
Austria
Canada
children
city
CostSaver
display
Drivei-95
drive i-95
entertainment
Europe
event
exhibit
family
festival
Florida
food
France
free
fun
historic
History
landmark
live
local
London
Museum
music
performance
Restaurant
roadtrip
shop
show
sights
sightseeing
tour
tourist
Trafalgar
travel
travelblogger
USA
view
world
.
In Venice, the Ponte dei Sospiri or the Bridge of Sighs is an arched limestone bridge that connects the Doge's Palace to the Prigioni Nuove, or the New Prisons. It got its name from the sighs of the prisoners walking across it.
.
Sometimes you just have to stop and look and think. This is on the Kapellbrücke, Chapel Bridge walk in Lucerne, Switzerland.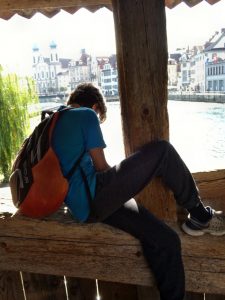 .
The riverside promenade on the Chapel Bridge in Lucerne has pretty views. You can see St.Peterskapelle (St. Peter's Chapel) in the background.
.
There's a pretty riverside promenade in Lucerne. Chapel Bridge is one of the oldest wooden bridges in Switzerland as it was mentioned in writing around 1367. As you walk it, look up underneath the roof and you will be surprised to see paintings there. A prominent Water Tower here had been used as a dungeon, an archive, and a treasury vault. These were parts of the oldest medieval city ramparts of Lucerne. You can also take a peek into St. Peter's Chapel.
.
On a bateau mouche ride on the Seine you get a duck's eye view of the city going under all those famous bridges, like this one, the Pont St-Michel. FYI there are 37 of them.
.

.
The beauty of taking a Bateau Mouche ride on the Seine is the joy of going under so many famous bridges – and learning the history effortlessly as you go. This one is the Pont Alexandre III built between 1896 and 1900, the most ornate one and a Paris historical site. Four gilt-bronze statues of Fames watch over the Beaux-Arts style bridge. The exuberant Art Nouveau lamps, cherubs, nymphs and winged horses celebrate the Franco-Russian alliance enacted in 1892 by Tsar Alexander III. His son Nicholas II laid the foundation stone in October 1896. In the same political spirit, the Trinity Bridge in Saint Petersburg was designed by Gustave Eiffel, and the first stone was laid in August 1897 by French president Félix Faure .
.
The Shard is the newest tourist attraction in London and it was fabulous. You lift off in multiple elevators to get to the 72nd floor where there are 360 degree views, viewing platforms, selfie options, a flower wall, and a café. You can walk down to the 68th and 69th floor for more views. Notice here the Tower Bridge, the snaking path of the Thames and the London Eye.
.
You can of course, see the Tower Bridge from the Tower of London – however even better, you can walk across it. It's included on the London Pass.