Tag Archive
activity
art
artist
Austria
Canada
children
city
CostSaver
display
Drivei-95
drive i-95
entertainment
Europe
event
exhibit
family
festival
Florida
food
France
free
fun
historic
History
landmark
live
local
London
Museum
music
performance
Restaurant
roadtrip
shop
show
sights
sightseeing
tour
tourist
Trafalgar
travel
travelblogger
USA
view
world

Some men are driven by a need for fame. Some men seek glory. Buz has always sought out the perfect barbecue. Not that par-boiled, mass-produced, liquid-smoke injected kind, either. Nothing but real barbecue will do.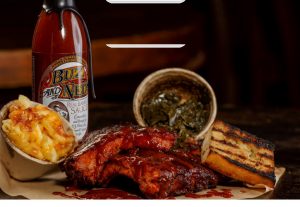 It took a NYC guy to literally work his way thru kitchens in BBQ havens in Texas, Kansas City, Memphis and Lexington KY, and then merge all that expertise with Ned's 150- year old family recipe to perfect the art of the pit and his own scrumptious BBQ.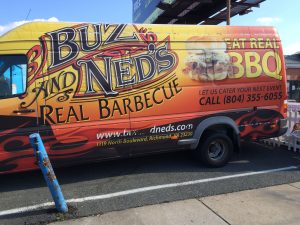 For the past 25 years, his ribs (baby back, spare or beef) have been a hit, there's hearty Brunswick stew (chock full of corn, string beans, carrots, and potatoes), killer chili, Sandra's favorite: beef brisket, and you-could-eat-alone sides of chunky smokey baked beans, cukes & onions, sweet potato fries and, of course, hush puppies. Wash 'em down with root beer and Cheerwine.
On the last Monday of every month Buz and Ned's is featuring Pig Pickin' Mondays  at their 8205 West Broad St. location only. The traditional, down-home, country PIG PICKIN' starts at 6 p.m. until 8 p.m. (or earlier , 'til they run out of pig). It's a first-come, first-serve, all-you-can-eat meal featuring an amazing 100% wood barbecued whole pig cooked slowly using only freshly-cut hickory log, served with Buz and Ned's barbecue sauce on the side. The buffet will also include: hush puppies, freshly shredded cole slaw, sandwich rolls, three bean baked beans, sour cream red skinned potato salad and freshly-brewed iced tea.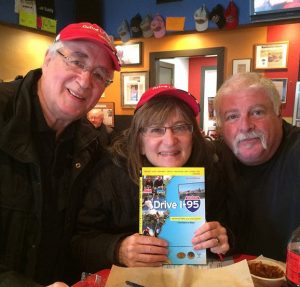 With a whole-hog knowledge of 'cue, meat-eaters will agree that Buz and Ned's Real Barbecue is a Southern authority on smoke. Go on in and eat like a local.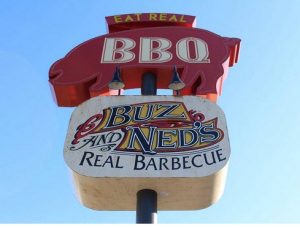 Boulevard Location: 1119 North Blvd., Richmond, VA 23230 (Directions)
Hours: Sun-Thurs: 11am-9pm · Fri-Sat: 11am-10pm
Tel: 804-355-6055
West Broad Street Location: 8205 W. Broad St., Richmond, VA 23294 (Directions)
Hours: Sun-Thurs: 11am-10pm · Fri-Sat: 11am-11pm
Tel: 804-346-4227
buzandneds.com
For Regional Accommodations, Restaurants & Attractions: visitrichmondva.com
If  you're in the Montreal or Ottawa area,  you are only 1 1/2 hours away from an exciting safari adventure. Parc Omega is the perfect day outing for kids (and folks) of all ages. It's an 800 hectare park where the animals roam free and you are "caged" in your car. It's such an easy drive to be able to come face to face with Canadian wildlife: reindeer, elk, arctic wolf and fox, bison, musk ox, turkey, boar, coyote, black bear, and many kinds of deer.
Along a 12-kilometere safari nature route which takes you past lakes, meadows, small valleys, forests and rocky hills, you meander at your own pace. You can pick up bag of carrots at the visitor center (or bring your own), and as you slowly make your way through, you are allowed to open the windows to feed the wildlife. Kids are thrilled that they do not have to be in their car seats here and can flit from side to side of the vehicle to say hello to the animals.
You tune your radio to a station which fills you in on all sorts of information about the species you will be seeing.
We learned which males are good daddies and stay around to raise the youngsters and which ones only show up for mating season.
I never knew that the musk oxen's heads are strong as hammers and they butt and knock everything down. Their quarters are specially built to withstand their strength.
 You pass by low slung "condos" for boars designed to keep the big predators out.
Coming here in winter gives you the opportunity to see how the arctic fox blends into the snowscape.
About 2/3 through, there's a place to stop,  get out to stretch legs and visit some wooden buildings for bathrooms, gifts, food and hot cocoa. Friendly deer are in the parking area to get a snack too – those carrots – buy lots.
This is one experience that all Canadian families should take advantage of. It's not only educational and fun, but will bring lasting memories for the whole family.
Location: Parc Omega is a safari park in Notre-Dame-de-Bonsecours, Quebec, Canada
Address: 399 Route 323 North, Montebello, QC J0V 1L0 Click for map 
Phone: (819) 423-5487
www.parcomega.ca
Parc Safari has something for everyone in your family. It is wayyyy beyond a drive around to see exotic animals, though that is an amazing part of the day. The water park, with its three lagoons (one with a waterfall), tube ride, and especially the new sculpturally beautiful splash pad/slide Lagon des dauphins, can be a whole day in itself. This new area offers up 8 water slides and 60 water games.  Here's a tip: if you go there, keep your eye on the yellow pail of water.
Besides the safari drive, you can walk around three animal areas. We're talking 500 animals, folks, in about 60 different species: elephant, bison, deer, camel, tiger, lion, water buffalo, yak, zebra, hippopotamus, rhinoceros, wildebeest, eland, black bear, monkeys, etc.  You can find great scrabble words as you come across the oryx, addax, gaur and onager.  Learning about the animals is fascinating:  giraffes only sleep 20 min a day, swan couples mate for life,  zebras are black with white stripes  (finally found that out!) and Shaka the lion is a movie star, having appeared in the film "The Aviator" with Leonardo DiCaprio.
There is no way you cannot be wowed by the lion and tiger clear glass tunnels which you walk through and are separated by a mere 3 cm.  from these beautiful beasts. Have you ever gone eye-to-eye with a giraffe? Well you can do that here too.
A lovely part about Parc Safari is that you hardly have to put your hand in your pocket once you pay to get in ($113.86  for a family of 4, or under $100 with a CAA discount). They allow you to bring your own lunch, and have endless amount of picnic tables in the shade, grass, and even a sandy beach.  The staff in the parc actually give you the food to feed the bears or monkeys, etc.  You can bring your own carrots to feed the safari animals – it's so much fun to watch as they chew and crunch right in your face.
If you decide to lunch at Parc Safari, besides your burgers, pizza and hot dogs, you can munch chicken burgers, smoked meat, sausages, waffles, fruit smoothies, poutine (mais oui!) and even grab a beer. It costs about $8-$14 for the restaurant meals and $6-$7 in the cafeteria.

For those who like rides, there are still some retro ones that bring huge smiles (and screams) to both young and old. Where else can you spend a day on all the rides you want, as many times as you want for a measly $3 per person? The few extras in the parc are so minimal: a pony ride is only $4, and one on the camel is $6. The tube ride is a mere $2.  If you want to buy a box of animal food, it's only a tooney.
Especially endearing is the  "custom spray" tilt-a-whirl ride. You do not have to go high tech to make customers happy on a hot day – all you need is a hose. As you get on this ride, a gentleman ask if you would like to get sprayed as you pass him; you can say yes or no, and even ask for a little or a lot. Where else can you select-a-preference-water-factor on a ride?
On a busy day the 45 min safari adventure can take up to 2 hours. This is NOT necessarily a negative. We must learn to slow ourselves down to the pace of nature. If you are inching along, sitting in the comfort of your air-conditioned car, you get to really take the time to watch the animals live and interact.  Babies are being shown what to do by their mommas, bisons are rolling in the dirt to scratch themselves, animals' chests are rising and falling as they take a siesta, and yes they're  peeing and pooing too – still a thrill for the kids. You can feed and even touch some of the species as they come up to visit you at your car window.
And we haven't even gotten to the six stage shows and eight animal feedings or les Filouminous characters who wander around the park giving hugs.  There is so much to do that you can turn this in to a staycation weekend. Look on their site for reasonably priced 1 and 2-day packages, including an overnight in nearby motels or campsites.
Parc Safari is celebrating its 40th Anniversary this year so to celebrate they are having a contest with over $8,000 in prizes. You can win a backyard swing set, a safari package, summer camp at the Cosmodome, and gift certificates and passes. You can go online to fill out the form:  www.clikici.ca/ralleye-safari-2012.php
If you haven't been to Parc Safari since you were a kid, it's time to go back. The best deal is that if you add $20 to your admission price, you get a season passport.  Divide that all up into many days of fun and it is really pennies to enjoy this entertaining gem right at our doorstep.
Location: 280 Rang Roxham, St-Bernard-de-Lacolle, QC, J0J 1V0
Tel: 450 247-2727
Summer Hours: 10-5 for the safari, 10-7 for the parc  (less hours in Spring and Fall)
www.parcsafari.com