Tag Archive
activity
art
artist
Austria
Canada
children
city
CostSaver
display
Drivei-95
drive i-95
entertainment
Europe
event
exhibit
family
festival
Florida
food
France
free
fun
historic
History
landmark
live
local
London
Museum
music
performance
Restaurant
roadtrip
shop
show
sights
sightseeing
tour
tourist
Trafalgar
travel
travelblogger
USA
view
world
Calling all dachshunds, wiener wannabes, dachshund lovers and friends…A Cape Cod tradition continues on Main Street, celebrating everything dachshund in charming Historic Barnstable Village.
Cape Cod Doxie Day invites you to join the first ever Wiener Waddle and Waggin' Parade dachshunds in costume and decorated wagons, strollers and carts, are encouraged. Prizes will be awarded for best costume, best wagging and best waddle. Cheer on your favorite doxie in the Doxie Dash.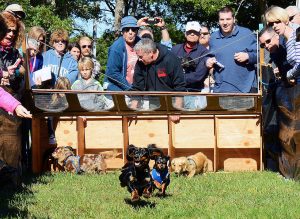 Bring Fido and help celebrate everything dachshund. Enjoy the many contest including longest doxie, teeniest weenie, best trick to name a few. Enter competitions to win prizes and bragging rights.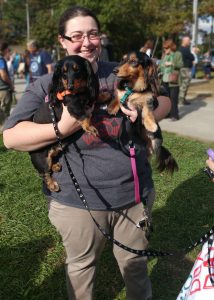 Fun for the whole family including the furry ones. Come on out and sing the official Dachs-song, mingle and meet other doxies to benefit local animal organizations. Take photos with the mini Oscar Mayer Wienermobile, and partake in the Blessing of the animals, and stop by the ask-a-vet table. There will be raffles,  silent auction and more.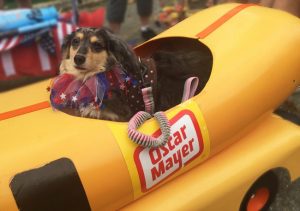 All well-behaved, on-leash dogs are welcome at Cape Cod Doxie Day. Admission is FREE and plenty of FREE parking.  Rain Date Sunday, September 30th.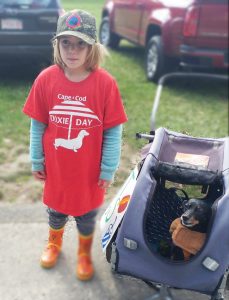 Proceeds from Cape Cod Doxie Day 2018 will benefit The Sampson Fund which helps pet owners pay for critical vet care bills which they would not have the means to do so without assistance (https://www.sampsonfund.org). They will be collecting donations packaged pet food and cat litter for Cape Cod Disaster Animal Response Team (CCDART) http://www.ccdart.org 
Location: Barnstable Village, Behind the Barnstable Courthouse, 3195 Main Street, Barnstable, MA 02630
Date: Sat, Sep 29, 2018
Time: Noon til 3pm
Tel: 508-362-8986
ccdoxieday.com
For Regional Accommodations, Restaurants & Attractions: capecodchamber.org
There's only a few more weeks for the whole family to appreciate the delightful and amusing summer long exhibition at the Ormond Memorial Art Museum & Garden. The Four Footed & Fanciful Art Exhibit showcases the work of three artists who create whimsical animal creatures.
Take a walk though the imagination of artists Adonna Khare, Cindy Burkett and Don Nedobeck and enjoy the fanciful creatures they capture.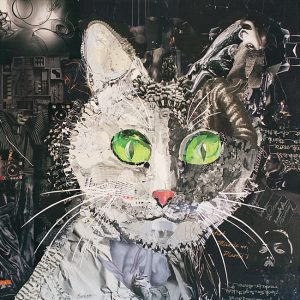 The exhibit features the artistic talents of California artist Adonna Khare, who creates large scale pieces using a carbon pencil. She was the winner of a $200,000 People's Choice prize at Art Prize.  Cindy Burkett, from New Smyrna Beach, creates intricate collages from recycled magazines and other materials for her collages that draw viewers in to find their surprising secrets and Don Nedobeck, a DeLand artist who creates fun animals, especially big fluffy cats, that he calls "caricatures in watercolor" and he has produced three children's books.                                  "Cats Eyes" collage by Cindy Burkett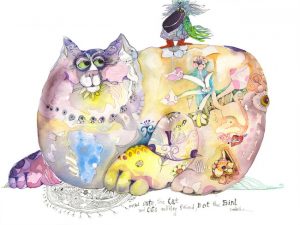 Hurry in because the exhibit only runs through Sept. 9.  Admission is free with a $2 per person suggested donation.
"Ornate Cat and Bert" Watercolor and ink by Don Nedobeck
Location: Ormond Memorial Art Museum & Garden, 78 East Granada Blvd, Ormond Beach, FL 32176
Date – until Sept 9, 2018
Time: Mon – Fri 10am – 4pm, Sat & Sun noon- 4pm
Tel: 386-676-3347
ormondartmuseum.org
For Regional Accommodations, Restaurants & Attractions: daytonabeach.com
The 44th Annual Cherry Blossom Festival is a celebration of spring commemorating the planting of 72 Yoshino Japanese Cherry Blossom trees in 1973.  Hanami (cherry blossom) viewing, has been a Japanese custom since the 7th century when the aristocrats enjoyed the transient beauty of  looking at sakura (cherry trees). Sakura is a symbol of Japan, and it's said that there are over 400 varieties of cherry trees in Japan.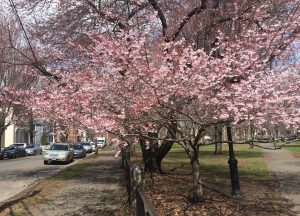 The longstanding tradition of the Cherry Blossom Festival,  takes place  in New Haven's Historic Wooster Square, and offers something for everyone in the family, including your 4 -legged family member.
Enjoy free entertainment including music, dancing, shop a flea market, food, a children and family area that includes puppet shows, arts and crafts, face painting and activities from the Peabody Museum, New Haven Free Public Library's Readmobile and a raptor-rescue organization  -Horizon Wings.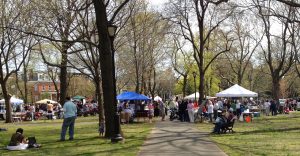 There is a Pet Friendly area, with New Haven Animal Shelter, Greater New Haven Cat Project, Little Shop of Howlers, Pups Without Partners and Veterinary Wellness Center.
With so much to do don't forget the main attraction, enjoying the scenic view of the early blooming cherry blossoms. This family-friendly festival is a great and inexpensive way to bring in spring.
Location: Wooster Square, New Haven, CT 06511
Date: Sun., April 23, 2017
Time: 12 – 5pm
Tel: 203-777-1371
historicwoostersquare.org/cherryblossomfestival.html
For Regional Accommodations, Restaurants & Attractions: visitnewhaven.com
If you are an animal lover, this show is for you. Popovich Comedy Pet Theater is a family-oriented blend of the unique comedy and juggling skills of Gregory Popovich, and the talents of his furry costars.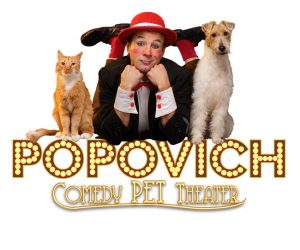 Featuring European-style circus extravaganza including physical comedy, juggling, acrobats from the Moscow Circus, along with mimes, contortionists and jaw dropping juggling by internationally acclaimed award winner Gregory Popovich. There are more than 30 pets in the show, including highly intelligent dogs, house cats, a variety of birds and a miniature horse, each one has been rescued from animal shelter. The animals show off their dexterity in a variety of unbelievable stunts and skits, including "The Dog Classroom," "The Amazing House-Cats," and "The Animal Train Station."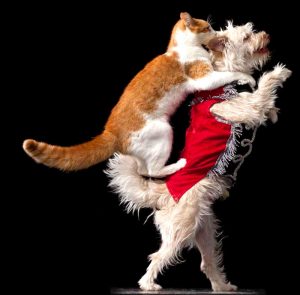 Popovich, a fifth generation circus performer who learned early on how to develop strong bonds with animals, has rescued a majority of his performers from shelters all over the country, and has transformed them into Las Vegas stars. He is a gold medal winner in Paris, France and a special award winner in Monte Carlo. Gregory and his pets were finalists on "America's Got Talent", were guests on TV shows with Jay Leno, David Letterman, Craig Ferguson and was a feature on Animal Planet. Do not miss this opportunity to see this unique family-friendly show featuring this legendary circus entertainer and his furry friends.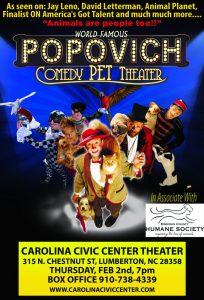 Location: Carolina Civic Center Historic Theater, 315 North Chestnut St., Lumberton, NC 28358
Date: Thurs., Feb 2. 2017
Time: 7 pm – 9 pm
Tel: 910-738-4339
carolinaciviccenter.com/event/popovich-comedy-pet-theater/#.WEg1Rn2rHfc
For Regional Accommodations, Restaurants & Attractions: lumberton-nc.com
You'll find lions and tigers at the Catty Shack Ranch Wildlife Sanctuary. This amazing  non-profit facility is dedicated to the rescue and care of  endangered big cats, providing them a safe, loving, forever home.
Run completely by volunteers, this sanctuary allows you to get an up close and personal with the rescued big cats: lions, tigers, leopards, cougars and bobcats. Learn about their habitat, their personalities and the stories behind why they have found refuge at the sanctuary.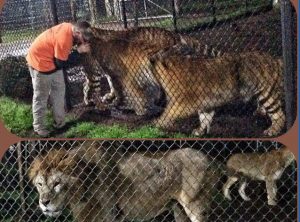 Since their inhabitants are mostly nocturnal (big cats can sleep up to 20 hours a day), you will most likely appreciate the nighttime tour the most.  The resident cats wake up after dark and this is when they are fed.  At 7:30 PM, you will get to watch over 600 pounds of meat distributed throughout the sanctuary. During these tours, be prepared to hear the big cats roar "loudly" – lions can be heard up to five miles away.
Daytime tours and nighttime feeding tours of Catty Shack Ranch are available but only on select days, so you'll need to check the website for the most recent schedule. These tours are the primary source of raising funds with 100% of proceeds going to their residents.
Treat your family to a very unique, informative, exciting experience. Animal lover's will appreciate how well these residents are loved and cared for at this very special retirement home.
Location: The Catty Shack Ranch, 1860 Starratt Rd, Jacksonville, Florida 32226 USA
Dates: open only on select days, please check website
Hours: Daytime Tours 1 – 4 pm, Night Feeding Tours 6 – 8 pm
Tel: 904- 757-3606
cattyshack.org
For Regional Accommodations, Restaurants & Attractions:
visitjacksonville.com