Tag Archive
activity
art
artist
Canada
children
city
community
contest
country
craft
display
downtown
Drivei-95
drive i-95
drivei95
entertainment
event
family
festival
Florida
food
free
fun
game
historic
History
house
Island
live
local
Museum
music
national
North Carolina
performance
prize
Restaurant
roadtrip
shop
show
tour
travel
travelblogger
USA
world
Celebrating Annapolis' Diverse Arts Scene, Annapolis Arts Week was created to bring together the area's local artists and musicians for a week of art, food, block parties, events, music, and festivals.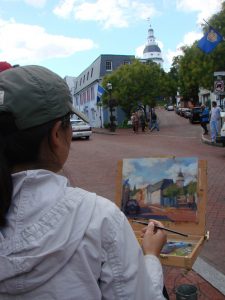 The week includes major events: Paint Annapolis, a county-wide, juried, plein air competition celebrating its 15th year with 30 distinguished artists from around the globe. The artists will create 300 landscape works, highlighting the special colonial architecture, marine atmosphere, and overall energy of Annapolis. p a i n t a n n a p o l i s . o r g

Paint Annapolis features special events every day:
Sunday, June 3: Dueling Brushes – Quick Draw at Susan B Campbell Park
Monday June 4: Artist paint in Anne Arundel County
Tuesday, June 5: Paint the Bay Reception at Annapolis Maritime Museum
6-8pm
Wednesday, June 6: Artists paint in the city of Annapolis
Nocturne at dusk – Dinner Under the Stars
Thursday, June 7: Artists paint in the historic district
Art on the Avenue, Maryland Avenue, 5-7pm
Friday, June 8: Collector's Award Reception, 6:30 – 9pm
Saturday June 9 & Sunday June 10: Reception & Sales at Circle Gallery
Mimosas & Muffins: Sunday 11am – 1pm
Here are some additional events going on throughout Annapolis Arts Week: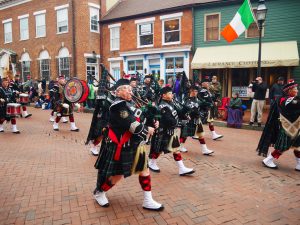 The Annapolis Irish Festival where you can enjoy traditional Celtic music and Irish rock bands on three different stages, along with workshops and exhibits. Try some delicious Irish beef stew and other Irish favorites. Little Leprechaun Land (open on Saturday only 11am– 4pm) provides pony rides, face painting and other free activities for the kids.  June 1 & 2, 2018 at Anne Arundel County Fairgrounds annapolisirishfestival.com
16th Annual First Sunday Arts Festival Shop among the creations of 130 local and regional artisans; dine at outdoor cafes; and enjoy the music of more than seven live bands. It's a great time to explore art galleries, take a game room challenge and/or create your own artwork at shops on West Street taking place on First block of West and Calvert Streets,  Sunday, June 3 – 11am – 5pm – Admission: Free firstsundayarts.com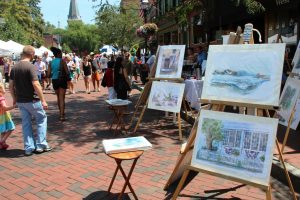 Dinner Under the Stars is a place for families and friends to come together and for couples to experience a romantic evening under the stars. Artists will paint from sundown to sunrise alongside the hundreds who come to dine, drink, and dance under the night sky. Spend Wednesday evenings dining, dancing and listening to live bands in the middle of the first block of West Street, just off Church Circle. Wednesdays, June 6, 13, 20, 27, 6pm – 10pm dinnerunderthestars.org
Photo Credit: VisitAnnapolis.org & Kenneth Tom Photography
Location: Various
Date: June 1 -10, 2018
Hours: Various
Tel: 410-268-4566
annapolisartsweek.com
For Regional Accommodations, Restaurants & Attractions: visitannapolis.org
Every winter, throughout the months of January and February, the Jekyll Island Authority hosts a beach treasure hunt known as Island Treasures.

The origin of the event dates back to the early 1900s, when fishermen used glass floats as markers on their nets. Occasionally, the floats would break loose and wash ashore for lucky beachcombers to find and keep. Collecting the rare, highly sought-after glass floats became a hobby in the 1950s.
On Jekyll Island, the tradition continues with the annual Island Treasures event. Artists from across the country are selected to create one-of-a-kind glass floats. Colorful hand-crafted glass floats or globes, similar to the ones once used on fishing nets, are created by glass artisans from across the country.  New for this year, treasure hunters will now hunt for clear, plastic globes that can be exchanged for a handmade glass float at the Jekyll Island Guest Information Center.
Island Treasures are hidden daily, always  in plain view and public spaces. The treasures will never be placed in the dunes, marshes, animal habitats or private property. And, each weekend, double the number of globes hidden around the island.
Inside each plastic globe,  lucky treasure hunters will find a card with instructions to take the globe to the Jekyll Island Guest Information Center. Each card will have a number that corresponds to a real, handcrafted Island Treasure. Hunters will be limited to one glass float per household per year, increasing everyone's chance to find a glass float. Hunters will also receive a certificate of authenticity and artist biography for their one-of-a-kind float. The Guest Information Center will be open daily, 9 a.m. – 6 p.m.
This Island Treasures event is FREE and lots of fun for all ages and as a bonus you get to explore this beautiful island.
Location: Jekyll Island Guest Information Center, 901 Downing Musgrove Causeway
Jekyll Island, GA 31527
Date: until Feb 28, 2018
Time: Open daily, 9 -6pm
Tel: 912- 635-3636 or 1-877-4-Jekyll
jekyllisland.com/signatureevents/island-treasures
For Regional accommodations, Restaurants & Attractions: jekyllisland.com, goldenisles.com
Most people would not think of taking children to an art museum. However, The National Gallery of Canada in Ottawa offers Artissimo,  one of the best children's programs I have come across  – and at an amazingly reasonable price of only $24 for 2 adults and 3 children. They try to teach kids about the art through different senses.
– First up was the creation of Art Buddies, toys (like dolls or animals) which can be found in paintings. These exact reproductions are given to the kids to hold, and then they are pointed to galleries where they can try to find them in a painting. Our Marguerite Charlotte doll had golden curls intertwined with green ribbon, and was holding a little blue bird in her hand.
– Second fun activity was the touch box which the child wears around his neck. They can put their hands in the sides (like a muff) and feel textures inside. Each box relates to a painting which has these textures in it; they have to guess what they are feeling and what in the painting represents it: a feather, lace, fur, picture frame, etc.
– Thirdly, was a real hit for ages 4-10. In Sounds Like Art, they are given headphones which play sounds. In each gallery, they have to find a painting which would relate to that sound: water, a crying baby, horses' hooves, crackling fire.
For completing these games, the kids are rewarded with collectors' cards of the paintings.
– Lastly there is an arts and crafts area set up in the most beautiful setting possible – the Great Hall with its soaring windows. While they are creating their works of art, you (and they) can oogle the magnificent panoramic view of Parliament Hill, the Gatineau Hills and the Ottawa River.
The children also enjoyed finding the surprise garden (from above and at ground level), the ceiling water window in the lobby, the "sound sculpture" in the chapel and, of course, Maman, the giant spider outside.  And yes, there is also the fabulous collection of art. We spent 4 hours there easily.
Location: 380 promenade Sussex Drive, Ottawa ON K1N 9N4
Phone: 800-319-ARTS
Hours: Tues-Sun 10-5 (closed Mon Oct 1-Apr 30)
www.gallery.ca  www.beaux-arts.ca