Tag Archive
activity
annual
art
artist
Canada
car
children
community
craft
downtown
Drivei-95
drive i-95
drivei95
entertainment
event
family
festival
Florida
food
free
fun
game
historic
History
home
house
i95
Island
live
local
Museum
music
national
North Carolina
prize
Restaurant
roadtrip
shop
show
street
tour
travel
travelblogger
USA
world
Brunswick Rockin' Stewbilee takes place annually at Mary Ross Waterfront Park, recognizing Brunswick, Georgia as the birthplace of the original Brunswick Stew. As the oft-told tale goes, a slave cook named Jimmy Matthews created the concoction in 1828. Nearly two centuries later, the original meat – squirrel – is out and, today, chicken, is in.

Each year, cooking teams from near and far compete to see who has the best stew, in a cook-off where the culinary skills and secret recipes are challenged by amateur and professional chefs, vying for the coveted Peoples' Choice and Judges' Award.
In addition to stew tasting there will be loads of other fun family activities. The day long event begins with the 5k Road Race followed by the Pet Supplies Plus Pooch Parade, Live Entertainment, The Kid's Junior Stewbilee Central Fun Zone, Classic and Antique Car Show, Arts & Crafts displays and of course, sampling of the Best Brunswick Stew in the nation.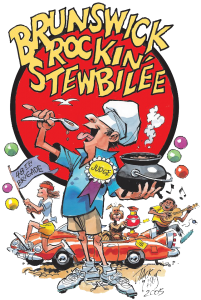 Schedule:
9am – Motor Cycle Ride
10am – Live Music – Pier Pressure
10:15am – Pooch Parade
12:15pm – Live Music – 3 Day Weekend
11am – 2pm – Brunswick Rockin' Stew Tasting
Location: Mary Ross Waterfront Park, Bay & Gloucester Street, Brunswick, GA 31520
Date: Sat, Jan 27th, 2018
Time: 9am – 2pm
Tel:  912-996-4593
stewbilee.com
For Regional Accommodations, Restaurants & Attractions: goldenisles.com
The third annual Smoke in the 'Boro promises to be a mouth watering event, loaded with fun, live music, kids' activities, an Anything Butt BBQ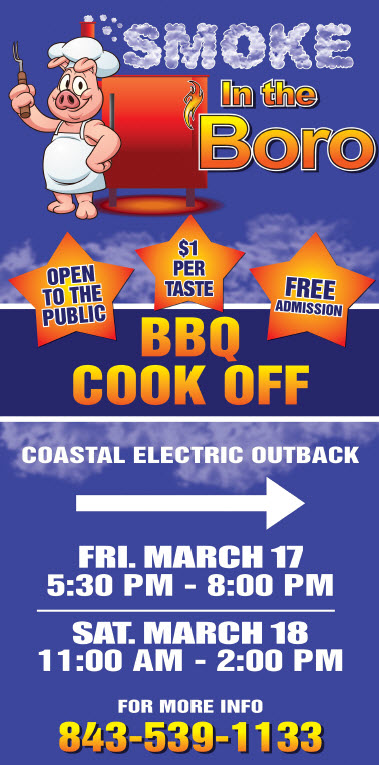 competition and a Butts Only contest.
The weekend will consist of two separate events. "Anything Butt" will be held on Friday night from 5:30-8 pm.  Cooking teams will prepare anything of their choice, from chicken wings to seafood — anything but barbecue. Local judges from Colleton County will evaluate the entries, and the winner will be revealed and prizes awarded.

The teams will then cook their Boston butts and ribs during the night for "Butts Only" , which means Pork only, as required by the SC Barbeque Association and judged by certified, sanctioned judges from around the Southeast.
The teams  present their entries to the judges on Saturday morning. At 11am the gates will be open to the public for tastings and to  partake until 2 pm.
On both Friday and Saturday, tasting tickets for $1.00 each will be available so that you can sample some heavenly food.  There will be great music both days from The Back Road and Going to the Dogs Bands. Free Admission.
Location: Coastal Electric Outback Building, 2269 N Jefferies HWY, Walterboro, SC 29488
Date: Fri March 17 – Sat March 18, 2017
Time: Fri 5:30 – 8pm, Sat 11 – 2pm
Tel: 843-539-1133
thecolletoncenter.org/events/
For Regional Accommodations, Restaurants & Attractions: walterborosc.org/visitingus
Did you ever Rumba on the Lumber? If not, you gotta get there. The whole weekend is geared towards the entire family.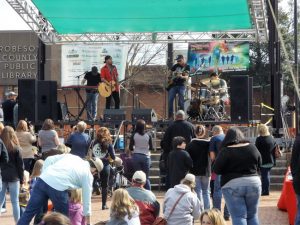 The Rumba on the Lumber Festival features  live music, Rumba Games Exhibition – a battle between local fitness fanatics, Family Fun Ride/Rodeo, vendors, arts and crafts show, and the Lumbee River EMD Free Kidz Zone –  with rock climbing, inflatable bouncer/slide, children's basketball game, a spinner mechanical ride, trackless train and a high-striker.
The annual Rumba on the Lumber Festival officially kicks off at 9 am with the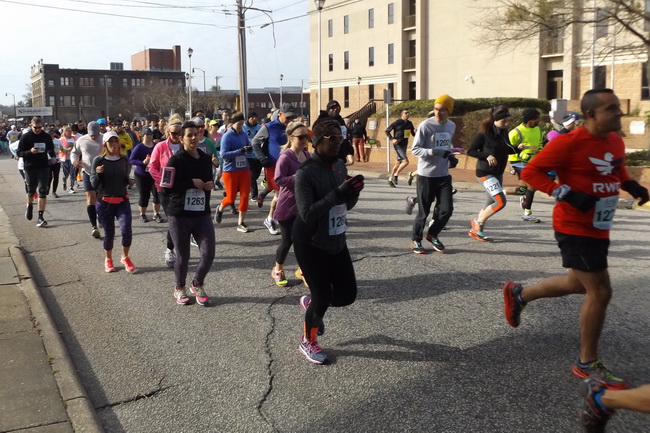 Southeastern Health 5K, 10K run described as  very flat, fast, and fun, and the Family Fun Mile starts at 10am in downtown Lumberton.
Front and center is the Bud Light North of the Border Chili cook-off.  Crowds gather from 11 – 2pm, Saturday in downtown Lumberton to get a taste of what teams are cooking. About 30 teams compete in categories like Best Tasting, Spiciest, Strangest Ingredient, Best Chili Name and Best Cooking Outfits. Costumed participants find unique ways to set themselves apart from the competition.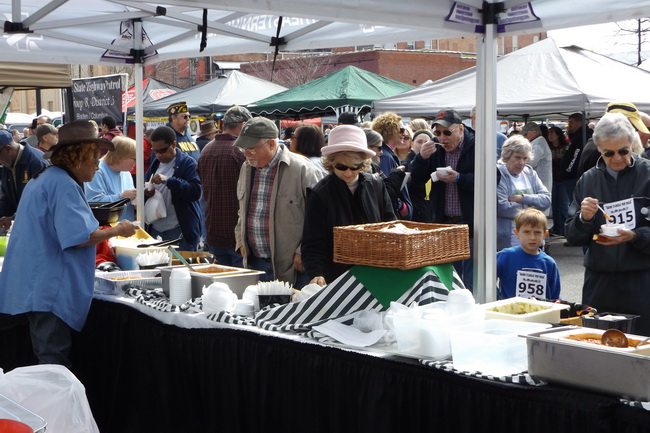 Schedule of Events:-
Saturday – March 4th:
9am – Southern Eastern Health 5K and Southeastern Health 10K
10 – 5pm – Lumbee River EMC KidZone activities at the Courthouse Plaza
10 – 5pm – Business, Craft and Food Vendors Galore
11am – Southeastern Health Family Fun Run/Walk
11 – 2pm – Bud Light North Light of the Border Chili cook-off with music by the Goldrush Band
TBA – The Rumba Games Fitness Competition
2 – 5pm – Concert at the Courthouse Plaza with the Blackwater Rhythm and Blues Band
Events on Sun March 5th:(starting at Northeast Park)
12 Noon – Yamaha of Lumberton Metric Century ( 100K Cycling Race)
1:30 – Cruzbike 20-Mile Adventure Ride
3:30 – Family Fun Ride/Rodeo
Go out and join the Lumberton community at this  FREE weekend hugely packed with entertainment and family fun.
Location:Downtown Plaza – 200 N. Elm Street, Lumberton, NC 28358
Date: Sat March 4 – Sun March 5, 2017
Time: Sat 9 – 5pm. Sun 12 – 4pm
Tel: 910-671-3876
lumberton-nc.com/event/rumba-on-the-lumber-2017
For Regional Accommodations, Restaurants & Attractions: lumberton-nc.com