Tag Archive
activity
art
artist
Austria
Canada
children
city
CostSaver
display
drive i-95
Drivei-95
entertainment
Europe
event
exhibit
family
festival
Florida
food
France
free
fun
historic
History
landmark
live
local
London
Museum
music
performance
Restaurant
roadtrip
shop
show
sights
sightseeing
tour
tourist
Trafalgar
travel
travelblogger
USA
view
world
There's only a few more weeks for the whole family to appreciate the delightful and amusing summer long exhibition at the Ormond Memorial Art Museum & Garden. The Four Footed & Fanciful Art Exhibit showcases the work of three artists who create whimsical animal creatures.
Take a walk though the imagination of artists Adonna Khare, Cindy Burkett and Don Nedobeck and enjoy the fanciful creatures they capture.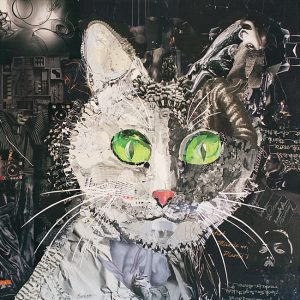 The exhibit features the artistic talents of California artist Adonna Khare, who creates large scale pieces using a carbon pencil. She was the winner of a $200,000 People's Choice prize at Art Prize.  Cindy Burkett, from New Smyrna Beach, creates intricate collages from recycled magazines and other materials for her collages that draw viewers in to find their surprising secrets and Don Nedobeck, a DeLand artist who creates fun animals, especially big fluffy cats, that he calls "caricatures in watercolor" and he has produced three children's books.                                  "Cats Eyes" collage by Cindy Burkett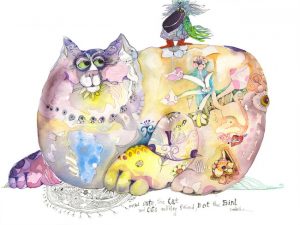 Hurry in because the exhibit only runs through Sept. 9.  Admission is free with a $2 per person suggested donation.
"Ornate Cat and Bert" Watercolor and ink by Don Nedobeck
Location: Ormond Memorial Art Museum & Garden, 78 East Granada Blvd, Ormond Beach, FL 32176
Date – until Sept 9, 2018
Time: Mon – Fri 10am – 4pm, Sat & Sun noon- 4pm
Tel: 386-676-3347
ormondartmuseum.org
For Regional Accommodations, Restaurants & Attractions: daytonabeach.com
Celebrate the season at historic Newburyport Spring Festival, a tradition upheld for over 30 years on Memorial Day Weekend.  Enjoy great live music, art, fine crafts, activities for kids, and food from Newburyport's outstanding restaurants at this 2-day FREE festival featuring entertainment for the whole family -rain or shine.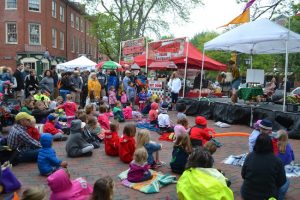 Sunday -Entertainment
10:30am-11:15am in Market Square -Bryson Lang – Comedy Juggler – audiences will see a family-friendly show and an energetic personality performing inventive and clever routines that mix comedy, audience participation, ball spinning, flying sombreros, ball bouncing, fire-juggling, well-crafted timing, huge spinning bouncing rings, giant Beach Balls, improv, and a few surprises.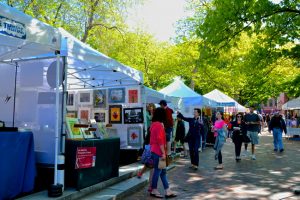 10am, 12pm, and 2pm -Theater in the Open – Flash Mob on Inn Street
Live Music
1pm – 4pm  Live Music in Market Square – 617 Band – Covering your favorite party and dance hits!
11pm, 1pm, 3pm – 30 min sets on Inn Street – Zach Field Drum Studio
Art
"Emerging at Any Age" – A group of Newburyport's finest senior artists from just starting out to artists that have had long careers in art. Gallery will be on Pleasant Street.
Monday Entertainment
Kids Entertainment from 10:30-11:30am in Market Square – Reptile Show
Come and meet some of the friendliest reptiles in New England. Brought to you by Zoo Creatures/New England Reptile, they will teach you about some most impressive animals. From giant snakes to prehistoric lizards, you can learn, touch, hold and hug.
Live Music in Market Square
Eagle in the Attic – Newburyport band performing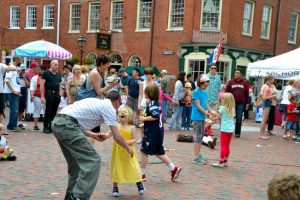 Location: Downtown Newburyport, Market Square, Newburyport, MA 01950
Date: Sun  May 28 – Mon May 29, 2017
Hours: 10am – 5pm
Tel: 978-462-6680
newburyport.com/events-in-newburyport/
For Regional Accommodations, Restaurants & Attractions: newburyportchamber.org
If you are heading out to Ottawa to enjoy our nation's capitol, leave some time to explore the Canadian Museum of Nature. It's the perfect place for all ages of the family to enjoy themselves. The brainy kids (or adults) can soak up extensive details about nature while the playful gang can pull levers or turn knobs in a deep sea sub,
learn on many touch screens, or even dance around in front of  the endothermy camera checking out their colorful "hotspots".
Everyone is awed by the the 19.8-metre blue whale skeleton in the Water Gallery but keeping going further in. All the way in the back are many interactive games for young and old alike: make believe areas for the wee ones, a board game along a wall,  animal jigsaw puzzles on touch screens, word games, etc.  
Gawk at the dinosaur fossils or walk amongst the fleshed-out dinosaur creatures for photo ops with kids. In the Vale Earth Gallery swoon over the 1200 gorgeous minerals, rocks and meteorites. Our 5 1/2-year-old couldn't get enough of the joystick which controls a huge earth or the button to start the volcano.
Sure there's a full size mammal gallery but the 11, 8 and 5 1/2 year-olds all stayed longer in the small Nature Live space where they oogled the cases of walking stick bugs in different camouflage colors and thicknesses. How many of you have come face to face with a tarantula? Then they listened intently as a docent showed fossils which were indigenous to Ottawa.
If you have time there are two 3D movies, "Prehistoric Planet 3D and Micro-Monsters 3D" (both too scary for the 5 1/2 -year old) but our gang liked the interactive museum more.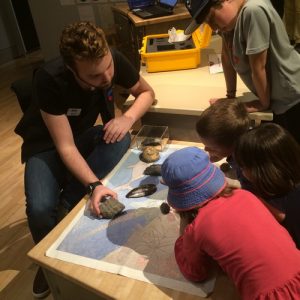 The famous Bird Gallery, with  one of the most extensive collections of Canadian birds in the world re-opened June 1. A special exhibit on now is Ultimate Dinosaurs June 11-September 5 and then upcoming is Reptiles: The Beautiful and the Deadly, October 6-April 2 .
A brand new Arctic Gallery will be unveiled on June 23 which is set to explain how the arctic is changing, including plants, animals and people of the area plus scientific research. Outside, three new ecozones will be shown off on June 17 including a woolly mammoths and an "iceberg".
I'd like to give a thumbs up to the friendly security guards who answered questions informatively and helped to point out nearby bathrooms and water fountains.
Canadian Museum of Nature, a Beaux Arts building, was our first national museum, completed in 1912. Trivia buffs should note that this building  served as home to Canada's House of Commons and Senate following the fire that destroyed the Centre Block of Parliament in 1916.
Location: 240 McLeod St., Ottawa
Phone: 613-364-4021
www.nature.ca