Tag Archive
activity
art
artist
Austria
Canada
children
city
CostSaver
display
Drivei-95
drive i-95
entertainment
Europe
event
exhibit
family
festival
Florida
food
France
free
fun
historic
History
landmark
live
local
London
Museum
music
performance
Restaurant
roadtrip
shop
show
sights
sightseeing
tour
tourist
Trafalgar
travel
travelblogger
USA
view
world
Presented by Henry Morrison Flagler Museum, the first museum exhibit devoted to the image of the World War I pilot-hero, Knights of the Air honors the daredevil pilots who risked everything for the cause at the dawn of aviation.
Imbued with a sense of adventure and fierce patriotism, aviators became the face of the War efforts back home. Works of art, souvenirs, postcards, and newspapers celebrated their valiant efforts. After the War, the romance of flight was embodied in new types of daring aviators, such as barnstorming aerial acrobats, air mail pilots, and bootleggers.
Popular pulp magazines such as George Bruce's Squadron and Hollywood films like Wings (1927) capitalized on the appeal of the brave World War I aviator, inspiring many future pilots who would serve America in commercial aviation and future military conflicts.
Organized by the Flagler Museum in commemoration of the 100th anniversary of America's entry into World War I in 1917, Knights of the Air features works of art, artifacts, and printed materials on loan from the private collection of Jean S. and Frederic A. Sharf, and other private and public collections.
Guided exhibition tours will be offered Wednesdays at 10:30 a.m. and 3:30 p.m., beginning October 25. The exhibition and tours are free with Museum admission. The Flagler Museum will offer free Museum admission to active duty, reserve, and retired U.S. Military each Wednesday for the duration of the exhibition (proper identification required).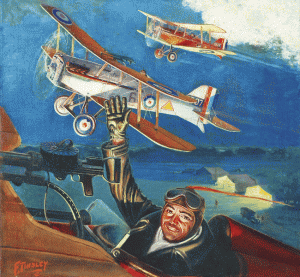 Illustrated Lecture
11:30 a.m. and 2:30 p.m. on Saturday, November 11, 2017
Free with Museum Admission
Space is limited, reservations are required.
Join exhibition curator Janel Trull on Veteran's Day for an illustrated lecture about Knights of the Air: Aviator Heroes of World War I, to learn about these heroic pilots and their lasting legacy.
Image: Collection of Jean S. and Frederic A. Sharf
Location: Henry Morrison Flagler Museum,One Whitehall Way
Palm Beach, FL 33480
Dates: until Dec 31, 2017
Hours: Sun – 12pm – 5pm, Tues – Sat – 10am – 5pm
Closed Mondays, Thanksgiving Day, Christmas Day, and New Year's Day.
Tel: 561- 655-2833
flaglermuseum.us
For Regional accommodations, Restaurants & Attractions: thepalmbeaches.com
The Wittelsbach dynasty ruled the German territories of Bavaria from 1180 to 1918 – that's 738 years,  pretty impressive.  Munich Residenz,  their former royal palace, is  located right in the center of Munich and very much open to the public. After 4 centuries of building it, the giant palace is made up of  many styles: late Renaissance, Baroque, Rococo and Neo-Classicism.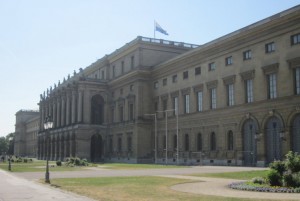 Though spartan on the outside, it is very opulent inside. You can tour it for its architecture, over-the-top room decor (130 rooms), and displays from the former royal collections. After WWII, the Cuvilliés Theatre was built into the Festsaalbau wing. You can also catch the Bavarian Radio Symphony Orchestra in Hercules Hall. In his time, Mozart performed in this palace.
The Treasury houses the jewels of the Wittelsbach dynasty and spans 1,000 years, from the early Middle Ages to Neo-classicism, and includes: crowns, swords, golden objects, rock crystal, ivory, goblets, icons, tableware and toiletries.
The palace suffered huge damages during WWII, but the curators managed to store furnishings, art and  details of its architecture in mines. When you are wandering around the 10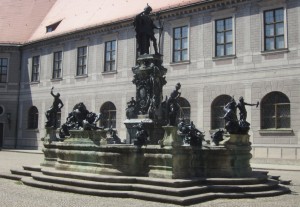 courtyards, see if you can find this fountain with statues of  fire, water, earth and air on its corners.
The Wittelsbach family's head, since 1996, is Franz, Duke of Bavaria, and he still hangs out in Munich. During WWII, the Wittelsbachs were anti-Nazi and were arrested when Franz was 11. He spent time in several Nazi concentration camps. After the war, he studied at the University of Munich and became a collector of modern art. Some of his collection is on loan to the Pinakothek der Moderne Museum (see other post).
VA Exit 177B: The movie, "12 Years a Slave"  has a connection to a slave site, now a Virginia museum, called Freedom House Museum. In 1808, a US law outlawed the importation of slaves. Still so necessary for plantation life, clever entrepreneurs did not let this stop the sale of slaves – they simply bred them! The slaves were encouraged to have as many children as possible so they could be auctioned off.
The last slave trader at this site, James H. Birch, was the same dealer who, in the movie,  paid kidnappers $250 for Solomon Northup of Saratoga Springs, NY; They then sold him into slavery in Louisiana. "What is unique about this building is it's one of the few remaining buildings that the slave trade actually took place in." said curator Julian Kiganda" who designed the exhibits here.
This building was once headquarters for the Franklin and Armfield Slave Pen, the largest and most successful domestic slave trading firm in America. "We will give Cash for one hundred likely YOUNG NEGROES", read one of their ads in the Alexandria Gazette in 1828. "Persons who wish to sell, would do well to give us a call, as the negroes are wanted immediately. We will give more than any other purchasers that are in the market or may hereafter come into the market."
Between the 1830's and 1860's Virginia exported more than 10,000 slaves a year to the Deep South, and the total may have reached 300,000, tearing families apart forever. The FREE museum is a must to absorb the personal stories of this black mark on the country's history. "Everyone who comes through there, they feel moved." says Kiganda.
Location: . 1315 Duke St., Alexandria, VA
Tel:  703-836-2858
www.freedomhousemuseum.org