Tag Archive
activity
art
artist
Austria
Canada
children
city
CostSaver
display
drive i-95
Drivei-95
entertainment
Europe
event
exhibit
family
festival
Florida
food
France
free
fun
historic
History
landmark
live
local
London
Museum
music
performance
Restaurant
roadtrip
shop
show
sights
sightseeing
tour
tourist
Trafalgar
travel
travelblogger
USA
view
world
It is no coincidence that this unique event is being held in Fayetteville, close to Fort Bragg, one of the largest military bases in the free world.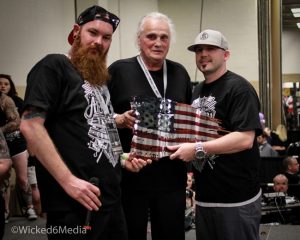 The goal of the All American Tattoo Convention is to give some of the best tattoo artists in the world the opportunity to showcase their talents to some of the bravest heroes in the world, all while raising money to assist soldiers with PTSD, and other combat related injuries, veterans and families of soldiers.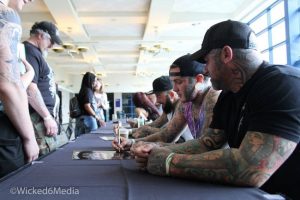 Tattoos and the US armed forces have a history dating back as far as the early 1900's. There are countless inked active duty and war veterans. Tattoos and body art can tell a story that words fail to provide, giving these veterans an outlet to express themselves and show the pride in being a part of something bigger than themselves.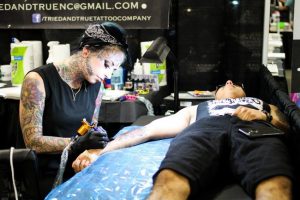 Just a few of the many special events being planned include: Tattoo Contest, All Veteran Parachute Team, Air Born Aerial Performers and Fitness, Emcee Johnny "Awesome" Ivey, Ms. All American Pin-Up Contest and Fayetteville Roller Derby Rogue Rollergirls.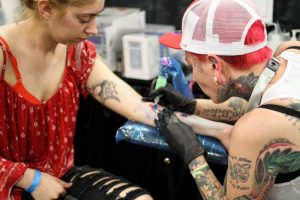 Refer to the website for all artist, vendor and event information.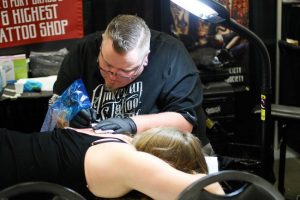 This is just not a Military event, everyone is invited so go out and support our troops while  experiencing all that this three-day convention has to offer. To buy- Tickets
Location: The Crown Complex Expo Center, 131 E. Mountain Dr., Fayetteville, NC 28306
Dates:  April 13-15th, 2018
Times: Fri, Apr 13th, 2pm – 11pm, Sat, Apr 14th, 12pm – 11pm, Sun, Apr 15th, 12pm -8pm
Tel: 910- 850-2566
allamericantattooconvention.com
For Regional Accommodations, Restaurants & Attractions: visitfayettevillenc.com
Presented by Henry Morrison Flagler Museum, the first museum exhibit devoted to the image of the World War I pilot-hero, Knights of the Air honors the daredevil pilots who risked everything for the cause at the dawn of aviation.
Imbued with a sense of adventure and fierce patriotism, aviators became the face of the War efforts back home. Works of art, souvenirs, postcards, and newspapers celebrated their valiant efforts. After the War, the romance of flight was embodied in new types of daring aviators, such as barnstorming aerial acrobats, air mail pilots, and bootleggers.
Popular pulp magazines such as George Bruce's Squadron and Hollywood films like Wings (1927) capitalized on the appeal of the brave World War I aviator, inspiring many future pilots who would serve America in commercial aviation and future military conflicts.
Organized by the Flagler Museum in commemoration of the 100th anniversary of America's entry into World War I in 1917, Knights of the Air features works of art, artifacts, and printed materials on loan from the private collection of Jean S. and Frederic A. Sharf, and other private and public collections.
Guided exhibition tours will be offered Wednesdays at 10:30 a.m. and 3:30 p.m., beginning October 25. The exhibition and tours are free with Museum admission. The Flagler Museum will offer free Museum admission to active duty, reserve, and retired U.S. Military each Wednesday for the duration of the exhibition (proper identification required).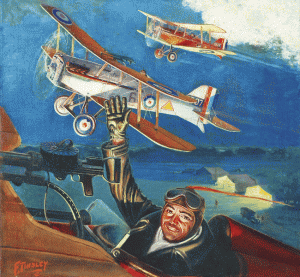 Illustrated Lecture
11:30 a.m. and 2:30 p.m. on Saturday, November 11, 2017
Free with Museum Admission
Space is limited, reservations are required.
Join exhibition curator Janel Trull on Veteran's Day for an illustrated lecture about Knights of the Air: Aviator Heroes of World War I, to learn about these heroic pilots and their lasting legacy.
Image: Collection of Jean S. and Frederic A. Sharf
Location: Henry Morrison Flagler Museum,One Whitehall Way
Palm Beach, FL 33480
Dates: until Dec 31, 2017
Hours: Sun – 12pm – 5pm, Tues – Sat – 10am – 5pm
Closed Mondays, Thanksgiving Day, Christmas Day, and New Year's Day.
Tel: 561- 655-2833
flaglermuseum.us
For Regional accommodations, Restaurants & Attractions: thepalmbeaches.com