Tag Archive
activity
art
artist
Austria
Canada
children
city
CostSaver
display
Drivei-95
drive i-95
entertainment
Europe
event
exhibit
family
festival
Florida
food
France
free
fun
historic
History
landmark
live
local
London
Museum
music
performance
Restaurant
roadtrip
shop
show
sights
sightseeing
tour
tourist
Trafalgar
travel
travelblogger
USA
view
world

If you love to read, then this event is definitely for you. Want to meet authors and learn of the inspiration for their works? Book 'Em North Carolina is national event that brings together brings together more than 75 authors, publishers, literary agents and publicists under one roof for one common cause; to promote literacy.

Book 'Em NC Writers Conference and Book Fair is open to readers of all ages. There are book readings and events scheduled for children from pre-school to teens, panel discussions and talks for writers trying to break into the field and  lectures and events for readers of various genres, including mysteries, romance, true adventure, historical, biographical, …
Authors will sell and sign their books, participate in panel discussions and talks, network and interact with fans one-on-one. Headlining authors include: poet LeJuane Bowen and fictional author Jill McCorkle.
A series of talks occur between 10 – 3 pm and include:
Writers Conference – for aspiring or published authors of all ages and levels
The Children's Corner – readings for younger children, arts and crafts and special activities
Panel Discussions and Talks – for readers of various fiction and nonfiction genres, including autobiographical, biographical, historical, mystery/suspense, romance, fantasy, paranormal, science fiction, horror, true crime and others
Each talk begins on the hour and feel free to attend one or all of the talks throughout the day.
The purpose of The Book 'Em Foundation and this event is to raise public awareness of the link between high crime rates and high illiteracy rates. The Book 'Em Foundation was co-founded by suspense author P.M. Terrell. Proceeds from the Book 'Em North Carolina book fair will go directly to increasing literacy in Robeson County, North Carolina and to reducing crime in the area.
 This event is FREE and open to the public.
Location: Robeson Community College, 5160 Fayetteville Rd, Lumberton, NC
Date: Sat, Sept 23, 2017
Time: 9:30 – 4pm
Tel: 910-272-3362
bookemnc.org
For Regional Accommodations. Restaurants & Attractions: lumberton-nc.com
Walk into a medieval  fairytale and experience what a spring festival might have been like in 12th century Nottingham England. Fantasy takes flight when you step back to the past at Robin Hood's Faire. Witness singing, dancing and magic throughout the faire, listen to old world music performed live on stage and in the streets and watch Robin Hood and his Merry Men stop Prince John's villainy.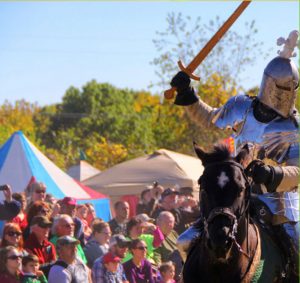 This amusing and colorful festival offers continuous themed entertainment throughout the day and some special events including:  The Mayor of Nottingham's Bingo Brunch, Princess Tea Time, Archery & Archery Tag, Opening Ceremony, Daily Tournaments, Paragon Jousting, parade, Prince John's Plot and join the Merry Men interactive show. For a complete schedule of events: robinhoodsfaire.com/shops-and-crafts/show-information/show-schedule/
The Faire has featured weekends, with activities geared to themes:
May 13, 14 – Pet Weekend– Open up a whole new world for your pet when you attend Robin Hood's Faire "Pet Weekend". Participate in daily contests with your pet to win prizes or just watch shows, shop, and enjoy the day. robinhoodsfaire.com/may-13-14-pet-weekend/
May 20-21 – Fantasy & Fairies Weekend- Anything is possible with fairy magic as visitors from a variety of places and times are pulled from the future and past to Robin Hood's Faire. Come as you are or consider dressing as a fairy or play someone from history or the future. robinhoodsfaire.com/fantasy-fairy-weekend-may-20-21/
May 27, 28, 29 – Bromance & Brew Weekend-What could be better than hanging out with your guy friends, competing against each other in manly contests, and sharing a cold craft brew? Guys will enjoy this weekend and  ladies, Sunday is a vow renewals with Friar Tuck.  robinhoodsfaire.com/bromance-brew-weekend-may-27-28-29/
Robin Hood's Faire runs every Saturday, Sunday, and Memorial Day from May 13-29, 2017 (11 am to 7pm). Tickets to the festival are available at the Faire on all days of the show. All food, drink, and games are cash only.
Location: North Haven Fairgrounds, 300 Washington Ave, North Haven, CT 06473
Dates: May 13 — 29, opened Sat, Sun & Memorial Day
Hours: 11– 7pm
Tel: 860-478-5954
robinhoodsfaire.com
For Regional Accommodations, Restaurants & Attractions: visitnewhaven.com
Don't miss the mid-Atlantic's premier celebration of the literary arts, The Baltimore Book Festival, featuring more than 200 celebrity and local authors appearances and book signings, non-stop readings on multiple stages, cooking demos by celebrity chefs, poetry readings and workshops, panel discussions, more than 100 exhibitors and booksellers, walking tours, storytellers and hands-on projects for kids, street theater, live music, and a delicious variety of food, beer and wine.
For the kids, or the kids at heart there's a Pop Culture Parade where superheroes, storybook characters, BmoreFit Dancewalkers,  and special guests dress up in costume and march down the promenade, starting at Pratt & Light streets traveling down to the Geppi's Entertainment Museum Comic Pavilion.
Some of the feature presentations include: Terry McMillan, author of "How Stella Got Her Groove Back"; NPR correspondent Glen Weldon, talking about his "The Caped Crusade: Batman and the Rise of Nerd Culture"; and local pundit D. Watkins, who has an essay collection called "The Beast Side: Living (and Dying) While Black in America" and his memoir 'The Cook Up,' takes us deeper into his former life, and Comic writer Carl Hiaasen will read from his newest novel, "Razor Girl" to mention but a few.
Whether it's Health & Wellness , Cooking (The Food for Thought), Science Fiction & Fantasy or Children's with a Stage featuring interactive programs for the whole family, this FREE event highlights 13 stages offering something for everyone.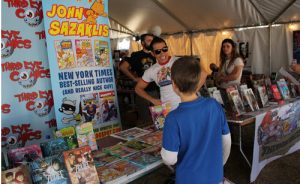 Location: Baltimore Inner Harbor, 201 E. Pratt Street,Baltimore, MD 21202
Date: Fri – Sun Sept 23-25, 2016
Hours: 11 – 7pm
Tel: 410-752-8632
baltimorebookfestival.org
For Regional Accommodations, Restaurants & Attractions: baltimore.org
Phot0 Courtesy of The Baltimore Office of Promotion & The Arts