Tag Archive
activity
art
artist
Austria
Canada
children
city
CostSaver
display
drive i-95
Drivei-95
entertainment
Europe
event
exhibit
family
festival
Florida
food
France
free
fun
historic
History
landmark
live
local
London
Museum
music
performance
Restaurant
roadtrip
shop
show
sights
sightseeing
tour
tourist
Trafalgar
travel
travelblogger
USA
view
world
Bring your little ones to A Fairy Tale Festival & Adventure, a magical and enchanted festival full of characters from all your favorite fairy tales, benefiting the Sandhills Children's Center.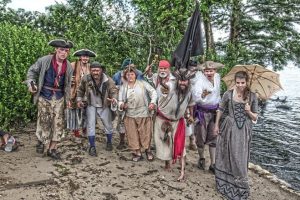 Be ready to spend your day dancing with the trolls, princesses, pirates, fairies, elves and mermaids. Maybe join a treasure hunt with the pirates, unless they make you walk the plank. Go to the Mad Hatter's tea party. There will be horse and carriage rides, hot-air balloon rides, face painting, story telling, tattoos, arts & crafts, food trucks and more.
You can find tickets to additional experiences like the Mad Hatter Tea Party, horse drawn carriage rides and early admission by clicking here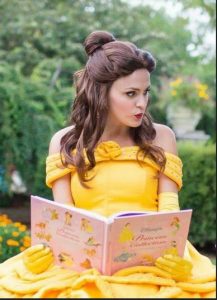 Everyone is encouraged to come dressed in  costumes,  not just the kids but also the kids at heart. Make sure to bring your camera for plenty of magical photo opportunities.
The festival will be fun for the whole family, but especially designed for children 12 years of age and younger. This event will be held rain or shine.  For additional festival information and to purchase admission tickets, you can click here.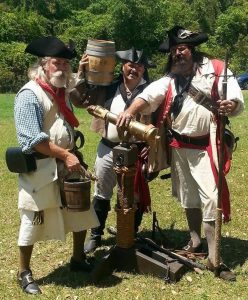 Location: Carolina Horse Park, 2814 Montrose Road, Raeford, NC 28376
Date: Sat, June 23, 2018
Time: 11am – 6pm
IndelibleProductions.net
For Regional Accommodations, Restaurants & Attractions: visitfayettevillenc
It is no coincidence that this unique event is being held in Fayetteville, close to Fort Bragg, one of the largest military bases in the free world.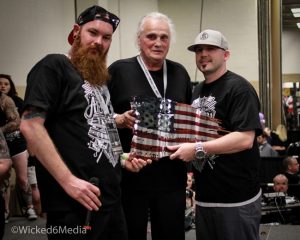 The goal of the All American Tattoo Convention is to give some of the best tattoo artists in the world the opportunity to showcase their talents to some of the bravest heroes in the world, all while raising money to assist soldiers with PTSD, and other combat related injuries, veterans and families of soldiers.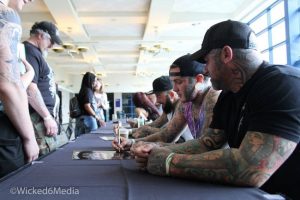 Tattoos and the US armed forces have a history dating back as far as the early 1900's. There are countless inked active duty and war veterans. Tattoos and body art can tell a story that words fail to provide, giving these veterans an outlet to express themselves and show the pride in being a part of something bigger than themselves.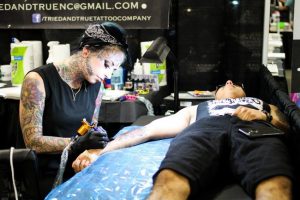 Just a few of the many special events being planned include: Tattoo Contest, All Veteran Parachute Team, Air Born Aerial Performers and Fitness, Emcee Johnny "Awesome" Ivey, Ms. All American Pin-Up Contest and Fayetteville Roller Derby Rogue Rollergirls.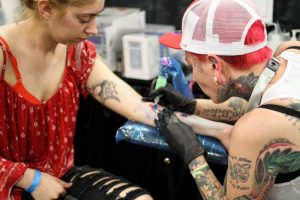 Refer to the website for all artist, vendor and event information.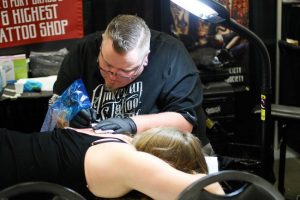 This is just not a Military event, everyone is invited so go out and support our troops while  experiencing all that this three-day convention has to offer. To buy- Tickets
Location: The Crown Complex Expo Center, 131 E. Mountain Dr., Fayetteville, NC 28306
Dates:  April 13-15th, 2018
Times: Fri, Apr 13th, 2pm – 11pm, Sat, Apr 14th, 12pm – 11pm, Sun, Apr 15th, 12pm -8pm
Tel: 910- 850-2566
allamericantattooconvention.com
For Regional Accommodations, Restaurants & Attractions: visitfayettevillenc.com
Rumba on the Lumber 2018, a festival of food, movement, music and the arts, consisting of two days of events in historic downtown Lumberton with over 4000 people in  attendance.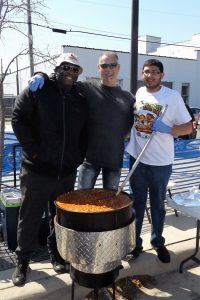 Many wonderful annual events will once again be front and center, including: The Rumba on the Lumber Festival with live music, vendors, Rumba Cross fit Games Exhibition, and the Lumbee River EMC Free Kidzone, 5K, 10K, fun run/walk, 100K ride, 20-Mile adventure ride,  Chili Cookoff and a bicycle rodeo.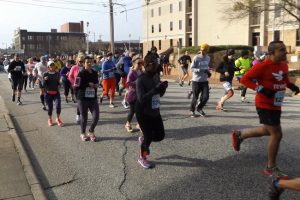 Many festival-goers agree, it's all about the chili. More than two dozen teams bring their most coveted recipes. Teams prepare a minimum of 10 gallons of chili and dole out free samples of their creations. The teams will be competing for prizes including the best tasting, Spiciest Chili, Strangest ingredient and Best chili cooking outfits. Don't miss the fun!
Saturday- Downtown Plaza/ 3rd Street:
Francophiles and Lafayette enthusiasts, this concert is for you.  On Jan. 11, the Fayetteville Symphony will explore the area's heritage with the concert "The French Connection." The first chamber concert of the season at St. John's Episcopal Church will feature the Fayetteville Symphony String Quartet as they perform Ravel's String Quartet, a piece that is a cornerstone composition of French Impressionism.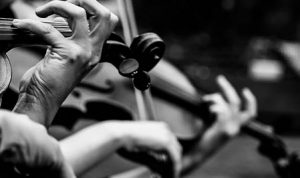 Founded in 1956, the Fayetteville Symphony Orchestra holds the distinction of being the oldest continuously-funded community orchestra in North Carolina. Fifty-one years later, their mission remains: To Educate. To Entertain. To Inspire.
Location: St. John's Episcopal Church, 302 Green Street, Fayetteville, NC 28301
Date: Thurs, Jan 11, 2018
Time: 7:30 – 9:30 pm
Tel: 910-433-4690
www.fayettevillesymphony.org/2017-2018-concerts
For Regional Accommodations, Restaurants & Attractions: visitfayettevillenc.com
The holiday season would not be complete stepping back into the Victorian era in Fayetteville Christmas tradition. Ever wish for a simpler time, when the pace of life wasn't hectic and families still enjoyed spending evenings together? Roll back the clock with Fayetteville for A Dickens Holiday.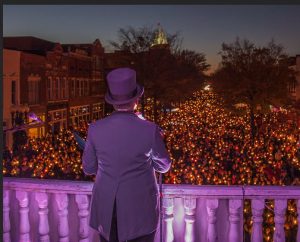 Horse drawn carriages roll up and down Hay Street, carrying shoppers the old fashioned way by merchants, artisans and vendors of all sorts of delightful treats. Joyful children pose with Father Christmas for memory laden pictures. Savor the inviting aroma of cider and gingerbread permeating the chilly air.
Throughout the day, sounds of the season fill the air as carolers and musicians stroll among the crowd. There is Ebenezer Scrooge himself, pursued by the ghost of Jacob Marley. Perhaps you will be greeted by Tiny Tim and his family.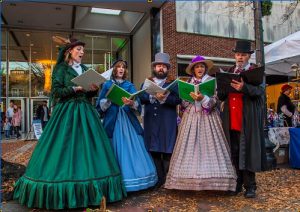 As darkness approaches and the clock reaches 5pm,  join the townspeople for the candlelight procession to the Market House, followed by fireworks. After the fireworks, the festivities continue until 9pm. Enjoy this truly unique experience and create some lasting memories with your loved ones.
Photo Credit: Wick Smith
Location: Historic Downtown Fayetteville, Hay Street – Fayetteville, NC 28301
Date: Fri,  Nov 24, 2017
Time: 1pm – 9pm
Tel: 910-323-1776
theartscouncil.com/dickensmain
For Regional Accommodations, Restaurants & Attractions: visitfayettevillenc.com
Young girls love the Soffe line of casual athletic wear, but there's apparel for everyone else here too. Soffe is an all-American lifestyle activewear brand that makes sizes for the entire family including; toddlers, girls, juveniles, youth, juniors, women, and men including big and tall. 
In solid colors, there's varsity pants, jackets, hoodies, t-shirts, sweatshirts, running shorts, windbreakers, cheerleading clothing, ranger shorts and more.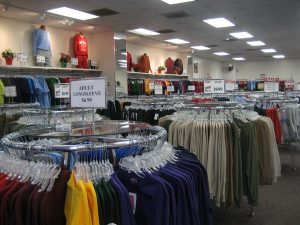 It's an  outlet store, so pricing can go from $1 pieces of clothing piled in giant cardboard boxes to $29.99 on the racks. If you're  lucky you might arrive when they've opened the back warehouse room to the public. Then men, women and children might score their well-made clothing for the amazing price of $1-$3. Sandra loaded up the last time that she was there.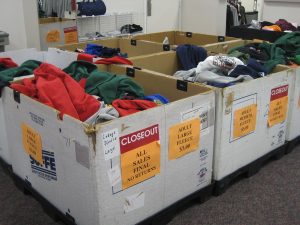 The Soffe juniors' line has been strong in the brand's cheer-leading apparel but has expanded to include  yoga, dance and running. Be sure to check out their performance wear, which features technical fabrics.
Their outstanding quality stems from their roots as a distributor to the military. This line is tough, durable and dependable, and it is designed to channel America's original athlete: the soldier.
There's another location in Smithfield at Exit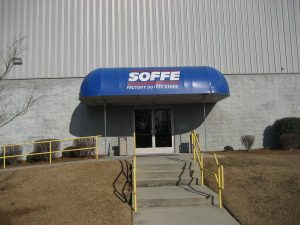 95 next door to JR,
49F Dr M.L.K. Jr. Way, Selma, NC 27576
919- 965-0062
Location: Soffe Outlet Store, 1005 Dunn Rd, Fayetteville 28312
Hours: Fayetteville: Mon – Sat 9:30 – 5:30, Sun – closed
Smithfield: Mon – Sat 10 – 6, Sun 12 – 6
Tel: 910-483-1776
soffe.com
For Regional Accommodations, Restaurants & Attractions: visitfayettevillenc.com
Need a fun place to entertain the little ones for a few hours? Take them to Fascinate U Children's Museum and Amusement Center.
This children's museum was designed to be a hands-on experi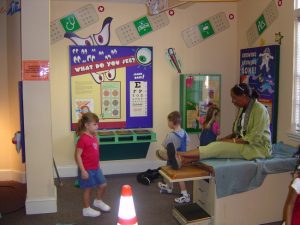 ence, all scaled to the size of children,  in which they try to connect young minds to their future through interactive experiences. Children can explore their world the way they learn best-through creative role-playing, and interaction with each other and their environment.
The museum is arranged as a "mini-city" where children can pretend while learning about jobs in the community. Some of their exhibits include: the Farm, the Army Fort, the Fire Station, the Post Office, the Grocery Store and a Stage Area.
In addition, they have a toddler room specially designed for children four and under , constructed as a mini-house, where little ones can develop their cognitive skills.
This is a special place that makes learning fun.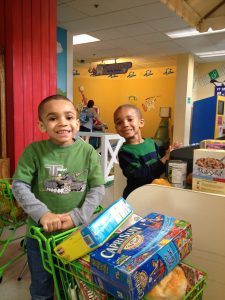 Location: Fascinate U Children's Museum, 116 Green St, Fayetteville, NC 28301
Hours: Mon: CLOSED, Tues: 9- 5, Wed: 9- 7, Thur: 9- 5, Fri: 9- 5, Sat: 10- 5, Sun: 12- 5
Tel: 910-829-9171
fascinate-u.com
For Regional Information, Restaurants & Attractions: visitfayettevillenc.com
Make sure that you include a stop in Fayetteville to see the NATURE CONNECTS® Art with Lego® Bricks Exhibit at Cape Fear Botanical Garden which lasts until January 8, 2017.
Kids and kids at heart will appreciate this award-winning, record-breaking exhibition, inspired by nature and built by artist Sean Kenney, with over 500,000 colorful LEGO® bricks. The exhibit features  larger-than-life sculptures representing the complex and amazing network that interconnects all living things on Earth.
The sculptures will be displayed throughout the Garden to encourage you to walk by an 8-foot tall hummingbird, go nose-to-nose with a 5-foot bumblebee, admire a 7-foot rose, and watch an oversized koi leap about in the Cypress Pond.
Interpretative panels for each display with feature a message to connect children with the natural world and promote environmental stewardship and conservation. Adding to the exhibit will be activities for all ages, hands-on building stations, and design competitions.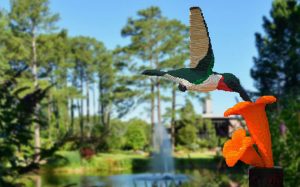 Cape Fear Botanical Gardens also offers some evening entertainment for the holidays:  Holiday Lights in the Garden – where the Garden will be transformed into a sparkling wonderland with thousands of lights illuminating plants, trees, and new exhibits.
Attractions and festivities include a synchronized show of lights and music shimmering over the Cypress Pond, a mile long stroll featuring thousands of lights aglow, photos with Santa on select evenings, S'mores roasting over the fire pit, and free crafts for children. The Garden Gift Shop, brimming with wonderful holiday selections, will be open each evening. nightly until Dec 23rd, Dec 26th – 30th, 5 – 9pm.
Take advantage of their on-line special pricing:.eventbrite.com/e/holiday-lights-in-the-garden-pre-sale-tickets-29281713393
Location: Cape Fear Botanical Garden, 536 N. Eastern Blvd., Fayetteville, NC 28301
Dates: until Sun,  Jan 8, 2017 – *Excluding holidays: Christmas Eve and Day, New Year's Eve and Day.
Hours: Mon – Sat: 10am – 4pm, Sun: 11am – 4pm *Last Admission: 3:15 pm
Tel: 910-486-0221
capefearbg.org
For Regional Accommodations, Restaurants & Attractions: visitfayettevillenc.com
It's a game that you rarely think of playing outside a five-by-two foot space. It incorporates skill, concentration and hand-eye coordination. It's foosball, the tabletop-size game that has a household presence but with an entirely new approach.
The human version of the tabletop classic is remarkably similar to its traditional counterpart, but on a much larger scale. Teams of 6 attach themselves to fixed poles across the field and can only move to the right or left as a team, to move the ball up the field. Teams consist of 2 Forwards, 3 Mid-fielders and 1 Goalie. Watch your favorite table-top game come to life when twenty-four teams  participate in this round robin tournament taking place on the grounds of the Airborne & Special Operations Museum.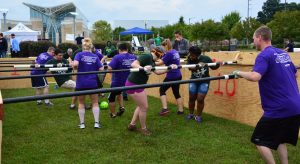 Cash prizes are awarded to the top three teams. Food and refreshments will be available for purchase. The tournament raises money for the museum's nonprofit foundation.
Location: Airborne & Special Operations Museum,100 Bragg Blvd., Fayetteville, NC 28301
Date: Sat, Oct 1,2016
Time: 9 – 5pm
Tel: 910-643-2778
asomf.org
For Regional Accommodations, Restaurants & Attractions: visitfayettevillenc.com