Tag Archive
activity
annual
art
artist
Canada
children
city
community
contest
country
craft
display
downtown
drive i-95
Drivei-95
drivei95
entertainment
event
family
festival
Florida
food
free
fun
game
historic
History
house
Island
live
local
Museum
music
national
North Carolina
prize
Restaurant
roadtrip
shop
show
tour
travel
travelblogger
USA
world
As you enter the side door of the Surratt House Museum you are walking in the path of John Wilkes Booth the night he killed President Lincoln, since he came here to retrieve a rifle, field glasses and supplies for his run from the law.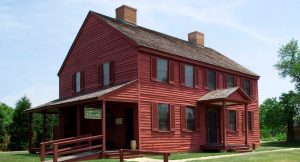 Built in 1852, this was a tavern, an inn, a post office and a polling place. It was a safe house for the Confederate underground. The massive search for Booth led them here to Mary Surratt's house, and as a result she was tried in a military court and convicted of conspiracy to assassinate the President. On July 7, 1865 Mary Surratt was the first woman to be executed by the federal government.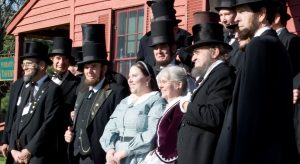 In your visit to this famous house, a docent in 1860's period clothing walks you through the typical middle class home.  History buffs can make reservations for the 12-hour "Escape Route" bus tour. Many of the same roads and houses used by Booth are still in existence and are visited on this excursion which is narrated by nationally-recognized authorities on the Lincoln assassination and John Wilkes Booth's flight.  Tour Dates for 2018: Apr 14, 21, 28 and Sept 8, 15, 22.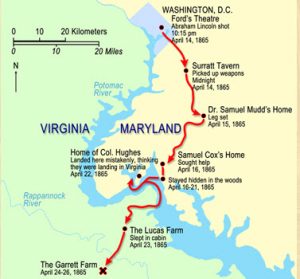 If you're in the Clinton area Sat, Dec 2 – Sun, Dec 10, stop by the Surratt House Museum for their special Christmas program- An Old Fashioned Holiday: Bringing Christmas Past to Christmas Present, celebrating the Christmas of yesteryear amid period decorations, special exhibits and seasonal histories. On the weekend of December 9 and 10, return to enjoy special activities for all ages, cookies, cider, and holiday discounts in the museum's gift shop.
Location: Surratt House Museum, 9118 Brandywine Road, Clinton, MD 20735
Hours: Wed – Fri 11am – 3pm, Sat -Sun 12 – 4pm
The Surratt House Museum is closed from Dec 12th to Jan 17th.
Tel: 301-868-1121
surrattmuseum.org
For Regional Accommodations, Restaurants & Attractions: visitprincegeorgescounty.com
Gari Melchers Home and Studio – Belmont, typical of the Federal style, is over 200 years old. In 1916, renowned artist Gari Melchers and his wife Corinne bought the residence, and no expense was spared in the improvements to their country home.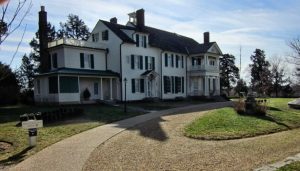 The Melchers accumulated a varied collection of antique furniture and carpets, fine china, paintings and prints by old masters on their extensive travels abroad. The grounds cover 27 acres of gardens, and you get to visit Gari's huge studio too. Upon Corinne's death in 1955, the estate was left to Virginia, and all of their personal possessions, including his beautiful paintings, remain as if they just left.
The Stafford County Visitor Center is in the interestingly stocked gift shop. The property, which is operated by the University of Mary Washington, is both a Virginia Historic Landmark and a National Historic Landmark.
The Belmont Photo Exhibit "Through a Lens" – Belmont Portrayed: Through a Lens, an exhibition of photographs depicting the buildings, grounds and gardens of Gari Melchers Home and Studio at Belmont,  is open to the public on and will be on view  until May 21.
The selection of 21 photos by 12 artists was chosen by Belmont Director David Berreth to represent a variety of photographic approaches to visually interpreting the 19th-century estate and its surroundings.
Location: Gari Melchers Home & Studio Belmont, 224 Washington St, Falmouth, VA 22405
Hours: Apr 1 – Oct 31, daily 10 – 5pm,  From Nov 1- Mar 31, daily 10 – 4 pm
Tel: 540-654-1015
GariMelchers.org
For Regional Accommodations, Restaurants & Attractions: co.stafford.va.us
fredericksburgva.com/VisitFredericksburg
The Richmond Folk Festival carry's forward the 12-year tradition established by the hugely successful National Folk Festival celebrating the roots, richness and variety of American culture through music, dance traditional crafts, storytelling and food. The event takes place at downtown Richmond's  historic riverfront from 2nd to 7th streets and from Byrd Street to the river – including Brown's Island, The American Civil War Museum at Historic Tredegar, portions of Federal Reserve parking lots, and Tredegar Street.

Richmond Folk Festival is where over 200,000 festival goers gather for three FREE days of music, dance, food and fun. Drawing in visitors from across the country with an eclectic mix of 40 artists performing on seven different stages with continuous music and dance performances, along with a Virginia Folk-life demonstration area, children's activities, a folk arts marketplace, regional and ethnic foods.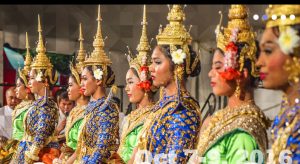 Among the artists to be featured at the 2016 Richmond Folk Festival are: Gary U.S. Bonds and Gene "Daddy G" Barge, (Norfolk Sound), Canzoniere Grecanico Salentino (Southern Italian pizzica tarantata), The Fairfield Four (African-American gospel singing quartet), Geno Delafose & French Rockin' Boogie (zydeco), Natalie MacMaster & Donnell Leahy (Cape Breton and Ontario fiddling), Joe Mullins & the Radio Ramblers (bluegrass), Homayoun Sakhi and Salar Nader (Afghan rubâb and tabla), Sheila Kay Adams (Appalachian songs, stories and ballads). Check the website for complete list of performers/schedule.richmondfolkfestival.org/docs/event_schedule
Expect lots of great food: ethnic, regional and traditional foods to delight guests and showcasing a wide variety of tempting foods to compliment the spirit of the festival. From classic festival fare to exotic flavors from around the globe, there's definitely something to tickle your tastebuds.
Location: Downtown Richmond's Riverfront, Brown's Island Park,Richmond, VA 23219
Date: Fri, Oct 07  – Sun, Oct 09, 2016
Time: Fri 6 – 10PM, Sat 12 – 9:30PM, Sun 12 – 6PM
Tel: 804-788-6466
richmondfolkfestival.org
For Regional Accommodations, Restaurants & Attractions: visitrichmondva.com