Tag Archive
activity
art
artist
Austria
Canada
children
city
CostSaver
display
Drivei-95
drive i-95
entertainment
Europe
event
exhibit
family
festival
Florida
food
France
free
fun
historic
History
landmark
live
local
London
Museum
music
performance
Restaurant
roadtrip
shop
show
sights
sightseeing
tour
tourist
Trafalgar
travel
travelblogger
USA
view
world
Join the excitement of the 14th Annual Darlington Car Hauler Parade and Racefest featuring NASCAR Monster Energy Cup Teams transporters making their way through cheering fans from the Florence Civic Center to the Darlington Square and into the track that's "Too Tough to Tame" – Darlington Raceway.
There is plenty of FUN for the whole family, beginning at the Florence Civic Center with entertainment and live music. Kids play all afternoon for FREE on the KidsZone inflatable ride and games. The Game Truck will bring a wide selection of games for Xbox360, Wii and PS3 and can accommodate up to 16 players at one time. There will be refreshments for purchase with the proceeds  supporting Camp Pee Dee Pride.
The main attraction continues to be the NASCAR transporters, which fans can take photos with with their favorite team's hauler and driver before the haulers take off. This year famous former drivers are back such as Hut Stricklin, former champ of NASCAR's Dash Series, and Donnie Allison, who won ten races in the Cup Series.
Fans will enjoy the exciting silent auction full of great NASCAR items and race memorabilia. Proceeds benefit local charities.
At 7 p.m. the parade of NASCAR haulers leave the Florence Civic Center and make the 12-mile trek to RaceFest on the Darlington Square, where there will be more entertainment, food, a car show and an incredible fireworks display. The transports will continue through Darlington until they reach the track Darlington Raceway where they can park, unload and begin preparation for the Bojangles' Southern 500 race taking place on on September 2nd.
As if it could not get any better, admission to the Darlington Car Hauler Parade is FREE.
Location: Florence Center, 3300 W Radio Dr , Florence, SC 29501
Date: Thurs, Aug 30, 2018
Time: 4pm – 7pm
Tel: 800-325-9005
darlingtoncarhaulerparade.com
For Regional Accommodations, Restaurants & Attractions: visitflo.com
Nestled among fields of corn and soybeans, this dynamic 65-acre garden is set in the rural Pee Dee region near Lake City, South Carolina. Moore Farms Botanical Garden is the perfect learning environment. They also host classes and professional workshops.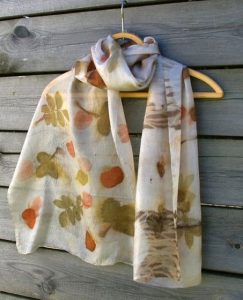 Join Caroline Harper at Moore Farms Botanical Garden on Thursday, September 28, 2017 for an artful day in the garden at a workshop creating Eco Print Scarves.
Eco printing is basically a direct contact printing method, drawing out pigments from plants to make interesting and often surprising marks on protein (silk) fibre. In this class accomplished artist Caroline Harper will show you how to create 2 silk scarves with foraged leaves, flowers, vegetable skins and other objects found from the garden.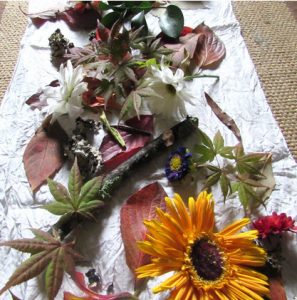 The unique colors and shapes that occur from these materials will make your scarf a one-of-a-kind masterpiece. Silk and organic material will be provided but please bring anything you would like to add to embellish your dazzling scarves. Registration is limited to 20 participants. $60 per person
Location: Moore Farms Botanical Garden, 100 New Zion Road, Lake City, SC 29560
Date: Thurs, Sept 28, 2017
Time: 1:30 pm to 4:30 pm
Tel: 843-210-7582
moorefarmsbg.org
For Regional Accommodations, Restaurants & Attractions: lakecitysc.com/visiting visitflo.com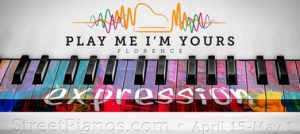 Florence, SC Exit 160: No, you're not seeing things, those randomly placed pianos throughout Florence are part of Play Me, I'm Yours, an initiative of a worldwide street piano project, geared to interconnect people in the community by "expressing themselves"  by bringing pianos to the people and music to the streets.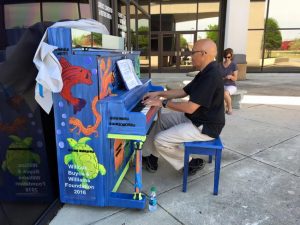 Dozens of Pianos will be located all over Florence and Lake City, and will remain available until May 7, positioned for everyone to play and enjoy on streets, in parks, squares, markets and other public places. Play Me, I'm Yours invites the public to engage with, participate and take ownership of their urban environment. Decorated and personalized by local artists and community groups, the street pianos create a place of exchange and an opportunity for people to connect.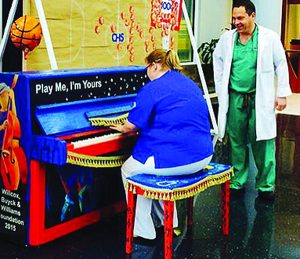 Touring internationally since 2008, Play Me, I'm Yours was created by British artist Luke Jerram. More than 1500 pianos have now been installed in over 50 cities across the globe, from London to Lima, bearing the simple invitation Play Me, I'm Yours. The project has already reached more than ten million people worldwide.
An opening-night festival will be held April 21 in the Willcox Plaza on West Evans Street. The event will include a dueling pianist team and a "Paint a Piano" tent for young artists. Don't miss the featured noon concerts on various instruments by local pianists.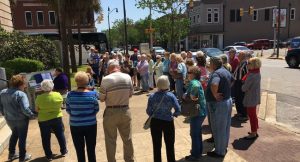 Location: Florence, SC
Date: Fri, April 21 – Sun, May 7, 2017
Tel: 843-260-6210
streetpianos.com/florence2017
For Regional accommodations, Restaurants & Attractions: visitflo.com
Monster Jam® brings high-octane entertainment to fans around the country, offering a most action-packed live event on four wheels.
Celebrating 25 years of adrenaline-fueled family amusement, Monster Jam combines spontaneous entertainment with the ultimate off-road, motorsport competition.   World-class drivers compete in front of capacity crowds in both monster truck racing and freestyle competitions.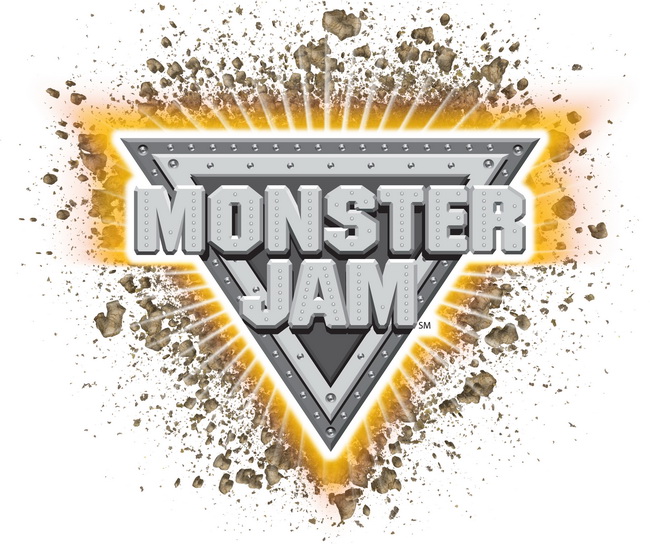 Monster Jam features some of the most recognizable trucks around including Grave Digger®, Max-DTM, El Toro Loco® and Monster Mutt®, Bad News Travels Fast, Aftershock,  Krazy Train and Mechanical Mischief.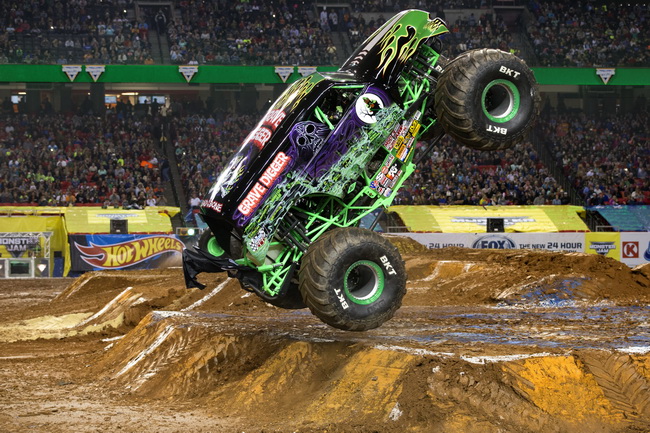 These Monster Jam scenes leave you on the edge of your seat, with competitors performing jaw-dropping displays of gravity-defying feats,  thrilling fans with freestyle, racing, donuts, wheelies and exhilarating action.
For the ultimate Monster Jam® motorsports experience, consider the Pit Party which provides unprecedented access to the Monster Jam trucks and drivers – you can meet the drivers, get their autographs, take photos and see the trucks up close. Pit Passes are sold separately in addition to your admission ticket and is available for the Saturday, February 4th 1 pm performance only.
To buy tickets: ticketmaster.com/venueartist/114999/1542376?brand=florencecc&camefrom=cfc_florence_website_MonsterJam17
photo credit: Feld Entertainment
Location: Florence Civic Center, 3300 West Radio Dr., Florence, SC 29501
Dates & Times: Friday, Feb 3rd: 7pm, Sat, Feb 4th: 1 pm & 7pm
Tel: 843-679-9417
florenceciviccenter.com
monsterjam.com
For Regional Accommodations, Restaurants & Attractions: visitflo.com
At Fatz Cafe, the motto on the menu,"Where everybody is a regular", is true and that's because they
get addicted to the warm buttery poppy seed rolls (hint of donut taste to us). Locals come for the fried Calabash
chicken, which is marinated in buttermilk and served with honey mustard, and to enjoy the oldies music and photos of
the Florence/PeeDee area in the 60's and 70's.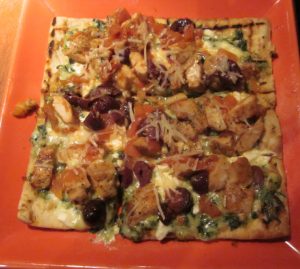 A popular starter is the fried green tomatoes on cheese grits with remoulade sauce or the shareable hot Cajun firecracker sticks stuffed with spicy shrimp, andouille sausage, onions, peppers, melted cheese in a tomato/basil tortilla. A hit of the meal was the Edisto shrimps and grits made with crumbled bacon in a mushroom burgundy gravy with Parmesan cheese. You could come in for the mahi mahi, spinach salad, ribs, pork chops, burgers or a sirloin steak marinated in hard cider, but you must leave room for the Carolina peach cobbler, which tastes like your gramma made it (vanilla ice cream and walnuts on top).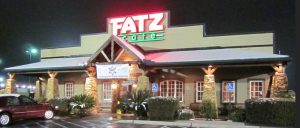 Location: 2007 W. Lucas, Florence, SC
Tel: 843-413-9186
www.fatzcafe.com
For Regional Accommodations and Attractions: www.visitflo.com
www.drivei95.com
Whoa. Who said stopping for the night on I-95 is boring? Next week, if you sleep over in Florence SC, you can catch a fantabulous  Cirque du Soleil performance; Alegria is a baroque ode to the energy, grace and power of youth.
Alegria is a classic Cirque du Soleil production that has received international acclaim and wowed over 10 million people worldwide since it premiered in 1994 in Montreal. After 15 years performing under the big top, Alegria embarked on a new journey in May 2009 and is now presented in arenas throughout the United States and Canada.
Alegria is more than a show, much more than a circus . . . it is an exciting and unique experience that will captivate all ages.
Dates: July 13-17
Showtimes: Wed, Thurs & Fri 7:30 pm, Sat 3:30 pm & 7:30 pm, Sun 2:00 pm
Tickets: available at the Civic Center Box Office, Ticketmaster.com or 800-745-3000