Tag Archive
activity
architecture
art
artist
Austria
Canada
children
city
CostSaver
display
downtown
drive i-95
Drivei-95
entertainment
Europe
event
exhibit
family
festival
Florida
food
free
fun
historic
History
landmark
live
local
London
Museum
music
Ontario
roadtrip
shop
show
sights
sightseeing
tour
tourist
Trafalgar
travel
travelblogger
USA
view
world
.
Gletschergarten Lowendenkmal is massive heartrending stone relief which was carved to remember the Swiss Guards who were massacred in 1792 during the French Revolution when defending Louis XVI. Swiss Guards were and are famous as brave sentries. Today, they still surround the Pope. When the revolutionaries stormed the Tuileries Palace in Paris, more than 800 were killed during the fighting, after surrender, or died in prison of their wounds. 300 lucky survived because they were with the detachment which King Louis XVI had sent to Normandy to escort grain convoys. Two surviving Swiss officers went on to become senior ranked guards for Napoleon.
In 1880, Mark Twain had this to say about it " His size is colossal, his attitude is noble. His head is bowed, the broken spear is sticking in his shoulder, his protecting paw rests upon the lilies of France. Vines hang down the cliff and wave in the wind, and a clear stream trickles from above and empties into a pond at the base, and in the smooth surface of the pond the lion is mirrored, among the water-lilies.
Around about are green trees and grass. The place is a sheltered, reposeful woodland nook, remote from noise and stir and confusion ­and all this is fitting, for lions do die in such places, and not on granite pedestals in public squares fenced with fancy iron railings. The Lion of Lucerne would be impressive anywhere, but nowhere so impressive as where he is."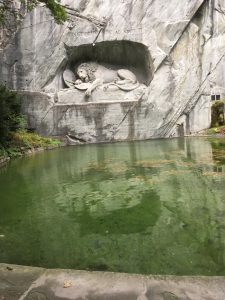 .
Finding desserts without chocolate in them is often a challenge. Finding this delectable patisserie made up of apricots, caramel crunch, cookie and loads of whipped cream is my dream dessert. I actually ate it for dinner!
.
One of the things we love about travel is the unexpected sights. Walking to our hotel we came across this brave juggler. He is either very smart because he has a captured audience who get to watch him juggle on the crosswalk of a traffic light or he is very dumb because he could get run over.
.
Heading down the Boulevard des Capuchines toward the Opera de Paris is still one of those OMG moments. It is way grander than you imagined.
.
On a bateau mouche ride on the Seine you get a duck's eye view of the city going under all those famous bridges, like this one, the Pont St-Michel. FYI there are 37 of them.
.

.
Gustave Eiffel had an apartment in the tower to entertain guests. And you too can be wined and dined there. There are 2 restaurants and then a champagne bar at the top. We totally enjoyed our entire dining and viewing experience at Alain Ducasse's Jules Verne, which garnered one Michelin star. Though a set menu, it allows tourists to experience a "starred" moment in this famous city with less than sky high prices (but still expensive). Starting May 2019, it will be managed by three-star chef  Frédéric Anton. Guess we'll have to go again!
.
First visit to the Eiffel Tower.
.
Now surrounded by security fences, and an airport-like clearance entrance, some of the freedom, joy, or innocence of the her majesty is lost.
.
The beauty of taking a Bateau Mouche ride on the Seine is the joy of going under so many famous bridges – and learning the history effortlessly as you go. This one is the Pont Alexandre III built between 1896 and 1900, the most ornate one and a Paris historical site. Four gilt-bronze statues of Fames watch over the Beaux-Arts style bridge. The exuberant Art Nouveau lamps, cherubs, nymphs and winged horses celebrate the Franco-Russian alliance enacted in 1892 by Tsar Alexander III. His son Nicholas II laid the foundation stone in October 1896. In the same political spirit, the Trinity Bridge in Saint Petersburg was designed by Gustave Eiffel, and the first stone was laid in August 1897 by French president Félix Faure .