Tag Archive
activity
art
artist
Canada
children
city
community
contest
country
craft
display
downtown
drive i-95
Drivei-95
drivei95
entertainment
event
family
festival
Florida
food
free
fun
game
historic
History
house
Island
live
local
Museum
music
national
North Carolina
performance
prize
Restaurant
roadtrip
shop
show
tour
travel
travelblogger
USA
world
Savannah VOICE Festival brings classical vocal excellence to Savannah, with over 25 performances, through a two week celebration of operas, concerts,  food and wine events, and masterclasses during the month of August.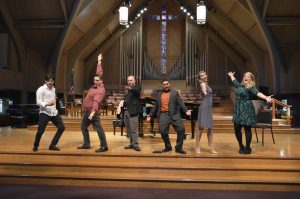 Every year, the Festival is inspired by a theme—2018's is "Stories Great & Small." Offering music from opera, musical theatre and song, this year's highlights include Verdi's La Traviata, Menotti's The Telephone, Humperdinck's Hansel and Gretel and Michael Ching's comedic opera Speed Dating Tonight!
It is a celebration of the classical voice with over 25 performances, including operas, concerts, food and wine events, and masterclasses. Offering music from opera, musical theatre and song, this year's highlights include Verdi's La Traviata, Menotti's The Telephone, Humperdinck's Hansel and Gretel and Michael Ching's comedic opera Speed Dating Tonight!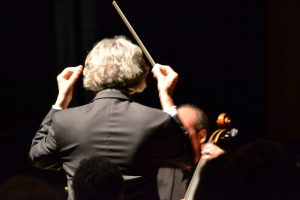 The sixth annual festival, will be staged Aug. 4-26, The Westin Savannah Harbor Resort is the backdrop for many events as well as in and around Savannah in a variety of venues. This will mark the second year of the festival's expansion to three weeks, treating patrons to several extra days of delightful musical offerings.
Through his VOICE Programs, legendary baritone Sherrill Milnes will take attendees on a lighthearted journey through memorable concerts featuring over 100 artists from 15 countries, who will share operatic stories from the past and present, and modern songs of today.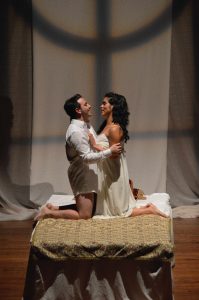 As part of the intensive programs of the Festival Season, opera industry leaders will offer the next generation of artists tools to improve their performance during hour-long mini master class sessions. The free mini master class series provides attendees with the opportunity to meet the faculty members of the VOICExperience Programs while learning more about vocal music, technique and about the "masters" themselves.
This non-stop celebration of the voice will impress the most avid fans and newcomers alike. For the complete 2018 line-up: savannahvoicefestival.org/festival-events

For Free Events: savannahvoicefestival.org/free-events
Location: Various
Dates: Aug 4 – 26, 2018
Times: Various – see schedule
Tel: 855-766-7372
savannahvoicefestival.org
For Regional Accommodations, Restaurants & Attractions: visitsavannah.com
The first annual Make Music Connecticut, a free, wild and wonderful mix of over 250 free outdoor musical events, will make its debut on Thursday, June 21.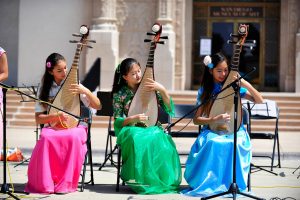 Modeled after a Parisian tradition (Fête de la Musique) that began in 1982 as a tribute to the Summer Solstice.  Each June 21st Paris is filled with musicians of all kinds performing on sidewalks, lawns, balconies, in parks, etc. for anyone to enjoy at no cost.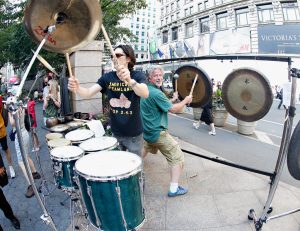 Make Music Connecticut is part of Make Music Day, a global music celebration that takes place on the summer solstice each year and brings people of all ages and skill levels together to make music. This year, more than 70 U.S. cities and the entire state of Connecticut will host thousands of Make Music performances across the country as part of the world's largest annual music event.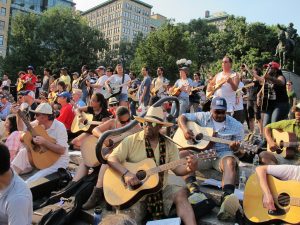 Featuring musicians of all abilities and music from any genre.  Sidewalks, parks, front porches, and public spaces throughout the region will become stages for local musicians to perform and for all to enjoy. Each region will have its own ambiance. This will be a day packed with more than 250 free musical events happening with concerts on streets, sidewalks, and parks around the state.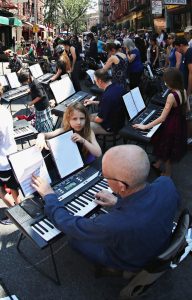 Community Jam Sessions, Dueling Drums, Battle of the Bands are some of the featured events. For a full schedule of events: MakeMusicCT.org
Location: Numerous locations throughout Southeastern CT
Date: June 21, 2018
Time: Various – see schedule
Tel: 860-460-5236
makemusicday.org/southeasternct
Celebrating Annapolis' Diverse Arts Scene, Annapolis Arts Week was created to bring together the area's local artists and musicians for a week of art, food, block parties, events, music, and festivals.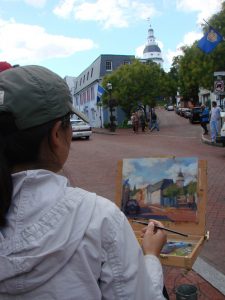 The week includes major events: Paint Annapolis, a county-wide, juried, plein air competition celebrating its 15th year with 30 distinguished artists from around the globe. The artists will create 300 landscape works, highlighting the special colonial architecture, marine atmosphere, and overall energy of Annapolis. p a i n t a n n a p o l i s . o r g

Paint Annapolis features special events every day:
Sunday, June 3: Dueling Brushes – Quick Draw at Susan B Campbell Park
Monday June 4: Artist paint in Anne Arundel County
Tuesday, June 5: Paint the Bay Reception at Annapolis Maritime Museum
6-8pm
Wednesday, June 6: Artists paint in the city of Annapolis
Nocturne at dusk – Dinner Under the Stars
Thursday, June 7: Artists paint in the historic district
Art on the Avenue, Maryland Avenue, 5-7pm
Friday, June 8: Collector's Award Reception, 6:30 – 9pm
Saturday June 9 & Sunday June 10: Reception & Sales at Circle Gallery
Mimosas & Muffins: Sunday 11am – 1pm
Here are some additional events going on throughout Annapolis Arts Week: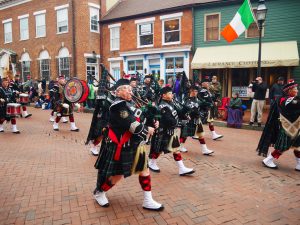 The Annapolis Irish Festival where you can enjoy traditional Celtic music and Irish rock bands on three different stages, along with workshops and exhibits. Try some delicious Irish beef stew and other Irish favorites. Little Leprechaun Land (open on Saturday only 11am– 4pm) provides pony rides, face painting and other free activities for the kids.  June 1 & 2, 2018 at Anne Arundel County Fairgrounds annapolisirishfestival.com
16th Annual First Sunday Arts Festival Shop among the creations of 130 local and regional artisans; dine at outdoor cafes; and enjoy the music of more than seven live bands. It's a great time to explore art galleries, take a game room challenge and/or create your own artwork at shops on West Street taking place on First block of West and Calvert Streets,  Sunday, June 3 – 11am – 5pm – Admission: Free firstsundayarts.com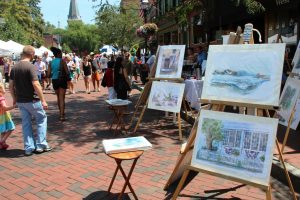 Dinner Under the Stars is a place for families and friends to come together and for couples to experience a romantic evening under the stars. Artists will paint from sundown to sunrise alongside the hundreds who come to dine, drink, and dance under the night sky. Spend Wednesday evenings dining, dancing and listening to live bands in the middle of the first block of West Street, just off Church Circle. Wednesdays, June 6, 13, 20, 27, 6pm – 10pm dinnerunderthestars.org
Photo Credit: VisitAnnapolis.org & Kenneth Tom Photography
Location: Various
Date: June 1 -10, 2018
Hours: Various
Tel: 410-268-4566
annapolisartsweek.com
For Regional Accommodations, Restaurants & Attractions: visitannapolis.org
The paved walkways of Savannah's scenic Forsyth Park will spring to life at the 37th annual SCAD Sidewalk Arts Festival.
Watch as talented SCAD artists, alumni and high school students create colorful chalk masterpieces and compete for coveted prizes in a tradition that's nearly as old as the university itself.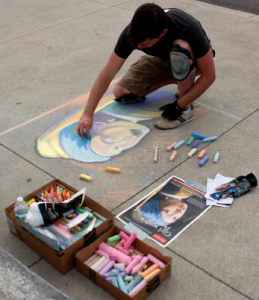 In addition to the sidewalk art, visitors can also see the art of tableaux vivants, or "living pictures" in which actors and models will silently depict a scene as if in a photo. Chalk distribution begins at 10am, drawing at 11am, with judging and results announced in the afternoon.
Who needs technology; discover just how much a simple piece of chalk can inspire.  Be amazed and mesmerized at the colorful chalk designs these artists produce on chalked-up squares along the sidewalks that weave through Forsyth Park.
Families are encouraged to bring their own chalk and let their little ones color on the squares that are not being used as part of the festival.
Free, fun and impressive, go out and be inspired, and maybe even draw a masterpiece of your own.

Location: Forsyth Park, Between Drayton and Whitaker streets, Savannah 31401
Date: Apr 28, 2018
Time: –
Tel: 800-869-7223
scad.edu/sidewalkarts
For Regional Accommodations, Restaurants & Attractions: visitsavannah.com
The National Cherry Blossom Festival is one the nation's most cheerful springtime celebration. The 2018 Festival, March 20 – April 15, includes four weeks of events featuring diverse and creative programming promoting traditional and contemporary arts and culture, natural beauty, and community spirit.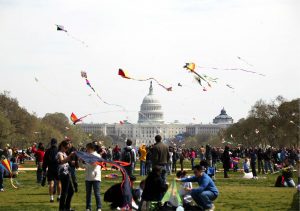 The National Cherry Blossom Festival is kicking off kite season. Held on the grounds of the Washington Monument near 17th Street and Constitution Avenue NW in Washington, DC, the Blossom Kite Festival is family-friendly, free and open to the public.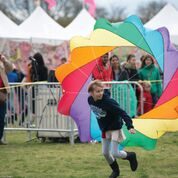 The seventh annual Blossom Kite Festival showcases the creativity of kite makers and skill of fliers from across the US and other countries through a variety of competitions and demonstrations, Rokkaku Battles and the Hot Tricks Showdown. Bring your own kites or children can make a kite at an activity station (while supplies last) to fly on the Public Field. Kites will also be available for purchase onsite.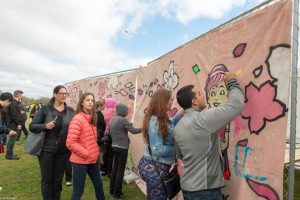 Photo Credit: National Cherry Blossom Festival
2018 Activity Schedule:
Competition and Demonstration Field
Kick-Off Parade…………………………….…………………………..10:00 AM
Kite Ballets & Demos…………………………………………….10:30 AM – 11:00 AM
Adult Kite Makers Competition……………………………….11:00 AM – 12:00 PM
Wind Jammers and Wings Over Washington…………….12:00 – 12:30 PM
Demonstrations…………………………………………………….……12:30 – 1:30 PM
Hot Tricks Showdown…………………………………………….1:30 – 2:30 PM
Rokkaku Battle………………………………………………………2:45 – 3:30 PM
Wind Jammers and Wings Over Washington………………3:30 – 4:00 PM
Kite Arch and Awards……………………………………………..4:00 – 4:30 PM
Family Field
Practice Fly for Youth Kite Makers……………………………10:30 – 11:00 A
Youth Kite Makers Competition……………………………….11:00 AM – 12:00 PM
Youth Kite Makers Awards………………………………………12:00 – 12:30 PM
Blossom Build-off Competition………………………………..12:30 – 1:45 PMBol Races………………………………………………………………2:00 – 4:30 PM
Location: Grounds of the Washington Monument, near 17th St NW and Constitution Ave., Washington, DC 20006
Date: Sat., March 31st, 2018 (Rain Date: Sun., April 1st, 2018)
Time: 10 AM – 4:30 PM
Tel: 877-442-5666
nationalcherryblossomfestival.org
Rumba on the Lumber 2018, a festival of food, movement, music and the arts, consisting of two days of events in historic downtown Lumberton with over 4000 people in  attendance.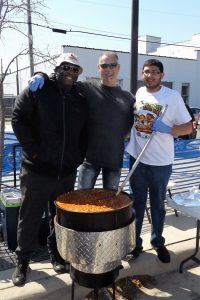 Many wonderful annual events will once again be front and center, including: The Rumba on the Lumber Festival with live music, vendors, Rumba Cross fit Games Exhibition, and the Lumbee River EMC Free Kidzone, 5K, 10K, fun run/walk, 100K ride, 20-Mile adventure ride,  Chili Cookoff and a bicycle rodeo.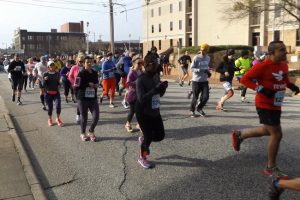 Many festival-goers agree, it's all about the chili. More than two dozen teams bring their most coveted recipes. Teams prepare a minimum of 10 gallons of chili and dole out free samples of their creations. The teams will be competing for prizes including the best tasting, Spiciest Chili, Strangest ingredient and Best chili cooking outfits. Don't miss the fun!
Saturday- Downtown Plaza/ 3rd Street:
The 33rd Annual Whitehall Lecture Series, Heroes of the Homefront: World War I and the Faces of Wartime America, commemorates the roles of American soldiers and supporters during World War I.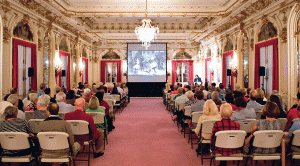 Each lecture will provide a unique range of historical perspectives, including those of political and military leadership, the Doughboys on the front lines, minority infantrymen conscripted to battle, and women on the homefront and abroad.
Heroes of the Homefront will evoke a new appreciation for America's participation in World War I and address the ways in which American culture was changed forever because of it. When possible, a book signing with the speaker follows each lecture. All lectures start at 3:00 pm.
February 18
The Last of the Doughboys:
The Forgotten Generation and Their Forgotten War
by Richard Rubin
February 25
World War I:
The American Soldier Experience
by Dr. Jennifer Keene
March 4
The Second Line of Defense:
American Women and World War I
by Dr. Lynn Dumenil
March 11
Uncle Sam Wants You: World War I
and the Making of the Modern American Citizen
by Dr. Christopher Capozzola
Online visitors can experience each lecture via a free Livestream broadcast at http://flaglermuseum.us/programs/lecture-series where visitors may listen live, see the presentation and ask the lecturer questions.
Location: The Flagler Museum, One Whitehall Way, Palm Beach, FL 33480
Date: See Above
Time: 3pm
Tel: 561-655-2833
flaglermuseum.us
For Regional Accommodations, Restaurants & Attractions: thepalmbeaches.com
If you're getting stiff from all that driving or the kids are just suffering from cabin fever from being in the car for so long, here is your perfect solution. The City of Dillon's Wellness Center is approximately half way between New York and Miami. Why not stop and workout the kinks of travel or walk off that lunch while enjoy their facility.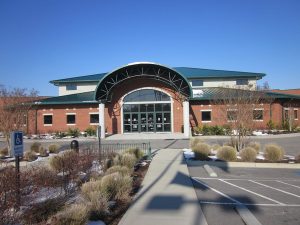 You are welcome to use (for FREE) the 1/2 mile lighted outdoor walking path outside the complex , which is open 24/7 and dogs on a leash are always welcome.
You can buy a day pass for a mere $5 to go inside and use the city of Dillon's 40,000 sq ft indoor sport and fitness complex that includes state-of-the-art cardiovascular equipment, weight machines, a free weights room and an aerobics & dance room. At the indoor sports complex you can let the kids play basketball, volleyball, or compete in a game of  ping pong.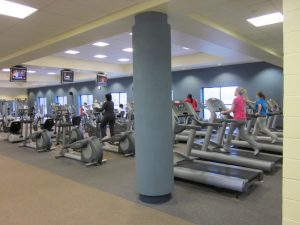 In addition they have a gym, dry sauna, locker rooms/showers, lounge, wireless internet, cable TV and trained staff.  not Take a break and take advantage of this very inviting and clean gymnasium and fitness center.
Location: 1647 Commerce Dr, Dillon, South Carolina
Hours: Mon – Fri 5:30am – 8:30pm , Sat 8am – 5pm , Sun 2 – 5pm
Tel: 843-774-5115
cityofdillonsc.us/residents/wellness_center.php
For Regional Accommodations, Restaurants & Attractions: cityofdillonsc.us
Do you have a New Year's resolution for 2018, perhaps that includes exposing your family to more culture, well here's your chance. On January 6th, Florida Grand Opera is holding a fun-filled Family Day for those new to the genre or seasoned opera aficionados.
Explore the world of opera through hands-on activities, performances, interactive experiences, and the thrill of live theater. Enjoy a special presentation of Hansel & Gretel by the FGO Children's Opera.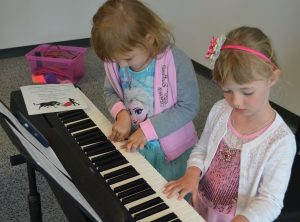 Activities (while supplies last) –
10am-12pm: Black Box: Voice experience with an interactive voice lesson
Lab Theater: Instrument Petting Zoo
Classroom: Costume Demonstration and crafts
Dance Rehearsal Studio: Makeup/lighting color effects demo
12-12:45pm Hansel & Gretel Main Stage performance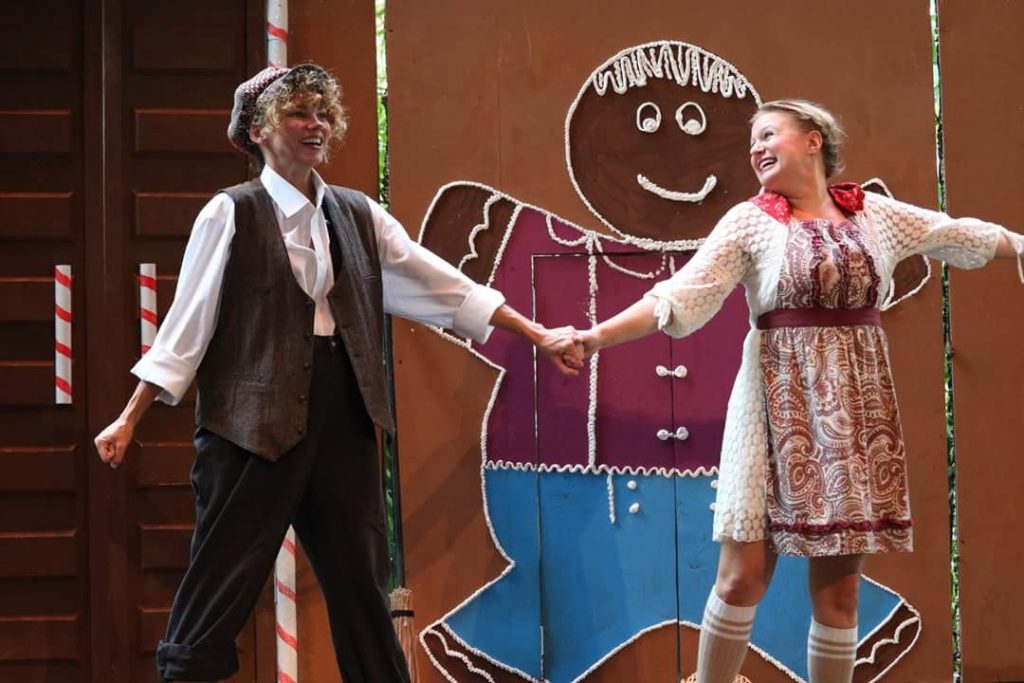 12:45 Post-show autographs and pictures in Main Stage Lobby
Appropriate for all ages. Free admission;  All patrons entering the theater require a ticket regardless of age. This includes children and infants.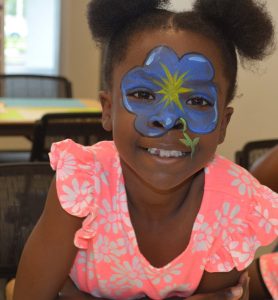 Location: South Miami-Dade Cultural Arts Center, 10950 SW 211 Street, Cutler Bay, FL 33189
Date: Sat, Jan. 6th, 2018
Time: 10am – 2pm
Tel: 786-573-5316
Tel Box office: 786-573-5300
smdcac.org/events/fgo-family-day-2017
For Regional Accommodations, Restaurants & attractions: miamiandbeaches.com
We all know that not all hotels measure-up the same, and there is good reason why the Courtyard Newark at the University of Delaware is the winner of numerous Trip Advisor and Marriott awards for excellence in guest service, as evaluated by direct guest feedback. With over 250 years of hospitality experience on the management team, Bill Sullivan and his award winning crew do an amazing job exceeding your expectations.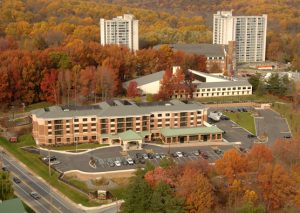 Enjoy modern accommodations, state-of-the-art technology, and impeccable service at the four-story, 126-room Courtyard Newark-University of Delaware. The hotel offers all of the comforts of home for your visit – whether you're in the area for business, or to visit the campus of the University of Delaware, the  hotel places you in the center of the action with easy access to the Daniel S. Frawley Stadium, Market Street Mall, Christiana Mall and the Financial District.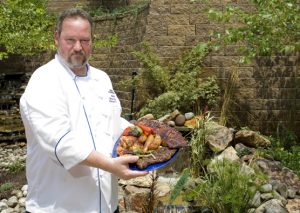 Nestle into the comfortable accommodations in the spacious rooms and suites, equipped with a well-lit work desk and ergonomic chair, free high-speed Wi-Fi, flat-screen HDTVs, mini-fridges, and you will sleep soundly on the comfy pillow-top mattresses.
The hotel works closely with the University Hospitality Program, helping to teach future hoteliers, and has always employed hearing-impaired staff. It's not only disability friendly, it is pet friendly too – including small pet yard outside.
Location: Courtyard Newark: 400 David Hollowell Dr., Newark, DE 19711 (GPS use 200 New London Rd)
Tel: 302-737-0900
udel.edu/hotel
For Regional Restaurants & Accommodations: visitwilmingtonde.com