Tag Archive
activity
art
artist
Austria
Canada
children
city
CostSaver
display
Drivei-95
drive i-95
entertainment
Europe
event
exhibit
family
festival
Florida
food
France
free
fun
historic
History
landmark
live
local
London
Museum
music
performance
Restaurant
roadtrip
shop
show
sights
sightseeing
tour
tourist
Trafalgar
travel
travelblogger
USA
view
world
Providence's 4th annual Fringe Festival, FRINGEPVD 2017 – will be held July 24-29, 2017 and it has grown rapidly since it started.
The Providence Fringe Festival (FRINGEPVD) is open to anyone who wants to produce their own show. For some artists, it's a once-a-year opportunity to create a show and for others it can be an opportunity to try something new.
This year more than three hundred individual theatre, music, dance, multi-media, and performing artists  will be brought together for five nights in traditional and non-traditional performance venues throughout the Providence area.
Founded in 2014 by The Wilbury Theatre Group, the festival offers affordable tickets for outside-the-box performances that run from 40-60 minutes. Some are Free, while other tickets are $5 or $10 and can be purchased at the door. Audiences are encouraged to take full advantage of the variety of performing and visual artists participating in the fringe and attend performances that you wouldn't normally attend, see things you wouldn't otherwise see. Keep an open mind, have fun and check out multiple shows each night.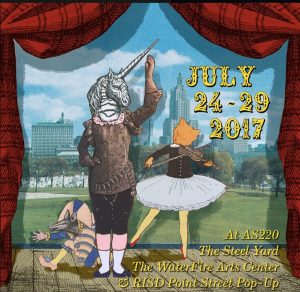 Downtown venues include AS220 Black Box Theater, Aurora, Big Nazo Satellite Space, The Dean Hotel, Mathewson Street Black Box Theater, and the RISD Museum and more. Eleven venues in total. fringepvd.org/venues.html
Location: The Wilbury Theatre Group, 393 Broad Street, Providence, RI 02907 and various other venues
Dates: July 24 – July 29, 2017
Times: 6pm – 11pm
Tel: 401-400-7100
fringepvd.org
For Regional Accommodations, Restaurants & Attractions: goprovidence.com
If you keep driving North on I-95, cut off onto the  NY Thruway and then straight up I-87 you will arrive right in Montreal. Only 6 1/2 hours from NYC, you will find the Festival City.
The summer starts on the edge with the Fringe Festival (www.montrealfringe.ca), then lights up with the Fireworks Festival (www.internationaldesfeuxloto-quebec.com/en/), jives to the Festival International de Jazz de Montreal  (www.montrealjazzfest.com) , and then giggles into the Comedy Festival (www.hahaha.com), and mov(i)es in to the World Film Festival (www.ffm-montreal.org/en_info_fest.html).
The newest kids on the street are the International Startup Festival (www.startupfestival.com/en/) and Circus Festival (www.montrealcompletementcirque.com/)l .
The International  Startup Festival  (www.startupfestival.com/en/) is a two-day conference (July 14 & 15) on the business of internet startups. It brings together industry veterans and fresh faces, thought leaders and technology giants from around the world, The festival brings a global audience together to cover the entire startup lifecycle: early-stage innovation; scaling the business; and achieving a successful exit.  Here you can mix some learning with the fun city's other festivals.
In the home of Cirque du Soleil, it is logical that the city would hold a circus festival to highlight about 2 dozen circuses from around the world. From July 7th to August 24th, the entire city becomes a big top showcasing every different kind of circus possible.