Tag Archive
activity
art
artist
Austria
Canada
children
city
CostSaver
display
Drivei-95
drive i-95
entertainment
Europe
event
exhibit
family
festival
Florida
food
France
free
fun
historic
History
landmark
live
local
London
Museum
music
performance
Restaurant
roadtrip
shop
show
sights
sightseeing
tour
tourist
Trafalgar
travel
travelblogger
USA
view
world
Raise funds by diving into the frigid Atlantic Ocean in New Castle, NH to benefit the thousands of animals that will turn to the NHSPCA in need of warmth, nourishment, medical care and love this year.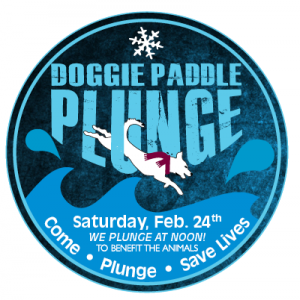 Are you willing to freeze your tail off for the animals? Join the New Hampshire SPCA's 8th Annual Doggie Paddle Plunge. Take the plunge for New Hampshire homeless animals. Register, raise funds, and dive into the frigid Atlantic Ocean alongside hundreds of other animal lovers on February 24th in New Castle.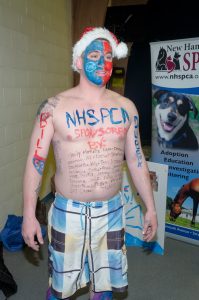 Don't want to freeze but want to support the animals? Register as a Virtual Plunger for $15 and raise funds without diving. Or make a donation to one of the many excited Plungers to help them reach their goal. No matter what you choose, you're supporting animals in need.
Funds raised will help the New Hampshire SPCA continue its lifesaving mission. Now this is a cause worthy of freezing your tail off. Four-legged friends can watch from the beach but no doggie plungers permitted.
Location: New Castle Great Island Common, 301 Wentworth Rd, New Castle, NH 03854
Date: Saturday Feb 24, 2018
Time: 10am – 2:30 pm
Tel: 603-772-2921
nhspca.org/Doggie-Paddle-Plunge
For Regional Accommodations, Restaurants & Attractions: portsmouthnh.com
Don't miss one of the Lowcountry's signature events, the annual DragonBoat Beaufort Race Day. The exciting dragon boat races will take place Saturday, June 24, 2017 at at Henry C. Chambers Waterfront Park on the river from 8-4.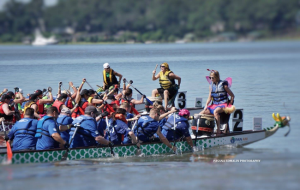 Witness the fierce competition and camaraderie as teams of paddlers race on the Beaufort river to win trophies and raise money for local cancer patients. Among the fun and festivities will be an opening ceremony, three heats of races, the moving Carnation Ceremony for cancer survivors and their families and the closing medal ceremony.
DragonBoat Race Day will include many local businesses, community groups and teams of friends and family racing against each other. The mixed Cancer Survivor Division will be the showcase for the heroes and heroines, honoring the spirit of DragonBoat Race Day.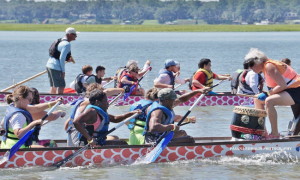 Twenty paddlers sitting side-by-side in a dragon-headed 42 foot-long vessel, paddling furiously to the beat of an emphatic drummer. The goal: physical wellness and psychological well-being through this thrilling, team-oriented support program that even offers opportunities to travel to competitions worldwide.
There will be 35 teams each racing three times. There will be two divisions – Mixed Community and Cancer Survivor teams. All teams race together. Cancer Survivor teams must have at least 8 cancer survivors in the boat during each race. After the first and second heats, teams will be placed in racing categories based upon their time; the third heat will decide the medals. Cancer Survivor placings decided by accumulating the two best times from each team. Gold, Silver and Bronze medals will be awarded for the top three finishers in each racing categories during the Awards Ceremony at the end of the day.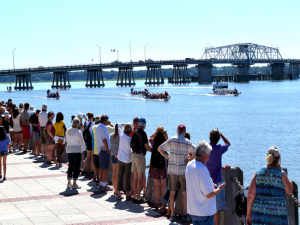 Location: Henry C. Chambers Waterfront Park, downtown on the Beaufort River,  SC
Date: Sat, June 24, 2017
Time: 8am – 4pm
Tel: 843-473-4477
dragonboat-raceday.com
For Regional Accommodations, Restaurants & Attractions: southcarolinalowcountry.com
Decided it's time to start looking and feeling better then this event is for you. On June 24, 2017, in Del Ray, Virginia (a neighborhood in Alexandria) "where Main Street still exists", it's the 4th Annual Well Ray Festival –  a community-wide effort to highlight resources for living healthily and happily.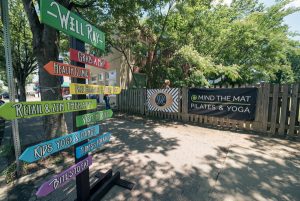 Browse health and lifestyle inspired tents, take free exercise classes, and enjoy therapeutic massages, acupuncture, physical therapy consultations, chiropractic adjustments, nutritional counseling and blood pressure screenings. Check out wellness-inspired fashion from local fitness clothing designers, jewelers, and boutiques.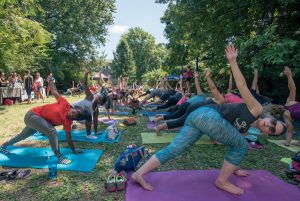 You will find the outdoor celebration of health and wellness at the following locations: the open field across from Mind the Mat Pilates & Yoga, the 2200 block of Mount Vernon Avenue will have Fitness Demos and classes (2213 Mt. Vernon Avenue), the Del Ray Farmer's Market for Cooking and healthy bites,  and the adjacent parking lot beside it (behind United Bank 2401 Mt. Vernon Avenue) and then the Mt. Vernon Recreation Center (2701 Commonwealth Avenue) for vendors, exhibitors, wellness presentations and more.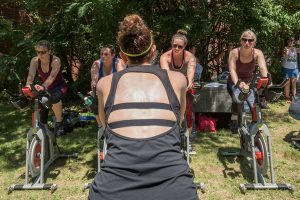 Win prizes and make sure to bring your mat and be prepared to move.  Enjoy free yoga, Pilates, CrossFit, Spin, Barre and dance classes led by fitness, health, and wellness experts. So much fun and the whole family can get involved in a healthy lifestyle.
Last year's SCHEDULE OF EVENTS:
8:15AM Outdoor Yoga with Mind the Mat
9:45AM Pilates Boot Camp with Mind the Mat
10:45AM CrossFit OldTown Kids Field Day (Sheriff's Department vs. Fire Department Tug-o-War)
11:45AM Outdoor Yoga with Mind the Mat
12:30PM Swet Ride/Barre Tech/TRUE Circuit 
1:30PM Stretch Class with Running Brooke
1:45PM Goal and Vision Setting with lululemon
THIRD FLOOR KIDS YOGA AND DANCE:
11-11:20AM/11:30-11:50AM/12:00-12:20PM Dance with TippiToes
12:30PM-2:00PM Yoga with YoKids
And lots of delicious and nutritious FOOD!  
Location: Along Mount Vernon Avenue, Del Ray, VA
Date: Sat, June 24, 2017
Time: 9am – 1pm
Tel: 703-683-2228
wellraydelray.com
For Regional Accommodations, Restaurants & Attractions: visitalexandriava.com